Vietnam Weather in February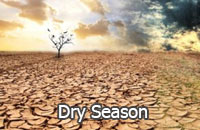 Vietnam weather in February is cool and dry. The average daytime temperature is 19℃( 66.2℉) and the average night temperature is 26℃(78.8℉). And there is quite little rain, but plentiful sun shines and blue skies. The pleasant climate in Vietnam in February is very suitable to have a holiday on the beaches.

The hottest cities in Vietnam in February:
Phan Thiet: 30℃(86℉); Ho Chi Minh City: 33℃(91.4℉); Can Tho: 31℃(87.8℉)

The coolest cities in Vietnam in February:
Hanoi: 16℃(60.8℉); Haiphong: 16℃(60.8℉); Da Lat: 12℃(53.6℉)
Averages for Vietnam Weather in February






February Temperatures in Vietnam

What to Wear
During the daytime of the north, you can wear some thin and breathable clothes like T-shirt, jeans and light pants. But at night, you should better wear jacket, thin sweater and hoodie to keep warm.

In the south of Vietnam in February, you can just wear shorts, skirt and T-shirt in the day. It's a bit colder at night; you should take a thin coat and pants with you.





February Travel Guide – Where to Go & Tips
Tourism Rate:





It's the best time to enjoy the sunbathing on the beaches. Besides, it's comfortable to do some outdoor activities like trekking and adventures.
Da Nang Beach
: It's very famous as one of the six largest beaches in the world and the best place for sunbathing and surfing in Vietnam. These beautiful beaches all have white sand and bright sunshine.
Nah Trang Beach
: It is also called City Beach for the colorful nightlife and the plentiful water sports. You can go diving and water skiing here; you can also rent a watercraft to enjoy the exciting activities such as surfing.
Mui Ne Beach: There are lots of ancient fishing villages. You can walk through the village and see how the people go fishing with the strange nets. And you can take part in many water entertainments and even camp on the beach to enjoy the seascape and peace.
Ha Long Bay: Ha Long Bay is one of the world heritages. It's famous as the 'precious stone on the crown' with blue-green water area. Lots of its legends are connected with the fairy dragon. Besides the divine position, it's also famous for the karst landform. This area is full of strange stones and caves which are the miracle of nature.

Vietnamese New Year Travel Tips:
Vietnamese New Year, the most important festival of all year, usually falls in February. The celebration will last 7 days and most of the shops and restaurants will be closed to celebrate it. Also, the large group of Vietnamese returning home, leading to the high demand of airline and train tickets. These may bring some inconvenience for your travel to Vietnam in February. Please be prepared!

When you go to the Vietnam during this time, you may find a local family to feel their festival culture. People will be dressed up and prepare the largest meal at home. They will hold many activities like Water Puppet Show in Hanoi and they will go to the pagoda to pray which is a very glorious scene.
See More: Hoi An Lantern Festival
February Weather of Major Vietnam Cities
February


Temperature

Sunrise / Sunset
Humidity
(%)
High
Low
Can Tho

34°C/ 93.2°F

23°C / 73.4°F
07:25/ 17:32
44
Da Lat

33°C / 91.4°F

23°C / 73.4°F
07:20/ 18:07
84
Da Nang

33°C / 91.4°F

22°C / 71.6°F
07:56/ 18:38
79
Ha Long

30°C / 86°F

15°C / 59°F
07:45/ 18:30
83
Haiphong

29°C / 84.2°F

14°C / 57.2°F
07:08/ 18:13
72
Hanoi

33°C / 91.4°F

23°C / 73.4°F
07:23/ 18:22
73
Ho Chi Minh City


23°C / 73.4°F
07:41/ 18:34
79
Hoi An

30°C / 86°F

22°C / 71.6°F
06:51/ 17:35
75
Hue

30°C / 86°F

17°C / 62.6°F
06:58/ 16:36
72
Lao Cai

29°C / 84.2°F

24°C / 75.2°F
07:44/ 17:48
57
Nha Trang

30°C / 86°F

15°C / 59°F

07:03/ 18:11
74
Phan Thiet

30°C / 86°F

19°C / 66.2°F
06:56/ 17:43
65