Vietnam Travel Guide
Basic Facts of Vietnam

Location: in the east of Indo-China Peninsula; borders Guangxi and Yunnan provinces of China on the north, Laos and Cambodia on the west, and next to the South China Sea.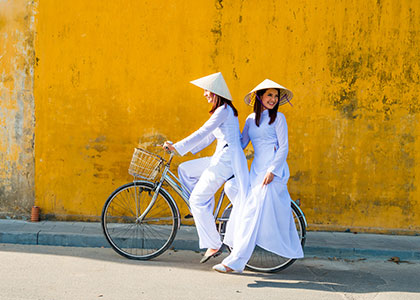 Vietnam

Area: 127,200 sq mi (329,446 sq km)

Population: 91.7 million (in 2015)

Language: Vietnamese

Currency: Vietnamese Dong

Time Zone: GMT+7

Capital: Hanoi

Administrative Division: 58 provinces

Religions and Beliefs: Buddhism, Catholicism, Hoahaoism, Caodaism

Nationality: a multi-ethnic country with Jing People in majority
Read More:
10 Must-known Facts about Vietnam
Vietnam has rich resources, which presents a fusion of mysterious oriental characteristics and French romantic feelings. There are five scenic spots being listed as world cultural and natural heritage by UNESCO.
Top Destinations & Attractions:
Hanoi: Ba Dinh Square, Hanoi Cathedral, Hoan Kiem Lake, Long Bien Bridge, Ha Long Bay, Old Quarter
Ho Chi Minh City: Saigon Opera House, National Museum of Vietnamese History, Notre-Dame Cathedral
Hoi An: Hoi An Ancient Town
Nha Trang: Vinpearl Amusement Park, Po Nagar Cham Towers
Mui Ne: White Sand Dune, Fairy Stream
| | |
| --- | --- |
| Hoi An Ancient Town | Ha Long Bay Cruise |
Read More:
Explore the UNESCO World Heritage Sites in Vietnam
10 Best Vietnam Holiday Destinations
5 Vietnam Places for Family Vacation
Vietnam is divided into dry season and rainy season. November - April is the dry season with less rain and many foggy days, which is ideal for best tours in Vietnam. The weather is usually cool from November to February while it is relatively warmer in March and April. From May to October, it is the rainy season with heavy rain even rainstorm. The temperature is high and the air is humid. November - February is suitable for traveling when the temperature is moderate and the sun is shining.

In the north, from October to March, visitors are advised to wear long-sleeved shirts and trousers. From April to September, short-sleeved shirts and shorts are advised. In addition, rain gears are recommended. In the south, the temperature is high all year round, and short-sleeved shirts and shorts are quite suitable. Wearing sunscreen is advised outside.
3-Day Weather Forecast of Major Cities
Read More: Vietnam Weather Hanoi Weather Ho Chi Minh Weather
There are international flights from many countries to Vietnam, such as China, Thailand, Australia, Singapore, Japan, and South Korea. Besides, tourists can also take trains and buses to the country from Nanning, Beijing, and Kunming of China. Transportation within the country is convenient that visitors can choose according to their needs. Planes, trains, taxis, buses, and even motorbikes are all available.
Read More about Vietnam Trains
1. Public Security
The common security issue may be the pick pocketing especially at places crowded with a lot of people. When getting on or off the taxi, one should also be aware of this situation. When traveling by vehicles such as motorbikes or tricycles, avoid carrying bags on the back.
Read More: Traveling Vietnam Alone - Is It Ideal for Solo Travellers?
2. Getting Lost
After checking in the hotel, make sure to take a business card from the reception. If getting lost when traveling, give the business card to the taxi driver or ask local people for help.
| | |
| --- | --- |
| Avoid Carrying Bags on the Back | Local Driver Helping with the Luggage, Vietnam |
3. Language
Vietnam receives quite a lot of foreign tourists every year so most vendors speak a little English, however, further communication is difficult. The English level of the hotels' service staff varies greatly, but generally reservation and service is OK. Staff in travel agencies can communicate relatively fluently in English.
Read More:
Vietnam Visa Things to Know about Vietnam before Traveling 9 Vietnam Travel Tips for First-time Comers
Vietnam Culinary Tours Vietnamese Culture
History
A.D. 968: Independent feudal state
1858: The French came in and ruled the country.
Sept. 2, 1945: The north gained independence and established the Democratic Republic of Vietnam, but the south was still under the control of France.
Dec. 1946: the First Indochina War with France broke out.
Aug. 1954: The First Indochina War ended. The north was liberated but the south was still ruled by France.
Oct. 26, 1955: The Republic of Vietnam, supported by America, was established in the south.
Nov. 1, 1955: Vietnam War or the Second Indochina War with America began.
1973: US army retreated.
Apr. 30, 1975: The Republic of Vietnam was overthrown and the Vietnam War was over.
July, 1976: The whole country was unified as the Socialist Republic of Vietnam.
Geographical Features
The land of Vietnam is long and narrow with the narrowest point of 30 miles (50 kilometers) wide. It is a coastal country and its coastline stretches over 2,000 miles (3,219 kilometers) long. There are different landforms such as deltas, highlands, and mountains. Various geographical features endow this country with many beautiful natural sights, including the karst landscape at Ha Long Bay, Mekong Delta, and hilly area at Sapa Town.