Vietnam Weather in January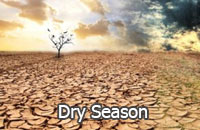 Vietnam weather in January is generally cool and dry. Even the coastal areas are not wet any more. The average daytime temperature is 25℃(77℉), the average night temperature is 18℃(64.4℉). Besides, the rainfall is lower than other months. The pleasant climate makes January one of the best months to travel to Vietnam.

The hottest cities in Vietnam in January:
Phan Thiet: 30℃(86℉); Ho Chi Minh City: 32℃(89.6℉); Can Tho: 30℃(86℉)

The coolest cities in Vietnam in January:
Hanoi: 13℃(55.4℉); Haiphong: 13℃(55.4℉); Da Lat: 11℃(51.8℉)
Averages for Vietnam Weather in January





January Temperatures in Vietnam

What to Wear
When you go travelling in Vietnam in January, you should wear some breathable and comfortable clothes like T-shirt, dress and jeans. But you should better take some warmer clothes like long shirt and thin knitwear if you will go to the north, because the nights of the north areas is a little cold. By the way, it rains sometimes in Vietnam in January, you should also take an umbrella.




January Travel Guide – Where to Go & Tips
Tourism Rate:





January is one of the best time periods to travel in Vietnam. The top places to visit include:
1. Hanoi: Capital and Second Largest City in Vietnam
Hanoi is a historical city. It has been the economic and cultural center of the country since 11th century, therefore this city combines different cultures. If you want to enjoy the nature scenery, you can have a walk in Hoan Kiem Lake. You can also learn the culture in Saint Joseph Cathedral and Vietnam Military History Museum. Besides, 36 Pho Phuong is a good place to go shopping.
2. Ho Chi Minh City: Oriental Paris
Central Post Office is worth being visited. The architecture is in French style and designed by the architect Gustave Eiffel who also designed the Eiffel Tower. You can send postcards and collect postmarks there. You should not forget Pham Ngu Lao Street either. It's the paradise of backpackers. There are lots of delicious food and delicate handiwork in this street.
See More: Ho Chi Minh Tunnels
3. Nha Trang: Biggest Aquarium of Vietnam
In January, it's rightly in the dry season in Nha Trang and you can enjoy the beautiful beaches and the bright sunshine without wet wind. Except the beautiful seascape, there also are many kinds of seafood worth tasting.
January Weather of Major Vietnam Cities
January

Temperature

Sunrise / Sunset
Humidity
(%)
High
Low
Can Tho

34°C/ 93.2°F

23°C / 73.4°F
07:25/ 17:32
44
Da Lat

33°C / 91.4°F

23°C / 73.4°F
07:20/ 18:07
84
Da Nang

33°C / 91.4°F

22°C / 71.6°F
07:56/ 18:38
79
Ha Long

30°C / 86°F

15°C / 59°F
07:45/ 18:30
83
Haiphong

29°C / 84.2°F

14°C / 57.2°F
07:08/ 18:13
72
Hanoi

33°C / 91.4°F

23°C / 73.4°F
07:23/ 18:22
73
Ho Chi Minh City


23°C / 73.4°F
07:41/ 18:34
79
Hoi An

30°C / 86°F

22°C / 71.6°F
06:51/ 17:35
75
Hue

30°C / 86°F

17°C / 62.6°F
06:58/ 16:36
72
Lao Cai

29°C / 84.2°F

24°C / 75.2°F
07:44/ 17:48
57
Nha Trang

30°C / 86°F

15°C / 59°F

07:03/ 18:11
74
Phan Thiet

30°C / 86°F

19°C / 66.2°F
06:56/ 17:43
65