Vietnam Transportation
How to Get to Vietnam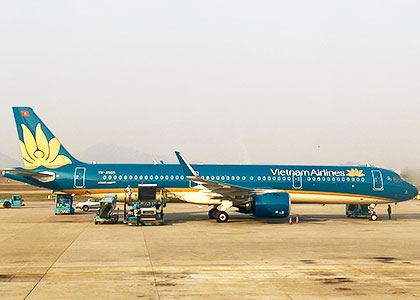 Vietnam Airlines
Vietnam has 2 main international airports, namely, Hanoi Noi Bai Airport (HAN) in the north and Ho Chi Minh City Airport (SGN) in the south. Most countries have non-stop flight to Vietnam such as Beijing, Guangzhou, Bangkok, Hong Kong, Tokyo, Seoul, London, and Paris. In addition, Laos, Cambodia, and China also have international trains and buses to Vietnam.
The two international airports are small with few duty-free items, so tourists are advised to buy items in the city center.
Airport Service
Sim card: selling at the mobile phone counters
Exchange: exchange counters or ATMs in the airport
Tourist Center: asking for accommodation recommendation and tourist map
Dining: small restaurants in the airport
Souvenir: small shops before custom
Internal Traffic in Vietnam
Plane
The main civil airports in Vietnam includes Noi Bai International Airport in Hanoi (HAN), Cam Ranh International Airport in Nha Trang (CXR), and Tan Son Nhat International Airport in Ho Chi Minh City (SGN). The Vietnam Airlines is a state-run company operating domestic routes among Hanoi, Ho Chi Minh City, Hue, Da Nong, Dalat, Nha Trang… but the ticket price is usually expensive. So if the budget is limited, low-cost airlines like Jetstar Pacific and VietJet Air are recommended.
| | |
| --- | --- |
| Vietnam Airlines | Ho Chi Minh City Airport |
Train
The Vietnamese railway stretches around 1,700 miles (2,735 kilometers) from the north to the south and covers major tourist cities such as Hanoi, Ho Chi Minh City, Hue, Da Nang, and Nha Trang. The train provides food and drinks. The tickets are relatively cheap, for example, a 2.5 hours' train ride from Hue to Da Nang only costs USD11-14. However, it is not advised to take a train for long trips like Hanoi - Ho Chi Minh City which is 1,072 miles (1,726 kilometers) long and would take about 30h to complete the whole journey. It is suggested that tourists would be better to take a flight for long-distance trip and take a train for short-distance or medium-distance trip.
| | |
| --- | --- |
| Vietnam Railway Station | Train in Hanoi |
Read More about Vietnam Trains:
Train Stations in Vietnam Vietnam Train Ticket Types Vietnam Train Ticket Types Hanoi to Da Nang Train
Vietnam Reunification Express How to Get Around Vietnam Ho Chi Minh City to Da Nang Train

★ Popular Vietnam Train Routes:
Ho Chi Minh City to Da Nang Train Ho Chi Minh to Nha Trang Train Ho Chi Minh to Phan Thiet Train Hanoi to Da Nang Train
Hanoi to Da Nang Train Hanoi to Hue Train Hanoi to Sapa Train Hanoi to Ninh Binh Train Trains from Hanoi to Nanning(China)

Open Bus
The most famous means of transportation is open bus. The Sinh Tourist, Phuong Trang, and Hanh Cafe are famous open bus companies in Vietnam. The open bus is available to shuttle among major cities such as Hanoi, Ho Chi Minh City, Hue, Hoi An, and Da Nang. Tourists need to confirm the seats with local office at least 1 day before the departure or book the tickets online 3 days in advance.
Taxi
Taxis of formal companies strictly charge according to the taximeters and won't detour. Generally, It costs 12,000 Dong for the first kilo and 10,000-15,000 Dong for each additional km. It is not advised to take a taxi optionally on the street for the taximeter may cheat. Booking one from a regular company through phone calls is better. The booking number is printed on the taxi.
| | |
| --- | --- |
| Vietnam Taxi | Open Bus, Ho Chi Minh City |
Bus
Vietnam's bus takes flat fare and prices vary according to different cities and different routes. Generally, the price is 5,000 Dong. Because of the language barrier, getting off at the right station might be difficult for foreigners. It is recommended to ask the conductor to remind you when the destination is arriving.
Motorcycle
Motorcycle is a common means of transportation in Vietnam and the drivers here are driving fast through the alleys. Generally, a 10 minutes' ride usually costs about 20,000 Dong.
| | |
| --- | --- |
| Motorcycle, Hanoi | Cyclo in Hoi An |
Cyclo
Cyclo is a unique Vietnamese transportation means with tourists sitting in the front and the driver in the back pedaling. Make sure you negotiate the price with the driver before getting on the cyclo. Another way is to ask the waiters in the hotel for negotiating or book in advance.
Further Reading: