Top Things to Do in Vietnam
Top Destinations in Vietnam
Hanoi
Hanoi is the capital of Vietnam which is located in the north with a history of over 1,000 years. The city contains a profound cultural content and is studded with historical and cultural sites, such as Hoan Kiem Lake and Hanoi Cathedral.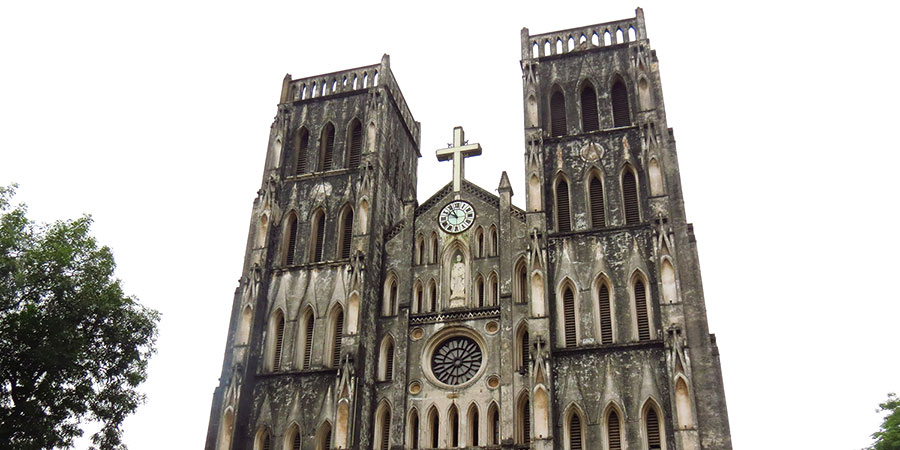 Hanoi Cathedral, Vietnam
Ho Chi Minh City
Ho Chi Minh City is located in the northeast of the Mekong Delta with an area of 810 square miles (2,098 square kilometers) and a population of more than 7 million. As the largest city in Vietnam, Ho Chi Minh City is filled with French romance and is known as the "Oriental Paris". The French left here not only French bread, buildings and phoenix trees, but a French atmosphere. When you shuttle back and forth among the exquisite houses and feel the sunshine falling through the leaves, it seems that you are wandering in a small town in France.

Ho Chi Minh City Filled with French Buildings
Hoi An
Hoi An is in the central part of the country. Originally, the town functioned as a seaport for foreign trade during the Champa period (192 - 1832). In the early 17th century, it became the most important trading port and the earliest Chinatown of the country. At that time, out of a demand for domestic and foreign communication, traders from countries in the east and west Asia such as China and Japan, and even European countries came in and went out frequently, while some even migrated here later.

A Hall Built by the Chinese
Nha Trang
Nha Trang is located in the center of Vietnam. Compared to other coastal cities, this small place is relatively quieter. More and more tourists are attracted here because of its pleasant climate and sea breeze containing rich bromine and iodine which can promote the blood circulation.

Charming Nha Trang, Vietnam
Mui Ne
Mui Ne is situated in the southeast of Vietnam, about 120 miles (193 kilometers) away from Ho Chi Minh City. There is one beach of about 30 miles (48 kilometers) long with warm breeze and smooth waves. The best visiting time is from December to May, and the average temperature is 80F (27C) with hot and humid climate.

Mui Ne Beaches to Relax
Top Attractions in Vietnam
Hoan Kiem Lake
Hoan Kiem Lake is located in the center of Hanoi's old quarter and is known as the most famous lake in Vietnam. There are various versions about the legend of Hoan Kiem Lake. One said that Emperor Le Loi (1384 - 1433) once took a boat trip on the lake and saw a big turtle floating on the surface. He ordered subordinates to shoot it but failed. Then he tried to slash the turtle with a sword but the sword fell into the lake. The emperor was very angry and gave an order to build a dam at the lake's outlet. However, he didn't find the sword even when the water was pumped out of the lake.

Hoan Kiem Lake, Hanoi
Ha Long Bay
Ha Long Bay is in the north of Vietnam and is 90 miles (145 kilometers) away from Hanoi with impressive scenery. In 1994, it was appraised as a natural heritage by UNESCO. There are three coves in the east, west and south of the Ha Long Bay. Because the scenery there is quite like the landscape of Guilin, China, Chinese like to call this place as "Guilin on the Sea". French regard this place as "the Modern Garden of Eden".

Halong Bay, Vietname
Saigon Opera House
Saigon Opera House is located at the Le Loi Avenue. This French-style Gothic building was designed by a French architect Eugene Ferret in 1897. The walls and windows are embossed with exquisite patterns. Two half-naked goddesses hold the top of gateway, and two angels stand elegantly at the highest point of the building. During the Vietnam War, this place was served as a council hall of the Southern Vietnamese government. After the reunification, it was used as an art center once again.

Opera House in Ho Chi Minh City
Hoi An Ancient Town
The houses in Hoi An Ancient Town are all old buildings with a quite long history. All of them are kept in their original appearances. The whole town only has four or five streets where Chinese buildings can be seen on both sides, and they are kept quite well with no damage. Now this town is brimmed with stores selling souvenirs, coffee, and simple meals. It is small so you can complete the visit here within half a day. Hoi An's homestays and hostels are distinctive with three or four floors and there are gardens planted with many beautiful flowers in front of the houses. Tourists can take a rest in the garden by lying on a chair. Life in Hoi An is quite pleasant.

Hoi An Ancient Town
Vinpearl Amusement Park
Vinpearl Amusement Park is located in Hon Tre, an island in Nha Trang. The park covers an area of more than 12,000 square miles (31,080 square kilometers). It is an entertainment complex with accommodations, repast and a large amusement park. It owns the largest swimming pool in the Southeast Asia as well as a private beach of 750 yards (686 meters) long. Besides, the roller coaster, merry-go-round, an aquarium, and even the world's longest cross-sea cable car can all be found here.
Special Tourism - Massage & Spa

Hanoi Water Puppet Shows
Massage & spa in Vietnam give you an enjoyment of acupoint-pressing which can promote blood circulation. One thing needs to be noted is the quality of this service varies a lot, so tourists are advised to choose a reputable center.
Recommendations: Le Spa du Metropole, Hanoi Aesthetic Institute
Special Performance - Water Puppet Show
Water puppet show was first played during the Le Dynasty with a history of over 500 years. At that time, when farmers were free, they would put up a stage on the water and use puppets to show folk stories. Actors use 12 threads to manipulate these puppets which have a height of 15in (38cm) and weigh 7kg. The facial expressions of these puppets fully show farmers' simplicity. You can enjoy this interesting performance at the Thang Long Water Puppet Theater in Hanoi.
Further Reading: