Exploring Vietnamese Culture beyond Cuisines
Culture is one of the building blocks of Vietnamese traditions. Vietnam just doesn't attract tourism because of its beautiful landscapes and gripping locations, but it also holds grounded traditional and cultural values. For the natives of Vietnam, it is almost like a code of law; from cultural foods to traditional clothing, it holds high importance even today. Let's take a look at seven Vietnamese cultures that have left a mark on every tourist.
1. Religions in Vietnamese Culture
Buddhism is the most common and well-known religion in Vietnam. After going into the roots of Vietnamese traditions, you will find that they have a religion that builds out of Hinduism, Christianity, and Buddhism. You will come across many temples and cathedrals in the region. The Vietnamese are famous for keeping their old traditions intact. The people of Vietnam are carrying on with the trade and businesses of their ancestors.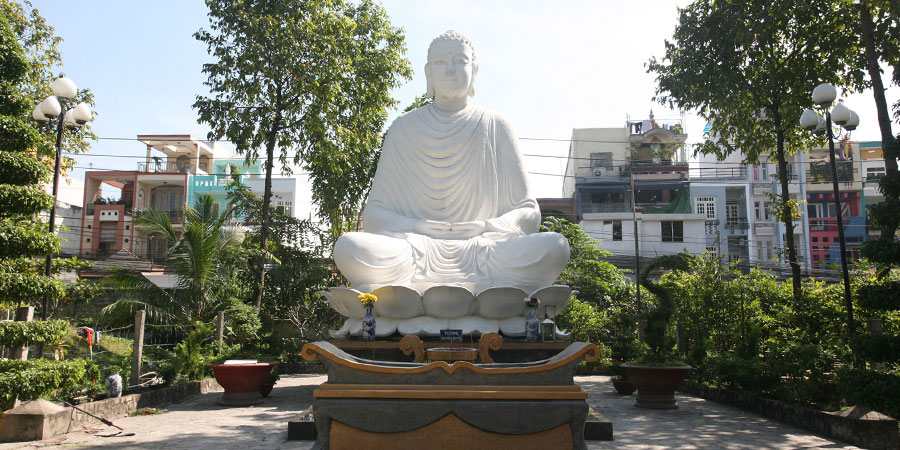 Buddhism in Vietnam
As an act of respect, Vietnamese also worship their ancestors, you will not fail to notice this tradition in any region where they still worship and pay respect to the deceased.
2. Food in Vietnamese Culture
You must have been familiar with the regions in Vietnam. Similarly, Vietnamese cuisine can also be segregated in north, central and south. You will be able to taste the diversity of the region in food as well. From their staple food to the fancy cuisines, you will notice a difference in taste. Undoubtedly, Vietnamese has culinary preferences that can be characterized as sweet, sour, spicy, and some special flavors as well.

Pho - Slices of Meat and Seasonal Herbs
Rice is a staple food that can be found in almost every dish. Apart from this, Vietnamese also make extensive use of fish sauce, oyster sauce, uses less vegetable oil and lots of healthy vegetables. One famous dish which has a different taste in every region but a very stable craze is called Pho; it is also the national dish of Vietnam. It is made with rice noodles and some bone-beef/pork broth, served with thin slices of meat and seasonal herbs on the side. Don't miss this dish when you make your visit to Vietnam.
Read More: Vietnam Culinary Tours that Reveal the Spirit of the Country
3. Traditional Wear
Traditional outfits have been in Vietnamese cultures for centuries. They take pride in introducing their ethnicity to the world in a different way. However, in earlier days, clothing and dressing up had a lot of restrictions. The common dress-up was Ao Giao Linh, which is a cross-colored robe. But it was soon replaced with Ao Dai, which is also the national dress of Vietnam.

Traditional Vietnamese Clothing
Apart from national clothing, other costumes are worn by the natives. Once you make your visit to Vietnam, do try the traditional clothing.
4. Cultural Festivals in Vietnam
The fact of diversity makes Vietnam accountable for several different festivals celebrated throughout the region. Festivals are held to empower the community spirit and promote ethnic diversity in Vietnam. There are two major sections in festivals: ceremony and society. This is to respect the divinity of people, and to make sure that the health, wealth, and luckiness are in abundance in the community.
Two major traditional festivals are celebrated such as
Tet holidays
- considered the biggest festival of the year, and celebrated first day of the first month in the lunar calendar. The second festival is Hung King Commemoration Day celebrated from the 8th to the 11th days of the third lunar month.
5. Thought to Provoke Vietnamese
Vietnamese are very optimistic people. One of my friends had an episode of an anxiety attack on his tour due to lack of cash, and that's when he discovered that people are not just supportive and understanding but very optimistic too. There are families with not very well to do backgrounds, but they are constantly working on improving the condition of their lives.
Odd jobs are common and one of the best in Vietnam is homestay. Many rural families indulge in welcoming tourists in their homes in exchange for better facilities, and some financial help from the organizers. This doesn't just help them grow but also contributes to community development.
6. Don't Tip Vietnamese
This isn't a harsh statement, but it is strictly mentioned to keep things from becoming awkward. If you find the services to be excellent in Vietnam, then don't just directly tip them, they might get offended. Vietnamese culture is closely knit and they work together to upgrade their standard of living. Accepting money as a tip or a token of love can be considered offending.
Vietnamese are modest people and they follow a very structural way to improve the quality of life. You can leave a generous tip but in a different way than they don't get to see until you leave. Don't ever think of giving the tip flat out on their faces. Offending alert!
7. Patriotism and Vietnamese
Vietnamese are very touchy about their country. They may talk about their own country but it's unacceptable for them to listen to any foreigner speak anything wrong. So, this information about Vietnamese culture must be taken seriously. They are very attached to their country and wouldn't be patient on hearing anyone criticizing their country. The traffics, some places are away from the main city and the roads are not very comfortable to ride on. You may talk about the crazy traffic and unmade roads, but make sure you add in some positive side of the place as well, like the weather, the people, and tasty food.
These details about Vietnam have deep-rooted importance in the entire region. The dish's recipes, clothing style, and some details might change, but not the core values. Vietnamese are grounded when it comes to sticking to their traditional values. If you are already on your way to Vietnam, then remember to act upon these points. And if you are planning to get to Vietnam recently, then this will help you structure your itinerary. Make sure you stick by the itinerary if you are willing to explore maximum parts of the country.
You May Like:

6 Iconic Vietnam War Songs Vietnam Music 5 Best Festivals in Vietnam