4 Best Weekend Getaways from Delhi
Delhi gives you the opportunity to take brief weekend trips to nearby locations. Being centrally placed, it is easy to manage trips at comfortable budgets and time. Here is a list of some of the best weekend getaways from Delhi. Pick anyone and you will not be disappointed.
★ Agra (230 km or 143 mi)
The most brilliant architectural wonder,
Taj Mahal
, stands in its white austere stateliness. Occupying a flamboyant space in the history of the world monumental extravaganza, it is a sight to die for. Built by Emperor Shah Jahan for his beloved wife Mumtaz Mahal this tomb is truly a feast for the senses.
Head straight for the red sandstone structure of the
Agra Fort
that overlooks the Taj. The elaborate garden and maze attract tourists to this piece of art. Several other structures standing in the fort are brilliant pieces of Shah Jahan's artistry.
After tasting some delicious lassi and 'petha' from the local souk, if you wish to buy Agra's Nagra shoes along with bangles then do it now. Head to
Fatehpur Sikri
, to witness yet another specimen of architectural composure. Spellbinding, some consider this artistic extravaganza outdoing many other famed monuments.
Agra has many
hotels
and Oyo rooms that can be picked at a reasonable price. For a one-night stay, prices range up to INR 1,000.
Places to see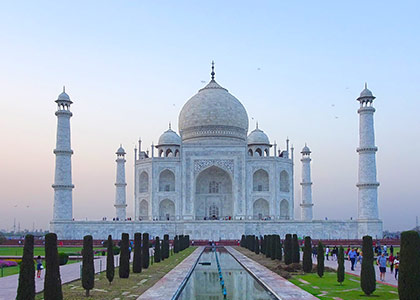 Taj Mahal in Agra
• Taj Mahal
• Agra Fort
• Fatehpur Sikri
• Sikandar Fort
•
Itmad-ud-Daula
• Jahangir's Palace
• Dayal Bagh
•
Akbar's Mausoleum
How to reach Agra
Flight
• Flight: Delhi Agra Flight Alliance Air (Air India) 18 ATR 72-600 (Mon, Wed-Sat. Fare INR 2,500 onwards,
• Timings: 10:35 am, 12:10 pm
• Time to reach: 1h 20min
Bus

Agra Fort
• More than 100 buses go regularly to Agra. Volvo, AC buses to Non-AC State transport buses.
• Interstate buses from Anand Vihar ISBT
• Fare INR 250 to INR 2,000 depending on Bus Types
• Timings: Starting at 5 am
• Time to reach: 3h 20min
Car / Taxi
• Fare: INR 4,500 one way
• Timings: Depends on you
• Time to reach: 3h (without halt)
Train
• Train Super-fast GATIMAAN Express Train, Superfast Bhopal express train, Shatabdi Express, Taj Express.
• Fare: INR 700 onwards
• Timings: starting 6:00 am
• Time to reach: 1h 30min
• Book tickets in advance
For City Tour hire a car. Fare (INR 1,600 for 8 hrs.)
Read More: How to Get from Delhi to Agra – Bus vs. Train
★ Jaipur (280 km or 174 mi)
Holding and still maintaining its rich heritage, the Pink City of India showcases the royal ensemble of its classical history that tells several tales of the Ranas and their bravery.
Walking through the
Amer Fort
, the fusion of Rajasthani and Muslim art cannot escape your eyes. Displaying camaraderie in the architecture of its time, it speaks volumes for the political harmony that prevailed between the Rajputs and the Mughals. Walk down the thin narrow path that leads to the
Jaigarh Fort
to look at a cannon. You could stop by for some photos or move on with your next tour to
Nahargarh
. This fort is abundantly spread out showing off its architectural opulence.
| | |
| --- | --- |
| Amer Fort | Nahargarh Fort |
| | |
| --- | --- |
| City Palace | Jantar Mantar |
Return to the city to check out the Jal Mahal that stands on the still waters of Mansarovar. It indeed makes for a postcard view. From here you could check into the Albert Hall Museum, no less in stately charm, this museum has an entry fee of INR 150 for foreign tourists. The museum has some photographs of historical relevance. Timings are 9:00 AM - 5:00 PM and it takes about an hour to visit this museum. Keep the two gardens Kanak Ghaati and Vrindavan Gardens in your itinerary. As you visit the City Palace, don't forget to look for the hidden passage. There is a Jantar Mantar here too, so do experience it. Apart from these, help yourself to ample Rajasthani cuisine and of course, you won't forget to shop for colorful handicrafts and jewels (See also Jaipur Shopping Guide). Make the most of this weekend getaways from Delhi.
See also Top Attractions in Jaipur
There are many
best hotels
and Oyo rooms here. At INR 1,000 you can get a good overnight accommodation for two.
How to Reach Jaipur
• Bus: Private buses charge from INR 500 onwards (time 3.30 min)
See also Delhi to Jaipur by Bus
• Train: There are 4 direct train(s) from New Delhi to Jaipur (02958, 02463, 04739, 02916) (Time 3 hrs. 55 min) (INR 102)
• Flight: SpiceJet and Indigo, Fare INR2,718 and time 1 hour
• Car: Time 4 hours 31min fare INR2,500 See also
See also Delhi to Jaipur by Car
Book a full day car for sightseeing (fare INR1,500-1,800)
Read More: How to Travel from Delhi to Jaipur: Air, Bus, or Train
★ Nainital (300 km away or 186 mi)
One of the most spectacular glories of the Kumaon Hills, Nainital is a good place that you could choose for a weekend getaway from Delhi. The nine lakes of sparking deep water from which this town gets its name and fame are its most splendid attractions. If you like nature, which I presume you do or else Nainital would not have been your chosen destination, then there is plenty to see. There are great trekking tacks that you could explore or just decide to watch the lakeside view. Boating is what most people do, so why not try it? Don't forget the ropeway connecting the town with the snow view. The panoramic view of the valley is breathtaking from the high trail.
Hotels and Oyo accommodation can be availed for INR1,000 to 1,500
How to reach Nainital
• Flight: There is no direct connectivity by flight. The nearest airport is Pantnagar (65km from Nainital) (Fare INR4,000-4,500)
• Bus: Excellent AC Buses connect Delhi to Nainital. Take an overnight bus and reach by the next day. Fare varies from INR 500-1000
• Train: The nearest railway station is Kathgodam (34km) from Nainital. You have to hire a car or taxi to reach Nainital. You will get Alto cars from INR750-1,000 or SUV for 1,700-1,900. Shared Taxis are also available, and single travelers or couples could try this out. Fare is INR 200 to the mall road. You can also find buses that would take an hour and a half to reach Nainital. Ticket fare is INR 80. The buses are usually crowded so it is difficult to find a seat.
• You could travel in your own vehicle and plan a leisure trip.
Take a taxi for sightseeing at INR3,500 - 4,500 per day
★ Shimla (342 km away or 213 mi)
The road to Shimla, be it by train car or bus, is spectacular. Your adventure to Shimla starts with an engrossing 6-hour train journey. Crossing through 102 (+1 the Victory tunnel not included in the train) tunnels and enjoying the hilly landscape, is rewarding. Watching the terrain change from lower hills to formidable pine-clad upper verdant mountains brings the profound feeling of being on the Himalayas.
The stations as you cross are a picturesque reminder of the old Raj days and the Shimla station is a prologue from where it all began. The summer capital of British India has still preserved its age-old charm along with the demands of being the capital town of Himachal Pradesh.
The Mall Road
, the Ridge which holds the iconic Christ Church, the second-oldest church in Northern India, the
Jakhu Temple Park
, The Institute of Advanced Studies, the erstwhile Viceregal Lodge, residence of the viceroy of India. Tall spires reaching out to the sky and rolling green grounds can take away hours of your time in utter respect and silence for this imposing monument.
| | |
| --- | --- |
| The Main Road | Jakhu Temple Park |
Fagu, Kufri, Chail, Naldehra that boasts of an 18-hole golf course with 16 Greens and 18 Tees. A difficult course to play owing to the Deodar trees. This is one destination that touches your heart. Taste the confectionary offers of Trishul, an old patisserie shop. And return heavily laden with happiness. You will thank me for choosing this place as a weekend getaway from Delhi.
Hotel rooms would be available for INR 1,000
How to reach Shimla
• Train: Kalka Howrah Mail (12311) till Kalka from the Old Delhi station (DLI). Board the train at 21.30 and reach Kalka at 4.35. Fare INR 130 in the second seater and INR 1255 in First AC. There are three trains from Kalka going to Shimla.
52451 Shivalk DLX EXP at 05:10 AM; First Class Fare INR565
52453 Simla Express at 06:00 AM; Second Class fare: INR.65
52453 Simla Express at 06:00 AM; Chair Car fare: INR.65.
A Rail Motor Car also can be availed. There is a stopover at Barog, and don't forget to sip the tea or hot tomato soup offered in the refreshment room. Train takes 6-7hrs.
• Flight: Aerial distance is 273 KM (170 mi) and Delhi is well connected to Shimla. Fare is around INR 1,300.
• Bus: It takes 8 hrs. by bus fare INR 600-1,000 in Volvo buses
• Car: It takes 6-7 hrs. fare INR 3,712
Take a car for sightseeing Fare INR 5,000. Negotiate the price as mostly you will have to walk in Shimla town, cars are not allowed on the Mall Road.
There are countless places to visit in India and listing them in a hurry would be unfair, just picked up a chosen few. I am sure that you will feel rejuvenated with this little break from Delhi. Make your weekend getaway from Delhi memorable!