Nahargarh Fort, Jaipur: 9 Things to Do
Jaipur is a favorite destination for tourists and history lovers alike. Jaipur has many life-time experiences on offer. The land was always ruled by brave Rajputs who went to any lengths to protect their land from prying eyes. The land has stood to witness too many historically important battles and wars.
The Nahargarh Fort in Jaipur has given refuge to many Europeans when Sepoy Mutiny was ordered in 1857. It has umpteen stories of Rajputana valor and honoring their words until death. As much as they fought to keep the enemy at bay, they also built forts and other structures to protect their kingdoms. One such legacy left for the later generations to marvel at is Nahargarh Fort in Jaipur.
Jaipur's pride Nahargarh Fort, meaning 'abode of Tigers,' is an architectural wonder. It was originally named Sudarshangarh Fort by Maharaja Sawai Jaisingh II under whose leadership the fort was commissioned in the year 1734. The Maharaja was also the founder of Jaipur and is credited for giving Jaipur many of its jewels. The wall of the fort is connected to Jaigarh Fort, which is located next to it.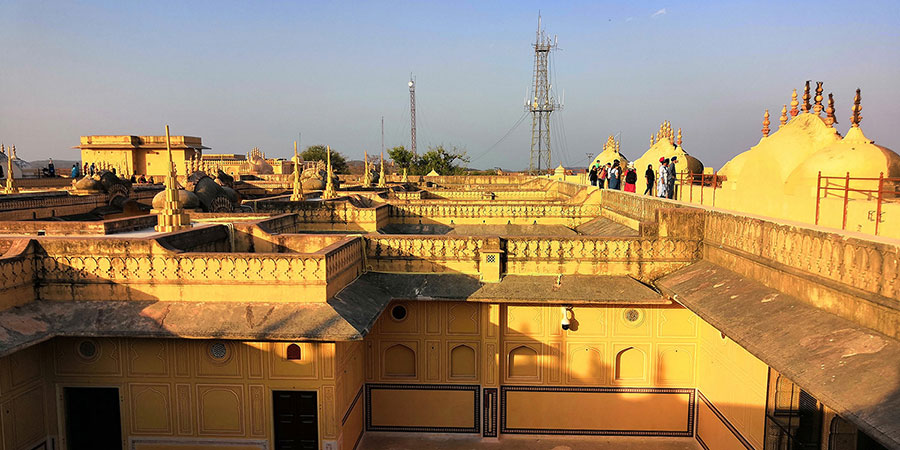 Charming View of Nahargarh Fort at Sunset
The Nahargarh Fort was constructed in Indo-European architecture, offering a mesmerizing view of surrounding Aravalli hills, from the top. This beautiful place was once the favorite retreat for The Maharaja. Monsoons are exceptionally beautiful in this place. Later in the year 1880, the imperial luxury retreat was extended for the public by Maharaja Sawai Madho Singh. A fortress named Madhavendra Bhavan was constructed inside the fort and decorated with premium paintings, fine arts, and lux décor. Thus, was born the recreational super luxurious amusement palace.
A major tourist attraction, the fort pulls tourists from across the global map. The fort has many things to engage the visitors. So, does the fort premises. Top nine of them cannot be forgotten to be included in the things to do in and around the Nahargarh Fort, Jaipur:
1. Sculpture Park at Madhavendra Palace
The expansive grounds of Madhavendra Palace host this park. As the name suggests, it houses one-of-its-kind artworks, beautiful carvings, and sculptures from leading artists from all corners of the world. The management, committed to serving the best, keeps upscaling the artwork, replacing old with new, improving standards each time.
| | |
| --- | --- |
| Madhavendra Palace | Premium Painting of Wax Museum |
2. Jaipur Wax Museum
The Department of Archaeology & Museums, Jaipur in partnership with a private company has established a wax museum at Nahargarh Fort. A large number of artists from across the country have decorated this place and have installed wax statues of famous personalities. Do visit the Sheesh Mahal area in the museum where artists have used more than 2.5 million glass pieces of different colors to decorate the inner walls. Entry fee to access the Nahargarh Fort Wax Museum is Rs. 500 for Indian tourists and Rs. 700 for foreign tourists.
3. Nahargarh Fort Open Theatre
Nahargarh Fort is the site for an open theatre, where the Department of Tourism shows documentary films based on the history of the fort and the royal family. The theatre is situated near the Nahargarh Fort Stepwell and visiting the place during the day is the best option.
4. Nahargarh Stepwell
Once after you reach Nahargarh Fort, make sure not to skip visiting this place as it is located at a corner and is often missed by first-time travelers. Here you'll see a huge stepwell which was built to store water. This place is located outside of the main fort complex, so feel free to visit this spot at any time, however, it's better to avoid visiting this place at night as it may not be safe.
| | |
| --- | --- |
| Nahargarh Stepwell | The Huge Stepwell Built to Store Water |
5. Shopping
There are many specialist shops near and around Nahargarh Fort where gifts, collectibles, and souvenirs can be bought from. The export shops selling carpets, premium textiles, spices, teas (yes, they have a flattering range of teas for connoisseurs), accessories, jewellery, arts including everything from sculptures, designer wear, bedsheet, paintings, carvings, etc. Jaipur is famous for its meenakari – the enamel jewellery, silver, oxidized silver, Thewa, gold-based kundan jewellery esp. famous for weddings, etc.
6. Hot Air Balloon Safari
A fully licensed hot air balloon safari is operated under the expertise of experienced international pilots. This is an amazing experience as the balloon gently floats over the magnificent Nahargarh Fort and Aravalli mountain ranges, villages, and fields, and a nearby wildlife sanctuary, etc. Capturing the view from this height is an experience to remember.
See more: Jaipur Sightseeing from Air - Best Hot Air Balloon Rides in Jaipur
7. Elephant Village
No, this is not about elephant ride. Rather this is about making a difference to the lives of elephants. This is an elephant village, working for conserving elephants, and sensitizing people along by imparting knowledge on their food habits, habitats, and life. Sure, to give an educational and fulfilling experience. This is a privately-run activity and the dedication of this family towards Elephants welfare is commendable.
8. Pottery Art Centers
Explore the rich collection of pottery – a specialty of the region. The shops here have a huge collection of original designs, and hundreds of decorative and utility products make shopping fun here. The artists do make some out of the box souvenirs to take back home and flatter your friends and family with.
9. Ayurvedic Spa
Close by to the fort are few ayurvedic massage parlors. The massage is deeply rejuvenating and calming. They soothe each nerve deep down and leave you to face the world afresh and charged. Do walk in to experience the magic of local herbs.
Best time to visit the Nahargarh Fort, Jaipur:
October to March
The weather is visitor's delight at this time of the year and the fort plays enchantress ready to put visitors under the spell of sorts. It is a pleasure to walk the fort during these months and to click-click for photography enthusiasts.
How to reach:
The place is 20 kilometers from the Jaipur city railway station and the main bus stand. You can reach there by taxi as public transport is not available.
Entrance ticket price:
• INR 25 for Indian travelers
• INR 75 for foreign travelers
• INR 5 for Indian students
• INR 25 for foreign students
Opening time:
10.00 AM to 5.30 PM
Jaipur is a complete package for the people looking for long vacations as well as those on a small trip. Those with a plan of spending holidays in Jaipur vouch for the city's royal experience as well as the traditional village life that the Nahargarh Fort and its nearby areas offer. It is an experience that you cannot keep calm without sharing with friends.
Other Popular Forts in Jaipur: