6 Secrets You Should Know about Markets in Delhi
Delhi is like a labyrinth that beholds the testimonials of Mogul, Lodi, and British Empires. It practically embodies the idea of reincarnation enthralling the senses, through not just history but with crafts, culture and stories.
The capital city of India, Delhi, has been a popular vacation spot and an Eden for shopaholics! Owing to the vivid shopping options, the city is a lot of fun for travellers and residents alike. The shopping scene includes everything from large-scale markets, throbbing bazaars, arty enclaves, to the road-side flea markets. And, like every urban city, there are plenty of high-end designer malls and classy brick and mortar stores. Loaded with a wide array of items such as handicrafts, shoes, fashion apparel, spices and other condiments, electronic gadgets, imported foods, antiques, textiles, accessories, and home décor products, Delhi markets have a lot to offer when you think of what to buy in Delhi.
The following list can make it easier for you to find out the top markets in Delhi that offers the finest souvenirs to take back home:
1. Dilli Haat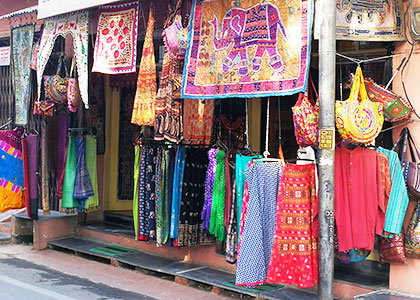 Wall Hanging
Dilli Haat is one of the hugest markets in Delhi, and interestingly, it has the model of a weekly village market. Had you ever been to a rural haat, you can recognise the same pattern but placed in an extremely urban setup. You can find stalls erected with thatched roof and tourists can explore the amazing mix of culture through the displayed products like handicrafts, music, antiques, textiles and much more. If you are into Indian handicrafts and artefacts, this is the place to be. The day starts at 11 here and goes up to 10 at night. It is open even on Sundays.
Things to Know
• Location: Sri Aurobindo Marg, New Delhi, India
• Nearest Metro: INA station
• Nearest Bus Stop: INA stop
• What to Buy: Paintings, Jewelry, pottery, fabrics, furniture and various artifacts
• Timings: 11:00AM to 10:00PM (all days of the week)
2. Janpath Market
Very popular for leather articles, paintings, handicrafts, Indian artefacts, clothing, shoes, brassware, and imitation jewellery – it is a haven for the shoppers! That being said, you must have proper haggling skills to get the products in real steal deals! Interestingly, you can also get antiques and other handicrafts from the unknown land of Tibet. In fact, the place is also called the Tibetan market.
Things to Know
• Location: Janpath, New Delhi
• Nearest Metro: Rajiv Chowk Station
• Nearest Bus Stop: Janpath Market stop
• What to Buy: Accessories, footwear, , antiques, handicrafts, traditional and western clothes leather work, paintings, imitationjewellery
• Timings: 10:00AM to 9:00PM (Monday to Saturday), 11:00AM to 8:00PM (on Sundays)
3. Khan Market

Indian Jewelries
This is one of the markets in Delhi which offer sophisticated shopping options but is not a flea markets. You can even get some branded outlets to satiate the shopaholic in you! Street vendors are also prevalent where you can do the bargain game but the rest of the shops have items with fixed prices. It is known for being one of the finest market for Ayurvedic medicines, books, government shops, cosmetic, and trendy clothing. This market remains closed on Sundays.
Things to Know
• Location: Humayun Road, New Delhi
• Nearest Metro: Khan Market station (violet line)
• Nearest Bus Stop: The Khan Market bus stop is just a minute away
• What to Buy: Garments, books, food products, lifestyle items
• Timings: 10:00AM to 11:00PM (all days of the week); closed on Sunday
4. Paharganj
To get a feel of the chaotic scenes of the city, this is where you should be. Choose what to buy in Delhi markets from here as most of the shops are wholesale marketers. Even the antique and unique handicraft objects at available at cheap rates. Interestingly, there are many options to buy the foreign products (beware of counterfeit items) in this market. It is undoubtedly one of the brilliants shopping places to get textile, music, books, hookah pipes, and handicrafts.
Things to Know
• Location: Central Delhi
• Nearest Metro: The New Delhi Metro Station (Yellow Line)
• Nearest Bus Stop: Paharganj Gate stop; it is better to walk than take any rickshaw
• What to Buy: Clothes, books, hookah pipes, textile, handicrafts, home decor items
• Timings: 11:00AM to 9:00PM (all days of the week), closed on Monday

Local Garments
It is one of the most ancient shopping regions of Delhi, which has changed little. Thriving till date, you can explore the real Old Delhi culture here and marketing in this region will be nothing less than an exploration. The alleys that crosses the endless stream of shops, is also a favourite place for the shutterbugs. Starting from street food to fabric, almost everything can be found in this marketplace. In fact, when in doubt what to buy in Delhi, you can visit this unofficial best market place of Delhi.
Things to Know
• Location: Chandni Chowk, Old Delhi
• Nearest Metro: Chandni Chowk (try Old Delhi Railway Station and hire an auto)
• Nearest Bus Stop: Get direct buses from Daryaganj bus stop. You can also use the private vehicle and park near the entrance of the Old Delhi railway station.
• What to Buy: Semi-precious jewellery, silk and cotton clothes, lehengas, embroidered bags, books and electronic products
• Timings: All days of the week, except Sunday
6. Sarojini Market
Yet another thriving market place of Delhi is popular for cheap stuffs. This is because, the items are mostly the rejected goods of the export packages. You must bargain to get the best deals here. Sundays are exceptionally crowded, so if you want to spend time to find out what to buy in Delhi markets, it is better to plan for a weekday tour.
Things to Know
• Location: Sarojini Nagar, Near Dilli Haat, New Delhi
• Nearest Metro: INA metro (yellow line)
• Nearest Bus Stop: INA stop
• What to Buy: Household items, apparel, accessories, kitchenware, electronic products
• Timings: 10:00AM to 9:00PM (all days of the week), closed on Monday
You May Like: