Raj Ghat, Delhi
Raj Ghat, the grave of Gandhi, is located at Mahatma Gandhi Marg, Ring Road, New Delhi. Raj Ghat is surrounded by a green space that isolates the bustle of New Delhi. In the middle of Raj Ghat, there is a black marble mausoleum lying still. It is an ordinary square platform without any decoration, but elegant and solemn. Everyone needs to take off their shoes as a sign of respect when they come forward to admire it. Behind the mausoleum is a lantern that symbolizes India's spirit of striving for national independence.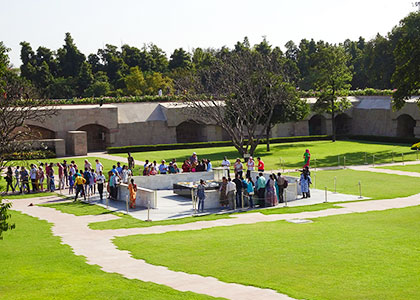 7 photos
At the exit of the mausoleum is a stone monument engraved with the "Seven Social Evils" from Gandhi's 1925 book "Young India":
1. Politics without principles
2. Wealth without work
3. Pleasure without conscience
4. Knowledge without character
5. Commerce without Morality
6. Science without humanity
7. Worship without sacrifice
The mausoleum is engraved with Indian words "Hi!" Romo! This is the last two words that Gandhi called out when he died and fell to the ground, and Romo was the embodiment of the god of conservation in Hinduism. In addition to the mausoleum, there is a garden trail engraved with Gandhi's footprints in the Raj Ghat, and Gandhi was assassinated on this road.
Tips
1. There will be the prayer ceremony at 17:30 every Friday. Every year on October 2nd (Gandhi's birthday) and January 30th (the day of Gandhi's assassination), Indian national leaders and citizens will come to Raj Ghat mourn and tribute to Gandhi.
2. Not far southwest of Raj Ghat is a
National Gandhi Museum
, which displays a large number of letters, photographs and other documentary data that travelers can visit. The opening hours are 9:30-17:30 and it closes in Monday. People can visit it to acquire more information about this Mahatma Gandhi, India's Father.
3. Raj Ghat is located on the opposite of
Red Fort
. People can also stop by to visit it.
| | |
| --- | --- |
| The Black Marble Mausoleum | Tourists Taking off Their Shoes for Showing Respect |
Why is Raj Ghat important?
Raj Ghat, located on the banks of the Yamuna River in eastern New Delhi, is the mausoleum of Gandhi, India's "father". Gandhi was the initiator of the "nonviolent non-cooperation" movement, striving for a lifetime of resistance to British colonial rule and independence for India. His image was also printed on the Indian rupee.
When was Raj Ghat built?
Raj Ghat is in fact a symbolic mausoleum that did not bury Gandhi's remains. He was cremated here after his assassination on 31st January 1948, and his ashes were scattered in the Ganges and the intersection of the Indian Ocean, the Arabian Sea and the Bay of Bengal near Cape Comorin.
| | |
| --- | --- |
| How to Reach Raj Ghat | Take bus No.331 and No.753, or take subway and drop off at Chandni Chowk Station |
| Timing | 5:30-19:00 |
| Entry Fee | Free |
Read more about Safdarjung Tomb in Delhi