India Weather in August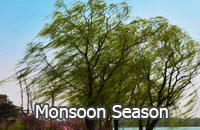 The weather in India remains hot and rainy in August. The average daytime temperature is 31℃ (87.8℉) while the average night temperature is 24℃ (75.2℉). In comparison, the north part of India is drier and sunny. The rainfall in the southwestern coastal cities is intense, making cities like Goa and Kerala quite wet but very hot. It's necessary to avoid the storms. Apparently, the northern cities are more suitable for travelling to India in August such as Rajasthan, most of which lies in the desert area.

The hottest cities in India in August:
Chennai: 35℃ (95℉), New Delhi: 35℃ (95℉), Agra: 36℃ (96.8℉), Amritsar: 35℃ (95℉)

The coldest cities in India in August:
Hyderabad: 23℃ (73.4℉), Bangalore: 20℃ (68℉), Pune: 22℃ (71.6℉), Bhopal: 23℃ (73.4℉)
Averages for India Weather in August






August Temperatures in India
What to Wear
If you determine to travel to India in August, you should prepare some thin and breathable quick-dry clothes, casual shoes and the rain gears like umbrella and rain coat. By the way, don't forget the sunscreen and take a sunhat with you.




August Travel Guide – Where to Go & Tips
Tourism Rate:



Rajasthan is located in the northwest of India, most areas of which are desert. It owned 23 duchies in the ancient time, so there are lots of delicate sculptures and significant forts left. There are four main famous cities in this area. 'The White City' Udaipur, called the Venice in Desert, is a lake kingdom of a large number of beautiful water palaces. 'The Golden City' Jaisalmer is famous for the golden forts which has delicate embossments on the walls and pillars. 'The Blue City' Jodhpur is the second largest city in Rajasthan, in which the Mehrangarh Fort, the most spectacular fort in India is located. 'The Pink City' Jaipur is a poetic and romantic city. As the old capital of Rajasthan, it still remains attractive today. This city combines ancient and modern cultures which present a colorful but chaotic scene.
Read More: 5 Best Places to Visit in August
August Weather of Major India Cities
August


Temperature

Sunrise / Sunset
Humidity
(%)
High
Low

Agra



36°C/ 96.8°F

28°C / 82.4°F
07:25/ 17:32
44
Ahmedabad

33°C / 91.4°F

25°C / 77°F
07:20/ 18:07
84
Amritsar

35°C / 95°F

25°C / 77°F
07:56/ 18:38
79
Bangalore

28°C / 82.4°F

20°C / 68°F
07:45/ 18:30
83
Bhopal

29°C / 84.2°F

23°C / 73.4°F
07:08/ 18:13
72
Chandigarh

34°C / 93.2°F

25°C / 77°F
07:23/ 18:22
73
Chennai


25°C / 77°F
07:41/ 18:34
79
Guwahati

33°C / 91.4°F

26°C / 78.8°F
06:51/ 17:35
75
Hyderabad

32°C / 89.6°F

23°C / 73.4°F
06:58/ 16:36
72
Jaipur

34°C / 93.2°F

25°C / 77°F
07:44/ 17:48
57
Kolkata

33°C / 91.4°F

26°C / 78.8°F

07:03/ 18:11
74
Lucknow

34°C / 93.2°F

25°C / 77°F
06:56/ 17:43
65
Mumbai

30°C / 86°F

26°C / 78.8°F





New Delhi

35°C / 95°F

27°C / 80.6°F





Patna

34°C / 93.2°F

27°C / 80.6°F





Pune

28°C / 82.4°F

22°C / 71.6°F





Surat

28°C / 82.4°F

24°C / 75.2°F





Varanasi

34°C / 93.2°F

27°C / 93.2°F