10 Agra Travel Tips for First-Time Travelers
Agra, a city known for its unique architecture, is one of the most visited places in India. The city is famous for the Taj Mahal, Fatehpur Sikri, and Agra Fort, which have been recognized as UNESCO World Heritage Sites. Many tourists from India and foreign countries, visit the city in a huge number, which has given a great boost to tourism in Agra as well as Uttar Pradesh. Here are the ultimate Agra travel tips offering for first-time travelers.
The best time to visit Agra is in winter from November to February. Agra has a semiarid climate and it is mostly humid. Agra is hot and dry in summers, due to which sightseeing in the morning and afternoon becomes too tiring and dehydrating for the tourists. In the monsoons, there is an average amount of rainfall. The climate is pleasant during the monsoon season, neither too hot nor too cold. The climate in December is usually cold in the evening and pleasant in the morning with almost no rainfall.
During summer, you can expect the mercury to hit as high as 49 ℃ (120 ℉) and during winters, the temperature can go as low as 1 ℃ (33.8℉). However, the average temperature during summer and winter ranges between 42-48 ℃ (108-118℉) and 2-8 ℃ (35.6-46.4℉) respectively.
2. Agra Travel Tips: Hotels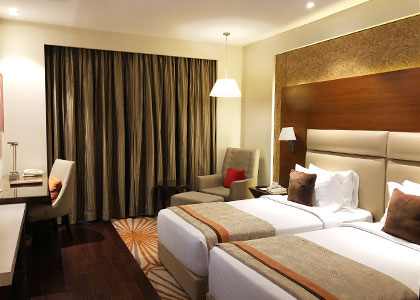 Agra Hotel
Agra, famous for tourism, offers various kinds of accommodation facilities for millions of tourists. Agra offers a wide range of 5-star hotels, budget lodges, family resorts, etc. for tourists. Accommodation in Agra suits for all kinds of budgets. If you're looking for luxury 5-star hotels, Agra has The Retreat, Crystal Sarovar Premiere, Radisson Hotel, Courtyard by Marriott Agra, and the famous Oberoi Amarvilas hotel. The price per night starts from Rs.4, 000 and can go up to Rs.70, 000 and even more. On the budget side, there are hotels available for as low as Rs.300 per night.
If you're looking for hotels in Agra, make sure to check Tajganj, Fatehabad Road, and Agra Cantt Railway Station area. You can also find some good hotels near the Agra Fort railway station.
Read More: 7 Best Places to Stay during Your Visit to Agra
3. Agra Travel Tips: Restaurants
There are many restaurants in Agra that are famous in the city, for serving some delicious cuisines. There are family restaurants, hangout cafes, budget restaurants available in Agra. There is a unique restaurant in Agra named Sheroes, run by women surviving acid attacks. They charge no amount in the bill, visitors can pay as per their wish. Sheroes is definitely worth a visit. There are several such restaurants in Agra that serve delicious food.
There are many other restaurants that serve authentic Mughlai dishes including chicken tandoori, kadhai chicken, biryani, and so much more. Restaurants like Pinch of Spice, Taj Terrace, Bon Barbeque, Esphahan, and Pind Balluchi are famous for non-vegetarian dishes. For the veg menu, you can try Sankara Vegis Restaurant, Anise, and Laxmi Vilas. Most of the restaurants in Agra can be found in the Sadar Bazaar and Tajganj area.
Read More: 10 Best Restaurants in Agra
4. Agra Travel Tips: Transportation (Air, Bus, Train)
Agra is one of the most visited cities in India, well-equipped with facilities like airports, railway junctions, and highways that connect this city with other major places in India. Agra can be easily reached by air, train, bus, taxi, etc.

Train If you're travelling by train, Agra has three railway stations -
Agra City
(AGA),
Agra Cantt or Agra Cantonment
(AGC), and
Agra Fort
(AF). The Agra City Railway Station is almost non-functional as no train originates from or terminates here. However, you can easily find trains to and from Agra from the other two railway stations which are located at a distance of 5 km (3.1mi) from each other. The nearest railway station to the
Taj Mahal
is Agra Fort Railway Station.
Trains are economical and you can easily reach Agra from Jaipur and Delhi for under Rs.150. Train tickets can be booked at railway stations, however, it's advisable to book your tickets in advance.
Read More: How to Travel to Agra by Train
Bus
Those travelling by bus should know that Agra has many bus stands - Idgah, ISBT, Bijli Ghar, Agra College, Raja Ki Mandi, and Hariparwat bus stand. In Agra, you will find many private and state-owned buses. For local travel, it is better to book auto-rickshaws or taxis as local buses are often unreliable.
As far as the ticket price is concerned, a bus ticket from Delhi to Agra and Jaipur to Agra cost around Rs. 200 on average. Bus fare depends on the type of class you're travelling into, so you can expect it to hit Rs.1,000-3,000 per person if you choose luxury, air-conditioned bus. Buses from Delhi and Jaipur take around 4-5 hours to reach Agra.
Read More: How to Travel to Agra by Bus
Air
Agra has a small airport called Pandit Deen Dayal Upadhyay Airport, which is not the busiest, but still manages to connect the city with Delhi, Jaipur, Bangalore, and other major destinations in India. A one way trip of an hour from Delhi to Agra by air costs Rs.3, 500-4,000. The number of flights, as well as the number of airlines operating at this airport, are limited. Flights from Jaipur to Agra are comparatively cheaper as you can reach the city of Taj from Jaipur for just Rs.1, 200. You can reach
Agra airport
by taxi or auto-rickshaw. The airport is 12 km (7.5mi) away from the city center and an hour-long ride to the airport costs Rs.300-400.
5. Agra Travel Tips: Food
Visiting Agra and not relishing the traditional delicacies in the city does not sound like a perfect trip. First-time travelers get to have a wide variety of delicious dishes that are famous among the locals of Agra. The famous dishes include both vegetarian and non-vegetarian dishes. The veg dishes include paratha, paneer tikka, etc. The famous non-veg dishes include tandoori chicken and Mughlai chicken. The most famous sweet here in Agra is Jalebi. These dishes are available in restaurants. But some of the most delicious dishes are available on the streets of Agra.
Read More: 7 Agra Famous Food
| | |
| --- | --- |
| Veg Salad | Camel Festival |
6. Agra Travel Tips: Markets
Agra has many shopping markets in the city, which depict the true essence of the city. Many varieties of clothes, accessories, toys, handmade goods, etc. are available in the shopping markets that are located on the streets. Religious accessories are also available in these shopping markets. First-time travelers definitely need to visit these markets as the markets bring out the true essence of the city. The first time travelers can learn a lot about the culture and traditions of the city just by visiting these local markets.
Read More: 5 Popular Local Markets in Agra
7. Agra Travel Tips: Festivals
Agra is a rich cultural city, known for the grand celebration of festivals, especially Hindu festivals that include Diwali, Holi, etc. Ram Baraat, the wedding procession of Lord Rama, is the grandly celebrated festival in Agra, which is celebrated for 3 days. Another famous Hindu festival is the Kailash Festival, celebrated in the month of August or September, where millions of devotees offer prayers to Lord Shiva. Taj Mahotsav is another grand festival in Agra, which witnesses processions of Camels and Elephants. The festival is celebrated by people of all religions. Taking part in these festivals is highly recommended for first-time travelers.
Read More: 5 Festivals and Events in Agra
8. Nearby Attractions
Agra is surrounded by many major towns that are nearby and famous for tourism. These towns include Mathura, and Vrindavan, the twin cultural cities, both of which are known for religious importance. It would take around three days to cover the sightseeing in Agra, Mathura, and Vrindavan.

You can take the old Agra-Delhi highway to reach Mathura which is just 60 km (37mi) from Agra. From there, Vrindavan is located at a distance of just 15 kilometers. The other picnic spots nearby Agra includes Soor Sarovar Bird Sanctuary (18.6mi) and the Wildlife SOS - Elephant Conservation and Care Center (24.2mi). Delhi and Jaipur are the other two famous tourist cities, both located around 240km from Agra. Tourists can also visit these cities, after exploring Agra.
Read More: Spots on Delhi to Agra Road Trip

Elephant Conservation, Agra
9. Things to Do
Agra offers many things to explore for first-time travelers. Agra has many places for sightseeing, including the Taj Mahal, Fatehpur Sikri (24.9mi), Agra Fort, etc (See more about Agra Attractions). Agra is known for its buildings with unique architecture, which are major attractions for tourists. Apart from sightseeing, tourists can go on an evening walk in the city, to get to know many unique things in the city and can interact with the locals of the city. Interacting with locals is the best way to know about the famous restaurants and hotels in the city.
Read More: 15 Fun Things to Do in Agra
| | |
| --- | --- |
| Taj Mahal, Agra | Agra Fort |
10. Safety Tips
For first-time travelers, it is important to keep a note of safety in a strange city. Do not roam in the city at the late-night as the local police team is always on patrol, they might charge fine for roaming in the night. Also, do not carry any valuable things while going for sightseeing, shopping, roaming, etc.
Read More: 9 Travel Hacks to Stay Safe While Travelling In Agra