5 Popular Local Markets in Agra
Think of Agra, and all that comes into mind are mausoleums, palaces, monuments, and forts. Few are aware of the traditional shopping places in the city though. Agra is one of the most visited cities in India attracting tourists from across the globe. It is well-known for its unique crafts from the modern and old world alike. Some of the old crafts have localized to Agra, and are available only here.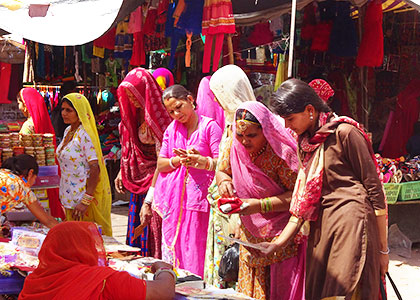 Shopping in Agra
Agra has all kinds of markets for all kinds of shoppers, be it street shopping, malls, small stores, boutiques, or local bazaars, everybody gets something for their taste. During festivities, one can see Agra in its full fervor, decorated and selling its delectable delicacies like Petha, Gajak, and Dalmoth along with artifacts, figurines, and handlooms.
Most of the markets selling Agra's famous embroidered dresses and textiles are located near the Taj Mahal. Here we present the best 5 markets in Agra for street shopping.
1. Shilpagram
Shilpagram translates into 'village of skills,' hence capturing the essence is this place created in a village-style environment with stalls and shops selling the handicraft items from local artisans and weavers. This place is of special interest as it allows tourists and visitors to see them create the artwork. Further, there is an art festival in February that showcases the fascinating works of art, and a peek-a-boo on culture through performances.
Food is an integral part and there are stalls, cafes, and bars catering to local food to the visitors. The food is equally fascinating as the experience here. It is a recommended market in Agra for Shopaholics, photo fanatics, and those interested in experience.
Specialty: Handicraft Items, Carpets, and other local weaves, ambiance
Located: Tajganj, near Oberoi Amarvilas.
Open time: All days a week; 6.00 am to 7.00 pm
2. Sadar Bazaar


Many Kinds of Vegetables on Sadar Bazaar
Sadar Bazaar is a good market in Agra for all kinds of buying like sweets, garments, handicrafts, leather shoes and bags. This is an old market that sells good quality at a reasonable price, however, to land a favorable deal, bargaining is a must. The market has many veg and non-veg food options too. Leather goods are a specialty of this market and so are the handicraft items. Ethnic clothing, footwear, and accessories are a few more things available here.
Specialty: Leather footwear, bags, and purses.
Location: Near Agra Cantt Railway Station, Saudagar Lines, Agra, Uttar Pradesh, India
Open time: All days except Tuesday, from 11:30 AM to 6 PM
3. Subhash Bazaar

Head to this popular market in Agra if you are interested in clothes, especially the silk variety, even though other varieties are also available. Graceful plain, embroidered and printed silks are available in good quality. The market is also a leather haven due to a large variety of leather goods sold here. Belts, bags, shoes, jackets, and hand gloves can be bought. Though it is advised to be careful as neat imitations are also available. This is not an upscale shopping market and a little dis-organized, too. Good negotiating skills will come in handy here.
Specialty: Silk sarees and other silk dress material.

Location: Halwai Gali, Near Northern gate of Jama Masjid.
Open time: Tuesday Closed; 11 AM to 9 PM
4. Raja Ki Mandi


Beautiful Jewelry
This is one of the best markets in Agra, full of buzz, crowd, chaos, and good deals. Named after the Raja Ki Mandi Railway Station, this is a market to cater to diverse interests. You can get practically everything from garments, jewelry, sweets, household items, religious items, accessories, etc. This place perfectly showcases the flea markets of old Agra, being one of the oldest markets in the city. One must bargain a lot. So, if you are not used to bargaining, it is good to go with someone good at it.
Specialty
: Garments, Sweets, Jewelry, Women's accessories, Household items, and Religious items.
Location: Lohamandi near Raja Ki Mandi Railway Station
5. Kinari Bazaar

If you are passionate about shopping and do not let any hurdles bother you, then you are going to enjoy this market in Agra. This market is one of the very old markets and infrastructure is a tell-tale here. A typical wholesale market, it presents choices in handicrafts, along with marble, glassware, rugs, leather, and textiles.
Great deals and quality material is an attraction here, interspersed by the occasional mooing of cattle and swooning of elephants. This is also a good place to have a walk-in, just to feel the old days and hidden history and collect memories. Yet another place to bargain to your heart's content.
Specialty: Marble work, jewelry, garments, spices, fabrics, food, etc.
Location: Near Jama Masjid Agra
Open time: Closed on Tuesday; opens at 11 AM and close at 9 PM
There are many more old markets and modern bazaars in Agra to shop at. Prominent few are Shah Market, Shahganj Bazaar, Shoe Market, Munro Road, and still a few more. One common thing from these markets is the marble-made mini-models of the Taj Mahal. This is a graceful addition to your console table or for the gifts. There are other marble crafts available to collect. Agra is famous for its leather items and carpets. Do not forget the Petha- the white pumpkin sweet that can be kept for a long time and comes in myriad varieties.
As a word of caution: do not shop with local guides or cab / auto-rickshaw drivers as they charge heavy commissions from the shopkeepers, and it eventually gets added to your bill. Also, Bargaining is a survival skill. Happy shopping!
You May Like: