How to Travel to Agra by Bus? Timings, Fare, Bus Stops
First time visitors to Agra come with the visions of the
Taj Mahal
, Agra's street food, local markets, and monuments like
Agra Fort
,
the Tomb of Akbar the Great
, and the
Baby Taj
. Agra has all these attractions but the city is far from the national capital New Delhi and the major tourist place Jaipur. With domestic airfares on the rise, people travelling on a budget can travel to Agra by bus.
Why travel to Agra by bus?
India is bigger than you think, but thanks to buttery smooth roads that connect Agra with other major cities. Many first-time travelers will be surprised to know that it only takes 4 hours. The Agra airport is also not a highly functional one which means travelers are left to choose from the few flights that fly between Delhi and Agra. The Indian Railways offers a large number of trains to and from Agra from all the major cities, but for first-time travelers, a train journey in India can be tiring, given the weather conditions and crowd. A bus journey to Agra is practical and affordable and it gives you the choice to plan your itinerary on your own terms.
1. How to travel from Delhi to Agra by bus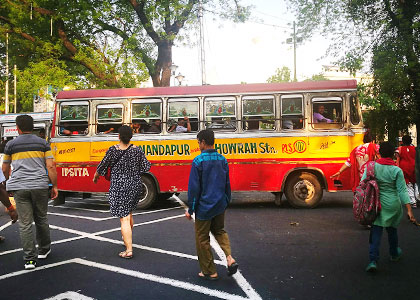 Travel from Delhi to Agra by Bus
Delhi is just 240 kilometers (149 miles) from Agra and the 165 kilometers (103 miles) long 6-lane Yamuna Expressway connects the two cities. Most of the private tour operators and state government buses take this route to reach Agra from Delhi. There's one more route called Mathura Road or Delhi-Agra National Highway 2 to reach Agra by bus, but due to traffic, bus operators usually avoid that road and you should too unless you want to visit Mathura or Vrindavan on the way.
• Delhi to Agra bus timings, fare, and bus stops
Keep in mind that the two cities (Delhi and Agra) belong to different states, which means you may find interstate buses connecting the two cities. There are more than 50 buses that run between Delhi and Agra. Depending on your budget and the level of comfort you're seeking for this 4-hour long journey, you can choose from AC and non-AC buses. These buses also offer seating and sleeping arrangements.
You can catch a bus to Agra as early as 5 AM, but if you're not an early riser or are planning a night journey, there are many buses available from Delhi that depart at midnight. Delhi to Agra bus fare ranges between Rs. 250 to Rs. 4,000 depending on the type of bus you take. Kashmiri Gate, Mayur Vihar, Anand Vihar, Morigate, Khan Market, and Sarai Kale Khan are some of the major boarding points and most buses to Agra start or pick passengers from these spots.
In Agra, there are many spots where the bus can drop you depending on your choice. However, the major bus stands in Agra are Idgah Bus Stand, Agra Local Bus Stand, Raja Mandi, ISBT, and Bijli Ghar. Make sure to check your destination location properly and if you're not sure, ask the bus driver so that he can help you get down at the place which is closer to your hotel or the city center.
Read more about How to Get from Delhi to Agra, How to Travel from Delhi to Taj Mahal

2. How to travel from Jaipur to Agra by bus

Travel from Jaipur to Agra by Bus
The distance between Jaipur to Agra and Delhi to Agra is almost the same. Located at just 240 kilometers (149 miles) from Agra, Jaipur is also a major tourist destination and is a part of India's Golden Triangle. The National Highway 21 connects these two beautiful Indian cities. The journey from Jaipur starts with eye-catching views of the Aravalli Hills and the newly built Ghat ki Guni Tunnel. The road connecting these cities is smooth and buses usually take 4 hours to reach Agra from Jaipur.
• Jaipur to Agra bus timings, fare, and bus stops
In Jaipur, you can catch buses for Agra from Sindhi Camp bus stand as it is the main interstate bus terminal. From there you can find the government AC and non-AC buses, however, there are many private bus operators in nearby area who have put huge banners showing bus timings and fare as well. A single seat in a non-AC bus will cost you as low as Rs. 250 and if you're looking for luxury, the ticket prices can go up to Rs. 2,000 as well.
From early morning till midnight, there are many businesses that run between Jaipur and Agra. You can catch a bus from Sindhi Camp bus stand or you can reach Ghat Ki Guni in Transport Nagar, Jaipur. If you have time, you can visit the Galtaji Temple (Monkey Temple) which is very near to Ghat Ki Guni. If you're near the Jaipur Junction Railway Station, you can either go to Gopalbari to take private buses or you can visit Sindhi Camp for both private and government-owned buses.
3. Agra by bus from other Indian cities

Travel from Lucknow to Agra by Bus
In many parts of India, travelling by bus is common. To maintain the affordability of tickets, a large number of buses ply to Agra. Most long-haul buses offer different seating classes which are determined by the extent of luxury and comfort one is looking for. Some buses also provide entertainment and snacks. Short journeys to Agra by bus are sometimes the most cost-effective way. Many cities such as Kanpur, Lucknow, Mathura, Gwalior, and Jhansi have buses to and from Agra throughout the day and night, however, long-journeys can be less comforting and costly.
Things to remember
• Private tour operators often compete for business and offer discounts on tickets. Make sure to check the ticket prices online before you visit a booking agent. Online deals can help you save some money and you can also get some extra on-board amenities.
• Never buy bus tickets from agents who simply roam and have no office to show. People pretending to be driver or bus conductor often cheat travelers by selling fake tickets. Such scams are prevalent in Delhi, Jaipur and many other tourist places in India. Buy tickets online or from the bus operator's office itself.
• Always carry a water bottle and some snacks with you because private bus operators usually stop at restaurants from where they get a commission.
• Keep your luggage with you and if the bus staff insists on putting it away in the luggage cabin, make sure your bags are locked. Also, ask for baggage receipt in such cases.
You May Like:

How to Travel to Agra by Train