7 Best Places to Stay during Your Visit to Agra, India
Agra: the city of Taj. With many neighborhoods, Mughal-era buildings throughout the sprawling city, and hundreds of hotels and hostels to choose from, finding the best place to stay in Agra can be a challenge for first-time visitors. Every place in Agra has its unique personality. So, here we have created this guide about the seven best neighborhoods of Agra to help you find the right place to stay.
1. Tajganj
If you're a very busy tourist visiting Agra, you will not want to stay anywhere far from the
Taj Mahal
. Also, if you are on a short trip and are not interested in seeing other places of interest in Agra, you should consider Tajganj. You'll find almost all the luxury hotels and resorts (those big hospitality brands of course) in this neighborhood. Hotels in this area are very near to the Taj Mahal which means you can visit the Taj and can also see it from your hotel.
Tajganj area is now rapidly growing with restaurants, cafes, markets, and bars for travelers to explore. You can also find shops where handicrafts, clothes, and leather items are sold. Expect to pay a little more on food, accommodation, and other items in this area as this place is the best for tourists coming to Agra.
2. Fatehabad Road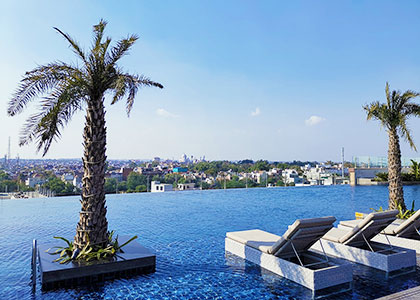 Hotel Overlooking Taj Mahal
If you go towards Tajganj from the Shah Jahan Garden, you will see a large number of hotels on both sides of the national highway. Fatehabad Road has a large number of restaurants, hotels, and resorts lining its route. You can find many good places to stay near the point where this road meets Taj's east gate road. Fatehabad Road is sure to delight with some of the best shopping and dining options in Agra.
This neighborhood offers visitors a luxurious and modern view of the Taj Mahal. It is the best place to spot retail outlets of prestigious, international brands, as well as beautiful buildings. Here, tourists can window shop, sightsee, and enjoy luxury at any hotel. Thus, this is the second best place to stay in Agra.
3. Panchkuian & Chhipitola
Panchkuian is a small area as well as the home to two big parks. This old neighborhood is a favorite spot for tourists and backpackers looking for budget hotels in Agra. It is undoubtedly one of Agra's most diverse neighborhoods. For tourists who want to see all aspects of Agra from its old Mughal architecture to its modernization, Panchkuian has a piece of it all. Nature-lovers rejoice at parks like Subhash Park, while others will love visiting nearby stores that sell raw material for leather goods. Needless to mention that just like every other area, Panchkuian also has some incredible food joints.
On the east side, you will find an area called Chhipitola. Like Panchkuian, this area is also famous for budget hotels in Agra. As one of the best neighborhoods in Agra, Chhipitola is undoubtedly the most ethnically diverse place in the city. For people from different cultures, this neighborhood is one of the best places to stay. Located only 3 kilometers from the Taj Mahal, the location could not be more perfect for people looking to pay less for accommodation while living like a local.
4. Rakabganj
It's no wonder why Rakabganj, Agra, is among the favorite neighborhoods of plenty of tourists, especially those who seek a safe and pleasant stay. With tons of places to see, friendly locals, bars, restaurants, and shops, Rakabganj will bring you more excitement during your stay.
Surely, the Taj Garden is the best place to visit in summer. With its calm atmosphere, beautiful view of the Taj in water, it's easy to fall in love with this neighborhood. Finding a hotel in Rakabganj isn't a big deal as there are many luxury hotels and resorts available in this area. That said, budget lodging and refreshment facilities are also available in this neighborhood.
If you want to enjoy the beauty of the Taj Mahal from your hotel room, book a hotel near the Taj Garden or in Tajganj, but if you want to live where the locals are, you should check hotels near Mughal Garden in Baluganj, Mahavir Market, or Meher Theatre. The area near the Agra Fort is also safe and peaceful.
| | |
| --- | --- |
| Taj Garden in Rakabganj | Akbar's Tomb in Sikandra |
5. Sikandra
You probably already know about Sikandra as it is the place where you will find the Mughal emperor
Akbar's tomb
. Located on the Mathura road, this small neighborhood is filled with beautiful gardens and monuments like Kanch Mahal (Glass Palace). Near the tomb of Akbar, there's a place called Bai Ka Bazar. Backpackers will love this area as everyday items are usually a lot cheaper in this neighborhood.
Sikandra is a huge area and once you enter this place, you find yourself surrounded by many shops, restaurants, street food stalls, and hotels. During your next trip to Agra, wander around and see the city's most interesting markets. You'll get to witness entirely different places without having to walk too much. When visiting Sikandra, please remember that this area is a suburb. Here, people are friendly but try not to be too intrusive if you love photography. Just ask locals if you're taking pictures of their houses or other activities.
6. Civil Lines
Are you looking for a safe place to stay in Agra? Go to Civil Lines area. The Red Taj, Paliwal Park, Kaila Devi Temple, Samyak Buddha Vihar, and the Agra City railway station are some of the places of interest. You can find many hotels in this area. Most of the hotels near the Agra City station are budget-friendly, but due to the crowd, the area is sometimes noisy.
The neighborhood is located just 5 km drive from the Taj Mahal and if you're coming from the Agra City railway station, the distance between the station and the Taj Mahal is almost the same. During your visit, you should try visiting the places located near the banks of the Yamuna River. Chini Ka Rauza, Shri Mankameshwar Shiva Temple, Agra Fort, and Yamuna View Park are some of the best places to visit in and around Civil Lines Agra.
7. Sadar Bazar

Busy Sadar Market
Sadar Bazar is the place where you can find almost everything you need. From electronic items to leather goods, handicrafts to Agra's famous Petha, you name it. For the best home away from home experience, stay in the Sadar Bazar neighborhood. The place is perfect for solo travelers and a group of friends. Apart from safety, the place also offers everything to make your stay comfortable. From the Mall Road near the Agra Club in Sadar Bazar, you can walk in any direction as the area is surrounded by many good hotels and resorts.
During your stay here try out Panchi Petha, it's worth every rupee (the official currency of India). Ever heard about Tirupati Balaji Temple? It is the richest temple in the world and is located in Andhra Pradesh, India. In Agra, there's a temple dedicated to Lord Balaji in Sadar Bazar. It's a place where you can sit and listen to religious songs. Remember that temples and other religious places in India have certain rules, so make sure to check them before you enter.
Things to remember:
• Avoid taxi and auto-rickshaw drivers who insist on taking you to the 'best' hotels or shops. They get a commission from hotels and it will be added to your bill.
• Agra has almost no nightlife, so be wary of local travel agencies and taxi drivers who insist on taking you to a night market or pub. The streets are deserted after 10 PM.
• Toilet paper is rarely provided in small, budget hotels, so keep anti-bacterial wipes handy.
• Be careful about taxes and services charges on bills. India has implemented a new tax system called GST and some hotels charge a huge amount of money in the name of service tax.
You May Like:
Best Things to Do Over the Summer Holidays in Agra
10 Historic Places in Agra You Need to Visit
8 Best Places to Visit in Agra with Family
10 Hotels in Agra for Budget Travelers