15 Fun Things to Do in Agra
Fun and frolic is part and parcel of a man's life. Agra is remembered for the symbol of love known as Taj Mahal. However, there are many places to visit beyond the Taj. The best time to visit Agra would be from November to February. The summer which starts in March can be unbearable especially if you want to stay outside. So be prepared, and enjoy reading this list of 15 fun things to do in Agra.
Read More: 3 Best Things to Do Over the Summer Holidays in Agra
1. City Walks
A wonderful journey in the historic streets of Agra can be an experience worth cherishing if you are ready for it. It is also one of the top fun things to do in Agra. The whole tour could last for about 2-3 hours covering cloth markets, street shops and delicious lunch that can be had in various street food eateries. This type of activity could cost you around Rs 1,500-2,000 if you decide to take a guided tour, but you can walk and explore the city on your own. The best idea is to use auto-rickshaws and taxis between major places such as Kinari Bazar, Sadar Bazar, and TDI mall and then walk on those streets.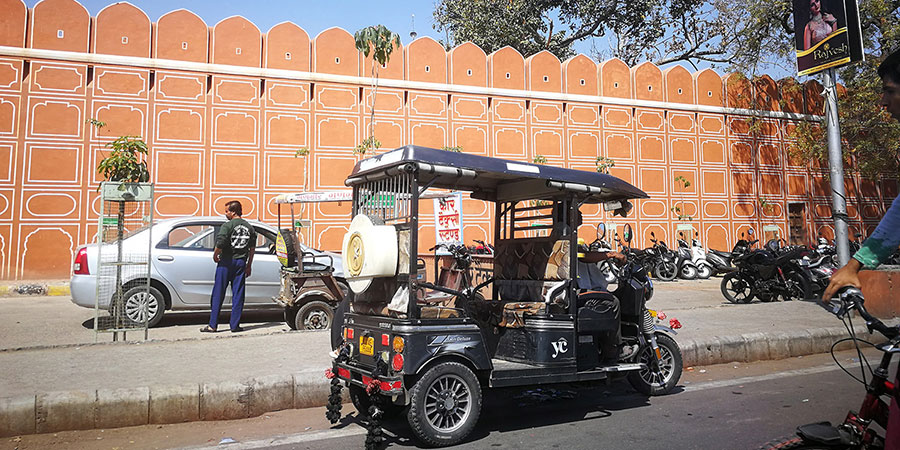 Auto-rickshaw

2. Food Walks
A food walk is another fun thing to do in Agra, which is mouth-watering. The total duration of the trip will depend on your appetite and the eateries you visit. Places like Seth Gali, Sadar Bazar, Chaat Gali, and restaurants like Pinch of Spice and Temptation could be good, too. The exploration of the different street foods of Agra is worth the money. You can go along on your own exploring other avenues such as Bai Ka Bazaar after trying local foods in Sadar bazar.

Street Indian Snacks

3. Agra Escape Rooms
Situated in Tajganj, Agra Escape Rooms are special types of rooms consisting of tasks to be executed. There are two rooms and one themed on 'espionage' that is you have to steal a diamond and escape. The other one is based on 'The Mummy' wherein you have to escape from the demon. These are a nice form of entertainment for both kids and adults, one of the top fun things to do in Agra. The duration is normally one hour.
4. Play Safari
Yet another wonderful place for kids to enjoy their trip, it is an indoor play area. The major attraction of the place is its trampoline wherein kids have a blast of their life. The indoor cafe is considered to be a lip-smacking experience for most of the tourists. The costs are moderate in comparison to the value provided. This place is a perfect pitstop for some refreshments for parents and some enjoyment for kids.
5. Agra Shopping Tour
This is a tour for the lovers of the fine handworks of Agra. If you are interested in souvenirs and handicrafts, don't miss this opportunity to learn and even purchase the art which has been practiced over the centuries. Duration is four hours and you can meet the local artisans and imbibe the knowledge which is passed over a long time. There are many service providers for the same but you can also explore on your own, a really interesting thing to do in Agra.

Local Exquisite Souvenirs and Handicrafts

6. Bicycle Tour
You can immerse yourself in the countryside of India on this trip. You can meet and greet many Indian villagers who carry on with their morning routine of farming. The hustle of the city is left far behind and one could enter the serenity of the peaceful nature along the banks of Yamuna. Such a trip would enrich you in terms of the language spoken in the place and culture through their activities. It is surely an interesting thing to do in Agra you cannot miss.
This park was originally built by the great emperor Babur. It is a place of great significance situated in the east banks of Yamuna. The park is aligned rightly with respect to the gardens of Taj making it the right place to capture scenic views of the Taj Mahal. It was constructed to protect the Taj mahal from the detrimental effect winds.

Capture Beautiful Scenic Views of Mehtab Bagh

8. Taj Museum
It consists of the secrets behind the glory of Taj Mahal. All kinds of artifacts related to the construction of Taj Mahal are displayed in the two-story building. All the fanatics of history need to visit the museum make yourself more accustomed to techniques of the Mughal Empire. The museum was established in the year 1982.
9. Chini ka Rauza
A monument which is visited less compared to the Mughal architecture marvels but it is still an interesting place to go in Agra. It is the tomb of Afsal Khan who served as a chief minister under the rulership Shah Jahan. He was not only a worthy administrator but a renowned poet as well. The tomb is constructed using the Persian style of Architecture. An interesting fact is that the tomb faces the Mecca. It is a place for architecture lovers who delve deep in Mughal history and architecture.

Chini Ka Rauza for Architecture Lovers
10. Exterior Nature Walk Surrounding Taj
The walk is around a duration of 2 hours. The biggest advantage of this activity is that you are near the Taj Mahal but no entry fee is required to be paid. The flora and fauna around this place are well maintained and preserved. The best getaway for couples who want to have a morning walk with some romantic talk.

Near the Taj Mahal with Flora and Fauna

11. Agra Tour by Bike
This is for bike lovers of all age groups, one of the most fun things to do in Agra. The majestic sound of the bike engine is indeed music to ears. Move around to visit the best places in Agra such as Taj Mahal,
Agra Fort
,
Tomb of Itimad-ud-Daulah
, and Mehtab Bagh. There will be a personal guide to assist you on a bike tour if you seek a service provider.
12. Taj Mahal Sunrise Trip
This is another interesting thing to do in Agra for early birds out there. A sunrise with Taj Mahal could be the most enriching activity you could do for your soul. The normal time to leave your place would be around 5:30 am in the morning and visit the Taj Mahal. The Taj Mahal looks pink during the early morning hours.

Beautiful Taj Mahal at sunrise

13. Elephant Watching at Wildlife SOS
Well, do you want to miss out on this when visiting India? The most fun thing to do in Agra! The west has always been in awe of the elephants in India. It is like a day in elephants' life you could get to know about their food habits, habitat, and how the diet plan is created for these mammals. There is enough to learn about all the dos and don'ts with respect to elephants.

Watching Elephants

14. Balloon Safari
As the name indicates, you are really in for a ride in terms of seeing the city of Agra from the sky. The idea is to view the entire Agra becoming airborne. This is an experience for kids and families to enjoy. As a family, this could be the best way to experience bonding amidst the cotton candies called clouds. The cost could be around Rs. 12,000 per person.
15. Rickshaw Tour around Agra
Isn't this the best way to experience the narrow market streets of Agra? The atmosphere is most visible when you travel by auto-rickshaw. The sound is clearer, images of shops and faces are more detailed, and people haggling over prices could be an interesting thing to eavesdrop on. An auto-rickshaw tour normally costs around Rs. 1,000 and you can also go shopping. Don't forget to purchase spices, especially the ones which are behind the yummy curries of India.

Rickshaw Tour around Agra