Panjim, the Heart of Goa
Do you think Goa is all about beaches? If yes, then some of these details will completely change your perspective. Let's give you some clear information about Panjim in Goa, its surrounding places, and why it is actually called as the heart of the city. You will find this small town surrounded by waters from all sides, and one of the sides of the city is at Mandovi that merges into the Arabian city.
Note: Important information about the exit from the city, you will have to cross one of the rivers to get to the mainland.

Places You Can Visit in Panjim, Goa

The places in Panjim are mentioned according to the interesting heritage associated with the landmarks in Goa, the famous museums, temples, city walks, etc. Glance through some of these locations before visiting Panajim.

1. Landmark
Maruti Temple

The famous Maruti temple is dedicated to Lord Hanuman and the best time to visit this temple is at Dusk. The temple looks stunning after sunset when it is beautifully lit on the top of the hill. You might face some issues while climbing the stairs, but know that the hard work will be worth it.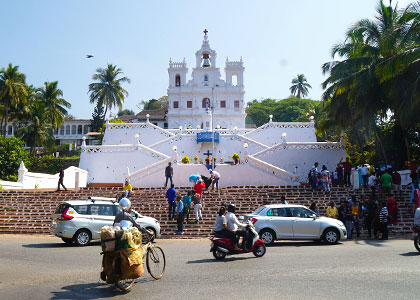 Our Lady of Immaculate Conception Church
The church was built in the late 16th CE church with a beautiful staircase on top of a hill. This church is perfect for photography because of the scenic view that you will get from the hill. It is a famous tourist spot in Panjim, especially during Christmas time.

Adil Shah Palace or Old Secretariat

This is the only palace in Panajim and looks like a Gem with yellow and white architecture. However, now this palace is a famous spot of art and culture.

Mahalakshmi Temple

If you are a spiritual person or want to experience some extraordinary spiritual vibe, then visiting the Mahalakshmi Temple is a must. This temple is dedicated to the very important Goddess Mahalakhshami.

Cabo Raj Bhawan

This place is the official residence of the Governor of Goa, people are not really allowed inside, and however, on Sundays, the church is open for public visit. The place is located at the tip of the jutting out towards the Arabian Sea.

2. Museums

Panjim in Goa has three museums in total, and if you love exploring ancient culture and traditions, then checking out one of those will be a good option.

Goa State Museum

The Goa State Museum displays a rich heritage and antiques of the state. However, you will come across other things like wooden rath or temple Chariot, and many other things. Keep one-hour for exploring this beautiful place.

Goa State Excise Museum

On the banks of Mandovi River, you will find this beautiful museum located in an ancient blue building which is considered to be 400 years old. You will get to explore a lot about the smuggling history and stories of the customs and taxes across the borders.

Goa Science Centre

If you are traveling with your family or friends, you will love to visit the Goa Science Center. The museums contain magic galleries and enough information about science, the place is located near Miramar Beach.

3. Experiences

These are some of the unforgettable experiences that you get in Panjim, Goa
This place is quite famous for sunsets and it offers a vantage point where you will be able to explore the beauty of nature. Make sure you are reaching the location 15-20 minutes before the sunset so that you can witness the beauty of the painted sky. The sunsets are the best experiences post-monsoon season.
See more about Dona Paula Beach

Cruises & Water Sports in Panajim


Cruise on Mandovi River
Since the city is surrounded by beaches, you will find a lot of water-based activities in Panjim. You will have the opportunity to hire a private boat and also the backwaters of the Mandovi River.
Here are some other activities to try for tourists, some of the water sports can be really interesting, like Paragliding, Jet Ski Ride, Boat Ride on Mandovi, Yacht Ride, etc.

4. Panjim Beaches
Miramar Beach

Miramar beach is one of the most popular beaches in Goa and that's the place where people go for an evening walk. You can also indulge in a boat ride in Miramar Beach. If you want to witness some of the locations shown in Hindi movies, then taking a boat ride will be the best option.

Bambolim Beach & Siridao Beach

This beach is a little posh and quieter as compared to the other beach in Panaji. Tourists here like to stay in high-end hotels, and if you are looking for a quiet beach experience, then Bambolim beach will be perfect. The Siridao beach is just an extension of the first beach.

5. Shopping in Panjim, Goa

You can buy some of the memorable souvenirs from Panjim. Some of the Goan spices, colorful bags, street style apparel, and boutique-style dresses, beaded ornaments, cashew nuts, handicrafts, and wines.
Look at a few places where you can visit to pick Panaji Souvenirs.
• Wendell Rodricks Boutique in Campal
• Mario Miranda Gallery near Panjim Church
• Municipal Market / Fish Market – for street photography
• 18th June Road – for anything under the sun
• Zantye for Cashew and Kokum Sherbet
How to Reach Panjim
Nearest Railway Station to Panajim

The nearest railway station to Panjim is Karmali which is considered to be around 10km (6.2 miles) towards east. However, you are suggested to take the main railhead junction on the Konkan railway, which is 45km (27 miles) to the south. Another nearby railway station will be at Madgaon, which is around 26km (16 miles).
Train for Panjim:
• 12431 Rajdhani Exp Madgaon Junction
• 12217 Sampark Kranthi Madgaon Junction
• 12432 Trivndrm Rjdhni Madgaon Junction

Nearest Bus Stop to Panjim

The nearest airport from Panjim is Dabolin which is 29km (18 miles) towards the south. You will find chartered flights from this place which usually come from Europe and the metro cities of India.
Bus Routes to Panajim
• Panajim - Navshi, Old G.M.C. via St. Cruz towards Navshi, Old G.M.C. via St. Cruz
• Panajim - Belgavi via Chorla towards Panajim via Chorla
• Panajim - Caranzol via Bicholim towards Panajim via Bicholim

Goa is one of the famous tourist destinations visited by numerous crowds for all the right reasons. It has brilliant scenic beauty and lovely beaches to start with; Panjim is the heart of Goa and these locations justifies the hype that tourists have created about this beautiful town.


Nearby Attractions:
Reis Magos Fort –the Witness to Historical Changes of Goa