Hazrat Nizamuddin Railway Station
Highlights of Hazrat Nizamuddin Railway Station (NZM)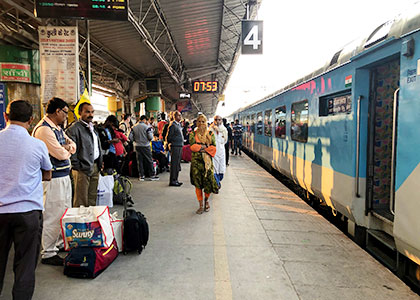 Hazrat Nizamuddin Railway Station

Station code: NZM

Number of platforms: 8

Facilities available: Waiting rooms, cafeterias and railway canteens, cloak room, free WIFI internet, retiring rooms, taxi bay, escalator, paid parking available, friendly for differently abled passengers

Nearby airport: Indira Gandhi International Airport (17 km)

Nearby metro station: Hazrat Nizamuddin Metro (See more about Delhi Metro Stations)

Popular trains that halt, leave, or arrive: Rajdhani express, Jana Satapdi Express, Duronto Express
The Hazrat Nizamuddin Railway Station, in South Delhi, is a prime transit point of Northern Indian Railways. One of the top five stations of Delhi, close to 60 trains either halt, start, or end their journey here. Named after the Sufi Saint Nizamuddin Auliya of Delhi, the station is an historical landmark in the heart of city. It was upgraded in the past to bring down passenger congestion at New Delhi Railway Station. Currently, the station handles close to 360,000+ passenger footfall.
Being an important railway station, the station is well-connected to the city through metros, buses, and cabs. Some of the important landmarks close to the station are Purana Quila (2.2 mi), Natural Zoological Park (1.9 mi), Humayun's Tomb (1.2 mi).
P.S: Travelers planning to visit
Agra
can book trains leaving from Hazrat Nizamuddin Railway Station (NZM) for a comfortable trip.
General Information and Station Layout
One of the prime railway stations of Delhi, the Hazrat Nizamuddin Railway Station is a huge station with seven platforms. The administrative buildings, retiring rooms, cloak rooms, and waiting area are on the ground level.
★ 1. Platforms
The platforms are connected via overbridge and escalators for differently abled passengers. Well-maintained, clean, and sanitised area ensures passenger safety. Platform tickets are mandatory for visitors who are not travelling.
The platform numbering start from Mathura Road facing gate, and end at the gate overlooking MG Road. On the entry points of the station, passengers can find the parking spots, ATMs, porters, police help desk, and bus stand.
★ 2. Waiting rooms
Passenger waiting to board a train can sit at the waiting room. There are separate waiting rooms for lady travellers and general passengers. First class ticket holders can sit at First Class waiting room. Travellers on halt at Hazrat Nizamuddin Railway Station (NZM) can book a retiring room or dormitory for themselves based on the budget. These rooms can be booked for 12 to 48 hours from the official IRCTC website of the Indian Railways. The base rent for rooms starts from INR 100 (the prices are subjected to change).
★ 3. Taxi/Bus/Auto
There is a dedicated taxi bay for passenger pickups and drops. One can book a prepaid taxi or app-based cab to travel between downtown and the station. Busses, autorickshaw, and hand rickshaws are also available.
Read more about Taxi Services in Delhi
★ 4. Food
Travels can buy meals, snacks, or drinks from the small food joints at the platform. At these food joints, passengers have to pick up their order. The meals are budget-friendly.
★ 5. Other facilities
Other facilities include, free Wi-Fi, porters, information kiosks, automatic ticket vending machines
Important Trains Operating from NZM
| | | | |
| --- | --- | --- | --- |
| Train No. | Train Name | Destination | Days of service |
| 22693 | Rajdhani Express | Bengaluru | Mon, Thurs, Friday |
| 12780 | Goa Express | / | / |
| 12953 | Aug KR RAJ Express | Mumbai | / |
| 14212 | Intercity Express | Agra Cantonment | Everyday |
| 16032 | Andaman Express | / | Mon, Thurs, Fri |
| 13007 | U Abhatoofan Express | Srinagar | Everyday |
| 12723 | Telangana Express | Hyderabad | Everyday |
| 12279 | Taj Express | Jhansi | Everyday |
(The schedule presented here is for reference only. For updated schedule and ticket booking enquiries, passengers are advised to log into IRCTC website)
Apart from these trains, almost all south bound Rajdhani Expresses start from NZM.
How to Reach Hazrat Nizamuddin Railway Station (NZM)
1. Bus
Nearest bus stop: Hazrat Nizamuddin Railway Station (600 meters)
Busses stopping at NZM Station: 894CL, 408CL, 408STL, 181A, 794, 410CL, 966, 429CL, 402CL, 403CL, 403STL, 429STL, 429, 181, 405, 418ALNKSTL, 418A, 405A, 966, 894CL, 181A, 156, 794, 166, 410CL.
The base fare of buses in Delhi is 10 INR.
Read more about Delhi Bus
2. Metro
Nearest metro station: Nizamuddin Metro station
The Nizamuddin Metro Station is located on the Pink Line. Apart from Hazrat Nizamuddin Railway Station (NZM) the metro station serves Sarai Kale Khan Inter-State Bus Terminus (ISBT) and the nearby areas. The base fare for metro is 10 INR.
Previous station - Shiv Vihar; Next station - Majlis Park
Read more about Delhi Metro