Indira Gandhi International Airport
Delhi's Indira Gandhi International Airport (IGIA) is famous for boarding 25-40 million passengers per year. The airport is probably the busiest international aviation hub in Delhi and India. The airport is spread in a huge area of over 5,106 acres with various amenities to fulfill every need for the passengers. The airport is in the prime location and is well-connected to most of the transport routes. The title of being the 12 busiest airports in the world is completely justified. You will probably need an elaborate information guide to get around in this airport. Let us get you started.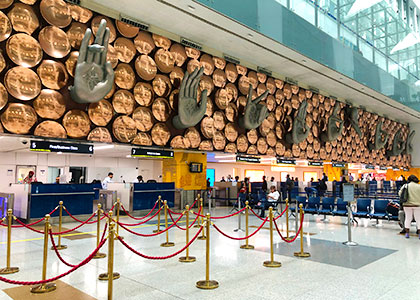 Indira Gandhi International Airport Hall
Important Highlights
• Airport Code: DEL
• Number of Terminals: 3
• Phone Number: 0124 337 6000
• Address: New Delhi, Delhi 110037
Distance from the city center- You can easily reach the airport within 20-30 min from the city center, do expect a delay due to traffic during rush hours.
Operational Flights to/from Delhi International Airport
Since Delhi International Airport is one of the most renowned and functional airports, it has a long list of operational flights daily, the airport is fully functional with international and domestic flights, here are some of the major flights that operate on regular basis. In addition, we will name a few destinations for domestic flights, and you can easily check the routes and schedule for each flight from the official website of Delhi airport.
★ Air India
Destinations
Ahmedabad, Amritsar, , Bagdogra, Bahrain, Aurangabad, Bangalore, Bangkok–Suvarnabhumi, Bhubaneswar, Birmingham, Bhopal, Chandigarh, Chennai, Chicago–O'Hare, Colombo–Bandaranaike, Dammam, Coimbatore, Doha, Dubai–International, Frankfurt, Gaya, Durgapur, Goa, Guwahati, Hong Kong, Imphal, Indore, Hyderabad, Jaipur, Jeddah, Jodhpur, Kabul, and many others.
★ GoAir
Destinations
Abu Dhabi, Ahmedabad, Bangalore, Bangkok–Suvarnabhumi, Aizawl, Bagdogra, Chandigarh, Colombo–Bandaranaike, Hyderabad, Indore, Goa, Guwahati, Srinagar, Jammu, Leh, Lucknow, Kochi, Kolkata, Mumbai, Phuket, Port Blair, Nagpur, Patna, Pune, Varanasi, Ranchi.
★ IndiGo
Destinations
Jammu, Jeddah, Kathmandu, Kochi, Jodhpur, Jorhat, Kolkata, Kozhikode, Kuala Lumpur–International, Mumbai, Nagpur, Patna, Kuwait, Lucknow, Phuket, Pune, Port Blair, Raipur, Shirdi, , Ranchi, Riyadh, Srinagar, Udaipur, Vadodara, Surat, Thiruvananthapuram, Varanasi, Visakhapatnam.
★ SpiceJet
Destinations
Adampur, Ahmedabad, Bangalore, Bangkok–Suvarnabhumi, Aurangabad, Bagdogra Bhopal, Chennai, Dhaka, Dubai–International, Dehradun, Dharamshala, Durgapur, Goa, Hong Kong, Hyderabad, Gorakhpur, Guwahati, Jabalpur, Jaipur, Jharsuguda, Kabul, Jammu, Jeddah, Kanpur, Kochi, Kolkata, Mangalore, Udaipur, Varanasi, Mumbai, Leh, Madurai, Patna, Port Blair, Silchar, Srinagar, Surat, Pune, Shirdi, Thiruvananthapuram.
★ Air India Express
Destinations
Abu Dhabi, Coimbatore, Madurai, Tiruchirappalli, Dubai–International
★ Vistara
Destinations
Ahmedabad, Amritsar, Bangkok–Suvarnabhumi, Bagdogra, Bangalore, Bhubaneswar, Colombo–Bandaranaike, Chandigarh, Chennai, Dehradun, Dibrugarh, Hyderabad, Goa, Guwahati, Indore, Jammu, Goa, Guwahati, Jodhpur, Kathmandu, Leh, Lucknow, Kochi, Kolkata, Mumbai, Pune, Ranchi, Patna, Port Blair, Raipur, Singapore, Udaipur, Varanasi, Srinagar, Thiruvananthapuram.
These are a few examples of the functional flights to and from Delhi International airport. Since the details about light functionality change every day based on government orders, you can keep a check on the official website and work on booking accordingly.
Information about the Terminal
Indira Gandhi International Airport serves as one of the major hubs or a focus destination for several Indian, international carriers including IndiGo, SpiceJet, Air India, Air India Regional, GoAir, Air Canada, Air Astana, Air China and Vistara. The records state that approximately 80 airlines serve the Delhi airport regularly.
Get some of the important information related to the terminal at the airport.
★ Terminal 1
This terminal in the Delhi airport is mostly utilized for domestic travel and low-cost carriers. The handling capacity of this terminal is about 40 million passengers annually. However, the work is in progress to accommodate more passengers in the future.
★ Terminal 2
Terminal 2 as well is mostly used for low-cost carriers and has been expanded to accommodate more passengers than it already does. The terminal is home to domestic and regular flights like Indigo, Air India, and others.
★ Terminal 3
This terminal is recently built in the year 2010 and named as one of the biggest terminals in the world. It is but obvious that all the international flights are operated in T3 due to all the facilities.
Transfer Between the Terminal
Since the Indira Gandhi International Airport is huge, you will often see terminal transfer carrying passengers from one terminal to the other. The in-house transport service connects the international terminal to the domestic with a shuttle service which takes around 20 minutes to cover the distance.
Terminal and Airport Facility

Money Exchange at Delhi Airport
Food:
Since the place is huge, you will find several eating places and cafes, especially in terminal 3. The departure area is filled with restaurants, bars, and fast-food outlets. You will also find various duty free shops to get some quick souvenirs.
Money:
You will not face any problem when it comes to ATMs or Banks, there are ample banks in all the three terminals along with money change facility in terminal 3.
Luggage:
If you want to secure your luggage, then you will find the left-luggage facility as well. The airport connects building in T3. The facility also offers a lost luggage service within the terminals.
Baggage Services:
To help you with your baggage, the airport provides a free trolley service, baggage wrapping service within the airport and counters for lost and found. These helpful services are available to make sure the travelers are able to enjoy their journey and not worry about baggage.
Others:
If you are wondering about medical services, then it is very much available at the airport. In most of the terminal, you will find medical services and baby care facilities.
Transportation from Delhi Airport
★ Bus Routes

Private Van Transfer at Delhi Airport
The bus transportation is the cheapest and most common way to travel around the city, and you will find public buses available like (DTC, Delhi Transport Corporation) and private contractors. The DTC will offer you shuttle-bus service in the duration of every 30 minutes. The routes of the shuttle buses easily connect the city center.
Read more about Delhi Bus
Estimated Price- within INR 30-50
★ Train Routes
The Delhi airport is not connected to the train station like that of the metro. You will have to get to the nearest train station from where the railway connects most of the major locations in Delhi. New Delhi Railway Station is the nearest railway station and you can take a taxi as it is just 9.4 miles away.
Read more about Hazrat Nizamuddin Railway Station
Estimated Price- Within INR 25-30
★Metro Route
This is a magical way to travel around Delhi. The metro is well-connected to even the farthest location, the metro express is connected with terminal 3 to make the travel easier. Metros are available in the duration of 15 minutes.
Read more about Delhi Metro
Estimated Price- Minimum INR 8-10, Maximum INR 30-50
★ Taxi routes
The travelers should bear in mind that rush hours eat up a lot of time in traffic and a 15-minute journey can be extended to 45 minutes easily. You will find prepaid taxis at the airport, with different flag down price based on the car you choose.
Read more about Taxi Services in Delhi
Estimated price- INR 25 for the first km, then every km will raise INR 14 for non-AC taxis and INR16 for Air-conditioned.
We encourage the safety of solo female travelers and keep in mind that weather and condition of the seasons can make a lot of changes in the transportation price.
You May Like: