Delhi Street Foods: Foodies' Guide on What & Where to Eat
A busy city like Delhi has no dearth of street food. Every lane and by lane is selling something for the hungry passerby. Some hunger quenchers are so memorable that they call back the wandered again and again. We are taking you back to those street food paradises that have etched their existence with persistence. So here we go…
◆ Chache Di Hatti, Kamla Nagar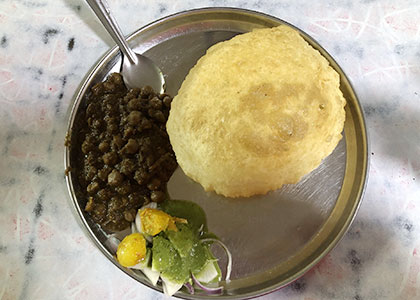 Chache Di Hatti
Every university is famed with a common joint but Chache Di Hatti, is not like any other. Standing proudly in the center of Delhi University's Northern Campus, this mouth-watering stand sells Chole Bhature that Delhi people swear by, with pickle. You need to find time to reach into the university campus to bite into this fastidiously favorite Delhi street food joint.
• Location 32, Near All Smile Dental Clinic, Kamla Nagar, New Delhi
• Time: 9:30 AM to 4:00 PM
• Price: INR 100
How to reach
• Bus: 125EXTUP, 19, 234,805AUP,813 pass through this destination.
•
Metro
Nearest metro station Guru Tegh Bahdur Nagar
◆ Atul Chaat, Rajouri Garden
Famous for jumbo-sized gol gappas and almost any chaat this shop has really mastered the art of the masala punching. Just the right flavors that titillate your taste buds, Pav Bhajis are a must-try. Making a beeline through the crowd can be a bit challenging but that will only excite your appetite with a stronger craving. It's Delhi street food so you need to muzzle your way in for tasting this all-time favorite produce of Rajouri Garden.
• Location H-44, Main Market, Rajouri Garden, New Delhi
• Time 11:00 AM - 10:00 PM
• Price for two INR 100
How to reach
• Bus: 408EXTCLDOWN, 448CLDOWN, 810UP, 813CLDOWN, 861A,871, 871UP (9 min walk)
• Metro: Rajouri Garden(7 min walk)
◆ Bishan Swaroop Chaat
Fresh fruit chart mixed with tomato and fruits cut into small pieces and tossed with spices. A mix of chutneys and lemon juice prepares for you a mouthwatering eagerness impossible to resist. This old outlet and legacy have passed onto the nephews from their late Uncle.
• Address: is 1421, near Mahavir Jain Library,
Chandni Chowk
• Time: 12:00 PM - 8:00 PM
• Price: INR60 for two and INR 40 for one
How to reach
• Bus: 185UP, 348DOWN, 404Down, 405Down, 405ADOWN,429CLDOWN, 502,753DOWN Nearest bus stop Old Delhi Railway station Terminal (7min walk)
• Metro: Kashmiri Gate 23min walk
◆ Daulat Ki Chaat
Exclusive to Chandni Chowk, the name might be misleading, but the taste is definitely not. Far from being just the chaat we know, this is a rabri, khoya mix that is served only in the winter months of November, December, and January. The locals of Delhi long for this absolutely divine treat and say it is God's own creation to mankind. Made from raw milk mixed with cream and cooled over ice slabs overnight for roughly 8-10 hours. A part of it is cut and whipped with hand to give it a light, fluffy texture. Khoya is added to this mix along with cottage cheese and saffron, garnished by sliced almonds and pistachio. It is served in leaf bowls locally called 'dona' or earthen bowls called 'khulhad'. A dish coined by Khemchand Adesh Kumar from Moradabad; the flavors play a magical role and this dish is par excellence and not in the league of the regular Delhi street food.
• Location Kinari Bazar of Chandni Chowk & Nai Sarak
• Time: 9:00 AM - 2:00 PM & 4:00 PM – 6:00 PM
• Price INR 50 a plate
How to reach
• Bus: 423. 621, 721, GL23DOWN, TMS (+) LAJPATNAGAR, TMS+PUNJABI BAGH Nearest Bus Station ISBT Ring Road.
• Metro: Nearest metro station Kashmiri Gate
◆ Yadav Ji's Chole Kulche

Delhi Street Food
Hot and tasty Chole and kulchhe devoured by office goers and school children at lunchtime. Om Prakash Yadav the creator of the Kulchas sells hygienically to all to consume. He liberally allows people to add as much lemon and use as many chilis to spice up the chola. Loved by all, some use his services regularly.
• Location: Opposite Neelu Nursing Home in J Block Market.
• Time: 10: 00 AM - 8: 00 PM
• Price INR 30 for chola and Kulcha and INR 20 for Boondi raita
How to reach
• Bus: 500,522, 717A, 717ADOWN. 717B, NCR, OMS (-) UTTANAGAR, OMS (+) UTTANAGAR Bust stop J Block Saket (3 min Walk)
• Nearest metro: Malviya Nagar (walk 26 min)
◆ Parashar Food Stall
For office goers and shoppers who are keen on a quick lunch this a great place to stop and eat steaming Rajma Chawal with green mint chutney, onion, salad and papad. Shankar Market's food will immediately recharge your tired soul, the food is spiced with the sauces that please a hungry stomach. There is a choice of other dishes too Choley Chawal, Shahi Paneer Chawal, Soya Chap Chawal, Kachori. You will never fall sick and undoubtedly enjoy the meal. There is a huge queue at lunchtime to taste this scrumptious Delhi street food.
• Location Shop-1, Shankar Market, Connaught Circus, Connaught Place
• Time: 9:00 AM to 11: PM
• Price: For one INR 70, for two INR 120
How to reach
• Metro: Nearest Station Barakhamba Road
Five Cafes at Yashwant Place Serving Delectable Chinese and Tibetan Food.
• Bus: 610, 780DOWN, 780UP, 781DOWN, 781UP Vijay Marg (6 min)
• Metro: Nearest metro stop Sarojini Nagar (23 min walk)
• Location: Chanakyapuri leather market
1. Bamboo Chopstix,
They have some 'out of the world' Momos of Pork, chicken, mutton, and fish. Soft flavored steaming soup, Chowmein and Thupkas are their most loved dishes. Their fish in oyster sauce makes for good eating.
• Time 12:00 PM – 11:00 PM
• Price for two Approximately INR700
2. Chimney Corner
Famous for its fried tandoori Momo
• Time: 12:00 PM - 11:30 PM
• Price for Two: Rs 800 approx.
3. Chinese Bite
Known for Chicken & Prawn Fuyong and Egg & Mushroom Fuyong, a bit different from the usual Chinese we are used to, but definitely worth a try.
• Time: 10:30 AM - 12:00 AM
• Price for Two: Rs 700 approx.
4. Chimney Sizzlers
Known for sizzlers, fish, chicken, cottage cheese, also try their prawn and chicken dishes and Momo.
• Time: 11:00 AM - 12:00 AM
• Price for Two: Rs 800 approx.
5. Laguna
Good place for trying out Thupka, egg, mushroom, prawns. A bit spicy but you will enjoy it.
• Place: 11:00 AM - 11:30 PM
• Price for Two: Rs 900 approx.
With people crowding from all over India the variety of Delhi street food is incomparable. This exhaustive list only gives a glimpse of the real India. Indeed, in a country as diverse and huge as India, food is the only source of binding this difference. Food keeps this country united in spirit!
You May Like:
Top 13 Must-Try Delhi Foods You Cannot Miss
9 Best Traditional Indian Food for Every Connoisseur