5 Myths about Food Safety in India
What's the first thing that pops up in your mind when Indian food is the topic of discussion? Spicy? Oily? Often exposed in air and being prone to get polluted? These are few of the typical thoughts that crawl into your mind when food safety in India is concerned. Not only people outside India, but the Indian themselves have often tagged the local food as something to be wary of, especially trying out in a different city during vacation.
Here we go, busting the top 5 myths about food safety in India.
Myth 1 – All Indian Foods Are Spicy
Truth – Several dishes are blunt and pungent.
Indian cuisines are often cooked in a variety of spices grown and available here in the country. However, the tagline myth doesn't go with every dish you come across. With the right choice of spices and main ingredients in the dish, the taste of the food can easily be modulated and controlled. As a matter of fact, there are spices like cinnamon and cardamom which add to the sweetening factor of the dishes.
Few of the less or non-spicy Indian dishes: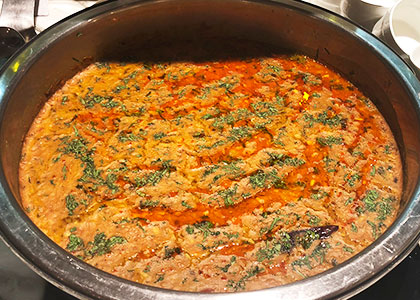 Not Spicy Indian Food

Malai Kofta – Mughlai side dish

Idli/Dosa/Uttapam – South Indian breakfast/brunch

Dhokla – Gujarati snack

Dahi Bhaat (curd rice) – Maharashtran/South Indian main course

Kashmiri Polau – Kashmiri main course

Navratan Korma – Mughlai main course

Daali Thoy – Goan main course

Dahi Wada – Throughout India snack
Pro tip: You may request your chef to make a particular recipe without using chilli or garam masala or anything that might make it hot.
Myth 2 – Indian Food Is Unhealthy and Fattening
Truth – A dish cooked in butter or ghee in India, can also be cooked in less oil.
There are Indian delicacies that can be roasted, grilled or baked without using even one drop of oil or butter. Just like all Italian cuisines are not about pasta with white sauce, or not all Chinese food is dipped in soya sauce, likewise not all Indian food contains oil, butter and ghee to their extreme. Grilled kebabs, roasted tandoori, or baked vegetables do exist and are among the must-try delicacies of India.
Healthy Indian dishes one must try:

Sambar Dal – Stew with South Indian origin made with boiling chickpeas, legumes and spices for a tangy taste.

Tandoori Chicken – Mughlai main course marinated in yogurt and seasoned in tandoori spices before roasting it over a cylindrical clay oven.

Hara bhara kebab – Mughlai appetizer or starter where vegetables are grilled with the right addition of spices.

Sol Kadhi – Goan/Maharashtrian drink made from Kokum fruit and Coconut milk.

Raita – Condiment of Indian subcontinent origin made with yoghurt, vegetables or fruits

Lobia curry – Punjabi side dish that includes soaked and cooked black-eyed beans are boiled and cooked in tangy tomato gravy.

Palak-da-Saag – Pubjabi side dish with spinach boiled and cooked in selected spices.
Pro tip: Liked a dish? Don't like the calorie input? Ask your chef if the same recipe can be made with less oil.
Myth 3 – All Dishes Are Prepared with Curry Powder
Truth – Curry powder isn't an authentic Indian spice which is added in every single cuisine served.
It is a common query of every tourist coming to India to be asking whether a particular dish contains curry powder. Well, as opposed to the misconception that all Indian dishes contain curry powder, there are several delicacies that are cooked simply with a particular ingredient. Curry powder is nothing but a blend of different spices and not all the dishes do require all the spices. The staple spices used in Indian dishes are turmeric, ginger and salt.
Dishes that don't use curry powder:

Idli

Plain dosa

Dosa

Pakoras

Oven-roasted vegetables

Naan

Baked macaroni and cheese

Vada

Saag paneer (leafy greens with fresh cheese)
Pro tip: Ask for the recipe, or ask directly about the spices used in the particular food item.
Myth 4 – Steer Away from Street Food
Truth – Not all street food are unhygienic and unhealthy.
Indian street foods might look unhygienic but that's not true always. As a matter of fact, most of the delicacies are served pepping hot and that's where maximum of bacteria are killed. Yes, it is not safe to try the dishes that are kept in open and not covered. Also, it is suggested to wipe clean the eating ware with a tissue before the food is served on them. Also, it is suggested not to overeat the food as your body might not be used to with the new items.
Safest street food to try in India:

Idli

Dosa

Lassi

Litti

Tea

Fruit Juice (not the pre-made one)
Pro tip: Don't eat raw vegetables or peeled fruits from roadside vendors. Don't buy from those who look unwell or if the place looks shabby.
Read more about Delhi Street Food: Foodies' Guide on What & Where to Eat
| | |
| --- | --- |
| Rabri Faluda - Indian Ice Cream | Fruits Sold on Street |
Myth 5 – Fruits Sold outside Aren't Safe to Consume
Truth – Only if it is treated with chemical wax
Fresh and colourful fruits might be tempting, but hold on. Those might be treated and polished with chemical wax that's often used to make the fruits shiny and look fresh for longer. Instead, go for the fruits that bear matte finish and that too from vendors at proper places. You can also buy fruits from supermarkets to ensure the quality. Preference of organic fruits over the random ones seals all the doubts about unhygienic occurrence. Last, but not the least, don't forget to wash the fruits diligently before eating to remove the chemical, pesticides and any other impurities that might have grown.
These are the few myths busted as far as food safety in India is concerned. Do make sure to keep in mind these few guidelines and don't miss some of the most delectable delicacies of the country.
And yes, eating with hands is totally okay, though not all food are meant to be eaten with hands. But when it comes to Rotis, Dosas and other Indian breads, eating with hands is the best thing to opt for. However, don't forget to use hand sanitizer and wet wipes before eating your food.
Chuck the myths, and enjoy the traditional Indian food culture. Bon appetite.
You May Like:
5 Myths Busted about Traditional Indian Menu