6 Best Restaurants in Delhi
The Indian capital, Delhi, has been a dynamic city – a city rich in culture, heritage, color. It is also home to some of intense flavors. Some of the best restaurants in Delhi serve you the true tastes of the city, true to the notes that tickle your taste buds.
You can very well say that Delhi is the home to fusion of flavors – from Persian to Punjabi, from street style momos to traditional jelebis – the city has to offer a lot of options to food lovers. While here remember to try the Butter Chicken which leaves a beautiful after taste in your mouth. But leave some space for Dilli-ka-Chaat, and trust me you won't regret.
Read more about Delhi Food Best Breakfast in Delhi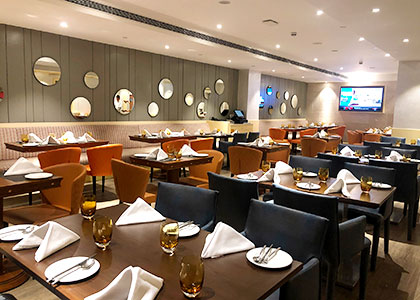 Restaurant in Delhi
Dehlvi Cuisine – A Diverse Culture
Dehlvi – Urdu of 'from Delhi' – is a food culture inspired from Persian-Indian heritage with a dash of European influences (due to 200 years of colonial rule). The constricted by lanes of Old Delhi are famous for its stuffed breads or Parathas, while the Lutyen Gardens are famous for its stunning vintage classics, and how can anyone forget the Dal Makhanis from the Punjabi quarters.
The vast culinary traditions of Delhi can be the attribution to its dynamic political and cultural influx through ages. The royal kitchens brought out the culinary extravagances to the city, while diasporas brought in a new tradition to the gastronomy of Dehlvi foods.
Types of Cuisines to Be Found in Delhi
★ a. Mughlai
The Mughlai cuisines were inspired from the Indo-Persian cultural which was inspired by the Mughals. Delhi's Mughal cooking, later on, branched off to Awadhi and Hyderabadi style of cooking. Some of the best restaurants in Delhi offering Mughlai food are-
1. Al-Jawahar
Address: 8, Near, Matia Mahal Rd, Bazar Matia Mahal, Jama Masjid, Old Delhi, New Delhi, Delhi 110006
Bestselling item: Mutton korma, butter chicken
Average cost of meal: 400 INR
One of the biggest dining spots of Delhi, Al-Jawahar is a longtime dining spot of the city which serves authentic Mughlai dishes. Here dining option is not available.
2. Véda
Address: Tropical Building, H-27, Connaught Place, New Delhi, Delhi 110001
Bestselling item: Dal Makhani, Butter Chicken, Biryani, Paneer Tikka
Average cost of meal: 1,600 INR for two people
One of the best restaurants in Delhi, the Veda offers an intense eating experience. A fashionably dark boudoir diners, the restaurant serves rich Mughlai cooking in style.
3. Karim's
Address: Shop No. 1, 2/5, Vikas Marg, Sagar Complex, New Rajdhani Enclave, Preet Vihar, New Delhi, Delhi 110092
Bestselling item: Mutton Korma, Biryani, Chicken Jahangiri, Seekh Kebab, Mutton Burra, Nihari
Average cost of meal: 800 INR for two people
Karim is an old institution selling stunning succulent lamb kormas and delightful nan rotis. If you come here, do remember to try the delightful, and light phirni.
★ b. Street Food
The street food culture of Delhi is as famous as the city itself. You can find everything under the roof, starting from Chole Bhature, Aloo Tikki, and Paranthe. Here are a few popular street food joints of the city are:
Read more about Delhi Street Food
4. PT Gaya Prasad Shiv Charan
Address: 34, Paranthe Wali Gali, Maliwara Tiraha Bazar, Katra Lehswan, Chandni Chowk, New Delhi, Delhi 110006
Bestselling item: Sweet Lassi, Pudina Parantha, Pudina Paratha, Papad Paratha, Mint Paratha, Rabri Parantha
Average cost of meal: 350 INR for two people
Chandni Chowk is the home to traditional cuisines and snacks, but parathas are some of the most popular things to try here. And it is one of the best restaurants in Delhi to try stuffing filled Parathas or flat bread.
5. Bade Mia Ki Kheer
Address: 2867, Bazar Sirkiwalan, Chawri Bazar, Chandni Chowk, New Delhi, Delhi 110006
Bestselling item: Kheer (Rice pudding)
Average cost of meal: 150 INR for two people
A centuries-old establishment, run by the original proprietors of the company, this place serves aromatic kheer. The melt in the mouth flavors of the kheer is therapeutic and can make your day.
6. Kuremal Mohan Lal
Address: Metro Station, Near, Shop No. 526, Kucha Pati Ram, Sitaram Bazar Rd, Chawri Bazar, Delhi 110006
Bestselling item: Paan Kulfi, Mango Kulfi, Mango Ice Cream, Jamun Kulfi, Kesar Pista Kulfi, Rabri Kulfi, Fruit Cream Kulfi
Average cost of meal: 200 INR for two people
The old family run shop is popular among locals for selling traditional kulfi (Indian ice cream). You can get traditional ice creams in different innovative flavors.
Delhi is a place to enjoy food. Here are some of the honorable mentions worth a visit
• Kerala House Canteen
• Rajdhani
• Andhra Pradesh Bhawan Canteen
• Brown Bread Bakery
• Mamagoto
You May Like: