Delhi Sweets You Should Not Miss
When India is mentioned in your travel list, you relate the country to its heart-warming traditions, oozing multicultural communities, colorful festivals, and food. However, if you are planning to visit the heart of the country, you have to know a few things about Delhi Sweets. Since Delhi is not just a city with astonishing Mughal history, but the city also takes pride in serving some of the delicious sweets in almost every street corners. Starting with street snacks to famous sweet shops in Delhi, the city is a complete daydream for a foodie.
We are going to list down some of the irresistible Delhi sweets first and then start with discloser some of the best sweet shops in Delhi. Here are some of the delicious Delhi sweets that you must not miss while you are in Delhi because if you do, that will be a great loss for you.
1. Kulfi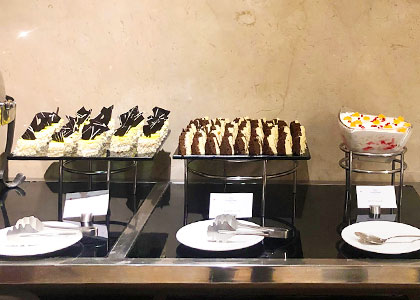 Delhi Sweets
Indians' personal favorite, which is why they gave the first spot to the Kulfis in Delhi, It is one of the most beloved desserts in town. The smooth and creamy taste of kulfi is best relished in
Chandni Chowk
, you will come across many shops that serve unforgettable kulfi.
2. Gulab Jamun
You must have heard about Gulab Jamun or even has quite a few, and Delhi has ample shops that serve delicious soft Gulab Jamun but nothing beats the one Pindi Gulab Jamun serves.
3. Rasmalai
Rasmalai is found in almost every part of India, but none of them serves like Delhi. The flavors are quite different here, the fresh milk gravy is prepared differently from any other place and that is the secret to the deliciousness.
4. Raj Bhog
Consider this as an elder brother of rasgula. The preparation and methods are the same, but the makers use a different ingredient to add a touch of Delhi flavor. Do not ask about that secret ingredient though.
5. Ghevar
The Ghevar in Delhi is hyped due to its popularity. Every single shop keeps a variety of Ghevar and undoubtedly, all of them are tasty. Instead of being a Rajasthani dish (see also 10 Popular Rajasthani Sweets), the people in Delhi have given a twist of their own.
6. Imarti
This spiral sweet dish is made out of urad daal, deep-fried and dipped in flavored sugar syrup, Delhi sweets are incomplete without this dish. If you want to know some of the sweet shops that serve this delicious dish, keep reading.
7. Balushahi
This sweet dish is a favorite in not just India, but also in Pakistan, Bangladesh, and Nepal. This dish is fluffy and coated with sugar syrup, people most love this dish for its flaky flavor.
8. Malpua
This dish is a specialty of North India and has gone through various changes over the years. The basic flavor is the same; it looks like a pancake but has a crisp in the texture and soaked in flavored syrup.
9. Lassi
Well, this is technically a sweet drink and you must have had many lassies elsewhere. However, read carefully, you must not miss having lassi in Delhi. The creamy, smooth, sweet flavors are hard to find anywhere by Delhi.
10. Halwa
There are varieties of Halwa in Delhi, and you will have to decide after eating which one is your favorite. The options are many, and the most famous ones are gajar ka halwa, suji ka halwa, moong dal, Sohan halwa, and others.
11. Basundi
This is again picked up from Gujarat and is quite famous in Delhi. The drink is a rich mixture of sweet flavors and dry fruits, the drink is served cold and you can have one of the best Basundi in Connaught place.
Best Sweet Shops in Delhi
It is time to reveal the artists after you have read about the art, the dishes are famous because the makers have maintained the standards, and enhanced the flavors over time.
★ 1. Kaleva
Kaleva is an old sweet shop in Connaught Place, which is always crowded; they serve some of the best halwa, ghevar, jalebi, kachori and lassi in the area. You must visit this sweet shop if you don't want to miss the incredible sweets in Delhi.
Find it @ 109, Bangla Saheb Marg, Gole Market, New Delhi
★ 2. Kishan Lal Halwa
This shop is a special place in the festive season, people buy sweets like there is no tomorrow.
Find it @ Nai Sarak, Katra Rathi, Chandni Chowk, New Delhi
★ 3. Nathu's
As cute as the name sounds, this place is absolutely amazing for chaat and sweet lovers. They have various outlets across the city and you might just stumble upon one in some street corner.
Find it @ 23-25, Bengali Market, New Delhi, and Connaught Place
★ 4. Ever green sweet house
This place is in limelight mostly because if its specialty in making ghevar. They also have some popular sweets and snacks in their shop.
Find it @ S-29 & 30, Main Market, and Green Park
★ 5. Om Sweets
This shop is the king of sweet shops in Delhi. You will find various outlets of Om sweets across Delhi and they totally live up their name.
Find it @ Gurgaon, Faridabad, and several outlets in Delhi
★ 6. Bengali Sweet house
You will get the taste of Bengali sweets in this sweet shop in Delhi. Tastiest Raj bhog, ras malai, and rasgullas are available.
Find it @ 30-33, Bengali Market, Mandi House
★ 7. Chaina Ram Sindhi Confectionery
You will be dragged to this shop due to its sweet aroma filling the Chandi Chowk area. The shop serves sweets made out of Desi ghee only.
Find it @ 6499, Fathepuri Chowk, Chandni Chowk
These Delhi sweets are some of the finest in town and the places that serve the best sweets are the pro sweet creators that spread joy and sweetness in people's lives. If you are a foodie and want to explore some of the best food and desserts in Delhi, then you have to visit these places. Especially, Connaught Place and Chandni Chowk, it is the hub of delicious cuisines that are a specialty in Delhi.
You May Like:
Delhi Street Food - Foodies' Guide on What & Where to Eat