Best Breakfast in Delhi to Start a Pleasant Day
Breakfast is the most important meal of the day. It pumps up your energy level, helping you in seizing the day and making the most out of it. And, while at Delhi you need keep up your energy at all-time high – or else you will miss some very important highlights of the city.
The Dehlvi cuisine, an Urdu word meaning of Delhi, is a mix of Persian and Indian style cooking. It is a treat to the eyes and tongue, leaving a tingling aftertaste in the mouth. With time, the colonial and the Al-Fresco style food was introduced, and became an instant hit among the local Delhiites.
The city offers a smorgasbord of different food options suitable for every budget, taste, and preference. Here is a list of options for best breakfast in Delhi to start your day.
★ 1. North Indian Breakfast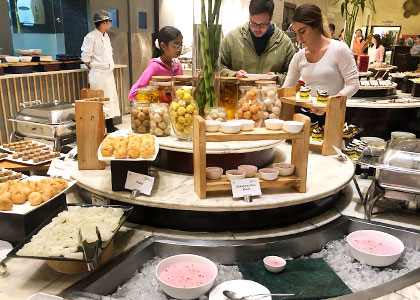 Breakfast in Delhi
A quintessential Indian breakfast, Paratas or stuffed flatbread, is a commonly found on the breakfast table in the morning. The served with dollop of ghee or butter and some curd on the side, parathas can fill you up for the day. Often accompanied with lassi (Indian smoothie) or chach (buttermilk), these flatbreads taste heavenly on the mouth. See also
5 Best North Indian Food
Allu Paratha (potato filled paratha) is very popular. People watching over calories can cut down on the ghee, or switch between healthy fillings to make their parathas more suitable for their dietary needs. Some innovative diners like Jain Chawal Wale or Hauz Khas Social are experimenting and creating fusion style parathas for the millennials.
Some popular paratha makers of Delhi are-
a. Moolchand Parantha
Address: 4, 5, 6 Lala Lajpat Rai Marg Moolchand Metro Station, Vikram Vihar, Lajpat Nagar, New Delhi, Delhi 110024
Phone: 098717 34042
Best dishes: Soya Paratha, Chicken Parantha, Paneer Parantha, Lassi, and Kheer
Average. Cost: INR 400 for two people
b. Pt. Babu Ram Paranthe Wala
Address: Gali Parnthewali, Chandni Chowk, New Delhi, Delhi 110006
Phone: 093137 73576
Best dishes: Mix Paratha, Pudina Parantha, Aloo Paratha, Rabri Parantha
Average Cost: INR 150 for two people
c. Hauz Khas Social
Address: 9A & 12, Hauz Khas Fort Rd, Deer Park, New Delhi, Delhi 110016
Phone: 078386 52814
Best dish: Social paratha, paratha special
Average. Cost: INR 500 to INR 900 for two people
Read more about 13 Must-Try Delhi Foods Delhi Street Food Delhi Sweets
★ 2. Continental Breakfast
Delhi, being the political capital of India since the British Raj, has a strong connection with the continental cuisine and gastronomy. The Delhiites love their continental breakfast with hash and baked beans on the side, and you can find great restaurants English breakfast with flavored tea. Here are some of the venues serving continental best breakfast in Delhi:
a. Cafe Qahwa
Address: C-21, First Floor, Safdarjung Development Area Market opposite Indian institute of technology (IIT), New Delhi, Delhi 110016
Phone: 011 4602 5325
Best dish: Pancakes, Waffles, Sandwich, variety omelets, paratha
Average cost: INR 650
b. The Breakfast Club
Address: SF-35, 1st Floor, DLF Galleria Market, DLF Phase 4, Gurgaon
Phone: +919015994555, +911244118386
Best dish: Pancakes, Sandwich, Chole Bhature, Poha, Aloo Poori, Wedges
Average cost: INR 800
c. Pepper Pot – the Terrace Café
Address: Shop 40, District Commercial Center, Near Grace N Glamour, Harish Market, Sector 56, Gurgaon
Phone: +919999949970, +919999640244
Best dish: Sandwich, Waffles, Pancakes, Nutella Shake,
Average cost: INR 800
Read more about 6 Best Restaurants in Delhi Best Non Veg Restaurants in Delhi
★ 3. South Indian Breakfast
Delhi is the home to a large South Indian community coming from Tamil Nadu, Kerala, Andhra Pradesh, and Karnataka. These communities have enriched the culinary traditions of the city by bringing in the seafood and vegetable infused dishes into the mix. See also
South Indian Food
When talking about breakfast, apart from the ever-popular feather light idlis or dosa – you can find several other options. These include Appam (rice crepes), Pathiri, Uttapam, Puttu (steamed rice flour), Orotti, and Idiyappam (steamed rice noodles).
Some of the venues serving best breakfast in Delhi are-
a. Saravana Bhavan
Address: P-13, Connaught Circus, Connaught Place, New Delhi
Phone: +911128844305, +911123345577
Best dish: Mini Idlis, Filtered Coffee, Rava Masala Dosa, Thali, Ghee Idli, Appam, Paneer Dosa
Average cost: INR 500
b. Carnatic Café
Address: 84-85, Meharchand Market, Lodhi Road, Lodhi Colony, New Delhi
Phone: +919667180766, +919319307663
Best dish: Buttermilk, Rava Idli, Dahi Vada, Kesari Bath, Filtered Coffee,
Average cost: INR 500
c. Padmanabham
Address: 52, Atul Grove Road, Opposite Metro Gate 2, Janpath, New Delhi
Phone: +91 8068971361
Best dish: Buttermilk, variety Uttapam, Dahi Vada, Upma, Filtered Coffee,
Average cost: INR 600
Delhi is well known for its street food culture, which can be a great alternative to filling in the stomach in early mornings. However, these street joints serve some of the best breakfast in Delhi and that too at a reasonable rate. So do try these venues, to know the real flavors of the city.