Best Non Veg Restaurants in Delhi
If you are visiting Delhi, and are a vegetarian, you are going to miss some of the most relishing non-veg dishes in town. The national capital takes pride in having some of the best non veg restaurants in Delhi. The deliciousness of Delhi non-veg food might leave you with some extra pound of flesh at the end of the trip. The desi Panjabi dhabas, and Mughal dishes have no match with any other place in the region. Let us get you started with some of the best non veg restaurants in Delhi where you can relish a non-vegetarian dish.
Read more about 6 Best Restaurants in Delhi
★ 1. Bhape Da Hotel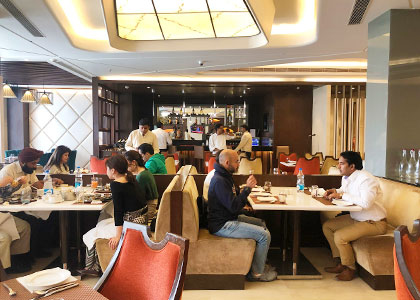 Bhape Da Restaurant
This Dhaba is famous for its north Indian cuisines and awesome dining experience in all of Connaught Place. The location actually houses some of the other incredible restaurants, but Bhape Da Dhaba is a vibe. You know what all you should try, Saag Meat, Chicken Curry, include Daal Makhani, Seekh Kebab, Mutton Curry, Butter Chicken, Egg Curry, you name it and they have it. Do keep a little space for desserts though. Address: 75, Municipal Market,
Connaught Place
, New Delhi
Cost for Two: INR 850
★ 2. Mughal Mahal Restaurant
The killer Butter chicken of the Mughal Mahal has turned this restaurant into a STAR. There is no match for its butter chicken. Do you want us to name some of the dishes for you? Well, here you go Chicken Pakora, Malai Kofta, Mutton Curry, Ghost Kasa and more. After a great public demand, the Dhaba also serves alcohol as well. If there is any place you want to have a great time enjoying your non-veg food, do not forget to add this place on the list.
Address: 7, Sethi Bhawan, Rajendra Place, New Delhi
Cost for Two: INR 1,100
★ 3. Rajinder Da Dhaba
This Dhaba is believed to be one of the oldest in the city and receives countless customers every day. The location is close to a famous tourists attraction safdarganj tomb and this is one of the USP is the place. The price for two is not bad as compared to other restaurants; it is affordable for a quick bite after a long day at the tomb. Every dish in the restaurant starting with Chicken Kebab to Mutton Tikka is delicious and completely value for money.
Address: AB-14, Safdarjung Enclave Market, Safdarjung, New Delhi
Cost for Two: INR 800
★ 4. National Restaurant
We couldn't help but mention is a small set up in Connaught place on our best non veg restaurants in Delhi list because it truly has earned the spot. The food service is unmatched and they serve some of the most delicious Butter Chicken, Mutton Saag, Chicken Curry, Meat Curry, Dahi Meat and Brain Curry in town.
Address: 82 & 83, NDMC Market, Connaught Place, New Delhi
Cost for Two: INR 600
★ 5. Karims Restaurant
Karims Restaurant should not be missed, this place is total heaven for meat lovers. They have varieties and flavors very different from any of the restaurants and has various outlets in town. They serve delicious kebabs, and curries with a wide variety of side dishes to go for. They serve their specialty as a Chicken Stew, Chicken Burra, Chicken Korma, Mutton Tikka, Chicken Malai Tikka and Shammi Kebab.
Where: 16, Gali Kababian, Jama Masjid, New Delhi
Cost for two: INR 800
★ 6. Prem Dhaba
Prem Dhaba is another great place to challenge your taste buds and have some of the delicious food in town. This Dhaba is quite famous for serving the best non-veg dishes for all the right reasons. You can expect to taste Chicken Masala, Mutton Chaap, Dal Makhani, Chicken Roganjosh and Butter Chicken as their special recommendations. The price for looks affordable but you can expect a little raise in the price after a pandemic.
Address: 11139, East Park Road, Opposite JD Titler School, Karol Bagh, New Delhi
Cost for Two: INR 650
★ 7. Kake-da-Hotel
Every tourist visiting Delhi must make it a point to visit this Dhaba is a must. The Dhaba is not an example of being super fancy but the food will be totally worth it. The delicious dishes and the exceptional flavors are hard to find in any other restaurants. The best part about this restaurant is their journey to becoming one of the best non veg restaurants in Delhi. They have served for more than 3 generations and offer some of the unique taste for the dishes like Keema Kaleji, Chicken Seekh, Butter Chicken, and Chicken Biryani without charging anything extra.
Address: 67, Municipal Market, Connaught Circle, Connaught Place, New Delhi
Cost for Two: INR 600
Other Non Veg Restaurant You Can Try

Non Veg Restaurant in Delhi
1. Zamzam
Cost for Two: Rs 1,400
Where: Shop Number 310, 3rd floor Ambience mall DLF Phase 3, Gurgaon
2. Pubjabi by Nature
Cost for Two: Rs 1,100
Where: 30-B, F Block, Connaught Place
3. Gulati
Cost for Two: Rs 1,900
Where: 6, Pandara Road Market
4. Moon Bite
Cost for Two: Rs 500
Where: Delhi University-GTB Nagar
5. Andra Bhavan Auditorium
Cost for Two: Rs 500
Where: 1, Ashoka Road, Near Feroze Shah Road
6. Qdsrestaurant
Cost for Two: Rs 900
Where: I-1A, Lajpat Nagar 2
7. Chawla's Tandoori Junction
Cost for Two: Rs 800
Where: Shop 25, 27, & 29, Flyover Market, Defence Colony
8. Ek Bar
Cost for Two: Rs 1,700
Where: D-17, 1st Floor, Defence Colony
9. Moti Mahal Delux
Cost for Two: Rs 1,200
Where: SF - 23 Aditya Mega Mall, Surajmal Vihar, Karkardoom
10. Samavar
Cost for Two: Rs 1,000
Where: B-36, Pamposh Enclave, Greater Kailash (GK) 1
11. Yeti, The Himalayan Kitchen
Cost for Two: Rs 1,300
Where: 30, 1st Floor, Hauz Khas Village
We picked out these best non veg restaurants in Delhi for you to have a good time hogging when you come to this city. Our advice is that you try the butter chicken in every restaurant like a default setting so that you do not miss anything. We made sure you get the maximum names of the unofficial star restaurants in Delhi, now you have to make sure your stomach can take all those spices.