Agra Transportation – Air, Train, Bus, Taxi, Rickshaw
Agra is one of the famous tourist destinations in India and contributes hugely towards the economy of India. The city offers tourists with several monumental places to explore which are unique, religious and historical. Agra is a part of the Golden Triangle of India, which also includes Delhi and Jaipur. Tourists mostly from Delhi and Jaipur visit Agra as the distance is just 230KM (143mi) and 240KM (149mi) respectively. Agra can be reached by air, train, bus, and taxi from the neighboring cities like Delhi and Jaipur.
If you're travelling to Agra from any other Indian city or want to explore Agra using public transport, here is a complete Agra transport guide to help you make the most of your visit.
Air Travel in Agra

The
Agra Airport
, officially known as Pandit Deendayal Upadhyay Airport (AGR), is a small airport that serves as a public airport and military airbase. It was built during World War II and nowadays connects the city of Taj to several other major Indian cities such as Jaipur, Delhi, Bangalore, and Varanasi.
A one-way flight ticket to Agra from Delhi costs around Rs. 3,000. You can catch a flight any time during the day as Air India, a government-owned airline provides services round the clock. Additionally, you can book a direct flight from Jaipur at just Rs. 1,200. Reaching Agra from Delhi or Jaipur doesn't take more than an hour making air travel in Agra convenient and affordable. Bangalore, a city in the South Indian region also enjoys direct flight connectivity with Agra at an affordable price range of Rs. 4,000-5,000 considering the distance between the two cities.
Trains in Agra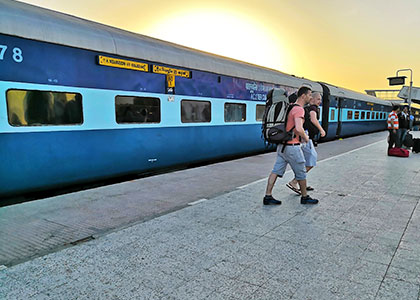 Agra Train
Travelling to Agra by train is the most economical way of reaching this beautiful North Indian city. From Delhi, there are more than 50 trains that run daily between the two cities. It only takes 4-5 hours from Delhi to Agra by train. The fare depends largely on the class you select while booking the ticket. The Jaipur-Agra train route also has many trains available from early morning to midnight. A train journey takes only 4 hours between the two cities. As far as the train ticket fare is concerned, you can reach Agra from Delhi and Jaipur for as low as Rs.150 in the general class.
It should be noted that the Indian Railways offers tickets in different classes such as General, Sleeper (SL), Chair Car (CC), 3AC, 2AC, and 1AC. The ticket price goes up as the level of comfort and convenience increases from the General class to 1AC. The Indian Railways has also introduced a last-minute booking scheme called Tatkal, through which, one can book train tickets 24 hours before the departure. A convenience fee is charged on tickets booked under this scheme, however, it is a good way to reserve seats.
Agra has three railway stations -
Agra Cantt. /Agra Cantonment Railway Station
(AGC),
Agra City
(AGA), and
Agra Fort Railway Station
(AF). Most of the trains from Delhi, Jaipur, Varanasi, and other parts of India reach either Agra Fort or Agra Cantt. Railway Station. So, if you're booking a train to Agra or want to board a train from Agra, check trains that reach these two stations.
Agra doesn't have a metro or local train facility, so if you want to explore the Agra city, you can take a bus or book an auto-rickshaw or taxi.
Read More: How to Travel to Agra by Train
Buses in Agra

There are many bus stands in Agra, but you won't find it difficult to choose one as most of the buses either take any of the four major routes to go outside the city - Fatehabad Road, Yamuna Expressway, Agra-Bikaner Road, and old Agra-Delhi Road. In Agra, you will find state-owned and private buses which can take you to nearby towns and cities. Agra does have a network of local/city buses which are mostly run by private tour operators, most of them do not follow a schedule which often leads to last-minute changes in the tour itinerary.
There are direct buses connecting Agra with nearby cities like Varanasi, Meerut, Lucknow, Delhi, Jaipur, Kanpur, and Prayagraj (Allahabad). A large number of tourists reach Agra by bus from Delhi and Jaipur. These two cities are a part of the Golden Triangle and travelling from any of them by bus takes around 4-5 hours.
The ticket price may vary depending on the class preferred by tourists. However, the bus fare ranges between Rs. 200 to Rs. 3,000. The major bus stands in Agra are Inter State Bus Terminal Agra (ISBT) and Idgah Bus Stand. If you're visiting Agra for the first time, try to get down in or near the Tajganj area as you will find a large number of hotels and restaurants there. Also, your sightseeing will become smooth as the Taj Mahal and several other monuments are situated in that area.

Agra Taxi Service
Read More:
How to Travel to Agra by Bus
Taxis in Agra

As mentioned above, taxis and rickshaws (tuk-tuks) are the best and the only ways to explore the Agra city. Reaching one place to another by taxi is the most convenient and often the cheapest way to travel in Agra. You will find a large number of taxi drivers standing in front of bus stands, railway stations, and local markets. Being street smart may help you as taxi drivers often don't follow a fixed fare policy. Most of the time they overcharge passengers, especially tourists. When in India, use applications like Uber or Ola to book taxis as the drivers are professional and it is safer to use these services compared to hiring a random taxi driver you know nothing about.

Many taxi drivers offer sightseeing packages which include several sports in the tour plan. You can find such taxi tours for as low as Rs. 1,000, but make sure to check the itinerary and check which places are covered in the tour package and which are not. Booking such tours with a reputed tour service provider is always a good idea to ensure safety, comfort, and value for money.
Read More: Taxi Services in Agra

If you're travelling by taxi in Agra, the following points can help you decide whether to book a taxi or not.

Taj Mahal, Agra
1. Agra Fort Railway Station to
Taj Mahal
:
• Distance - 3 kilometers (1.9 miles)
• Duration - 15-20 minutes
• Average Fare - Rs. 50 - Rs. 100
2. Agra Cantt. Railway Station to Taj Mahal:
• Distance - 6 kilometers (3.7 miles)
• Duration - 20-30 minutes
• Average Fare - Rs. 100 - Rs. 15050
Read More:
How to Travel from Delhi to Taj Mahal
3. Taj Mahal to
Agra Fort
:
• Distance - 3.5 kilometers (2.1 miles)
• Duration - 15-20 minutes
• Average Fare - Rs. 50 - Rs. 100
4. Tajganj to Sikandra (
Akbar's Tomb
)
• Distance - 17 kilometers (10.6 miles)
• Duration - 1 hour
• Average Fare - Rs. 250 - Rs. 350
Rickshaw (Tuk-tuk) in Agra


Local Street Market
A large number of tourists ride auto-rickshaws or tuk-tuks for fun in Jaipur. Being one of the oldest modes of transportation in Agra, rickshaws help tourists explore the hidden areas, street markets, and less-traveled paths of the city. Just like taxis, rickshaws are available in almost every corner of the Agra and can be easily found. These days, mobile apps are also providing auto-rickshaw booking services, you can always negotiate a deal with a local rickshaw driver if you find it convenient.
When it comes to price, you can consider auto-rickshaws at least 10% to 20% cheaper than taxis. However, the cost-effectiveness only remains intact if the distance is less. If you're planning to visit places like
Fatehpur Sikri
, the Tomb of Akbar The Great, Soor Sarovar Bird Sanctuary,
Wildlife SOS
- Elephant Conservation and Care Center or any other place that's more than 15 kilometers(9.3 miles) from the Agra city, you will end up paying more money for an auto-rickshaw ride.
You May Like:
Agra Bus – Routes, Stands & Fare
How to Get from Delhi to Agra – Bus vs. Train
Travel from Agra to Bharatpur by Bus