Visit Rajasthan: A Guide to Make a Perfect Rajasthan Trip
Rajasthan is an enormous state where you will get the limitless options to visit and to enjoy. Amazing heritage monuments are eulogies the bravery of its immortal kings and princes. If you are visiting Rajasthan first time, then this will be the best information to which helps to plan your trip. Here you will get information related to places, travelling, festivals, and much more, which make the journey easier.
Reasons to Visit Rajasthan:
First of all, you must know the reasons to visit ethnic and glorious Rajasthan. This colourful state of India has many reasons which make it the first choice to plan a trip. Some of the reasons are: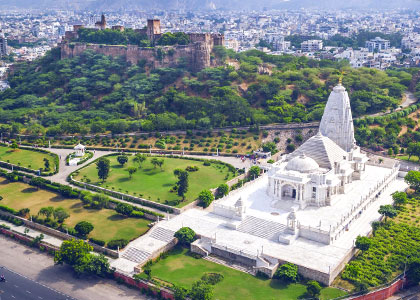 Jaipur - The Capital of Rajasthan
• Its enormous wealth of history
• The most unique and attractive culture
• Mouth-watering
Rajasthani cuisines
• People friendly places
• Lot of luxurious and beautiful accommodation options.
• Colourful and vibrant festivals
• Royalty and spirituality of this land
These are a few reasons to visit this glorious state of India.
Rajasthan is the land of the desert where the temperature is high, and it varies after the spring starts. Because of this fluctuating temperature, you should visit Rajasthan in the rainy season or winters. Visit time also varies as per the locations like the mid months of May, June and July are the best time to visit Mount Abu.
Rajasthan is well connected with roads, airways, trains, and public transport. You can choose any convenient way as per suitability.
• By air:
Rajasthan has one International airport (Jaipur) and many other Domestic airports. To explore Rajasthan, you can take further transport from Jaipur. Here are the details to reach Jaipur from major cities:
| | | | | |
| --- | --- | --- | --- | --- |
| From | To | Mode of Transport | Time | Fare |
| Delhi | Jaipur | By Flight | 55 min to 1 hour 10 min | From Rs. 3,000 to Rs. 8,000 |
| Mumbai | Jaipur | By Flight | 2 hours to 5 hours | From Rs. 3,000 to Rs. 10,000 |
Note: Duration will vary as per the type of flight that is non-stop or via specific city and fares will vary as per time you choose to travel.
• By train:
Rajasthan has 146 railway stations that connect different cities of India. Jodhpur, Jaipur, Udaipur, and Ajmer are major stations in Rajasthan. Here are the details to reach Jaipur from where you can visit any destination of Rajasthan.
| | | | | |
| --- | --- | --- | --- | --- |
| From | To | Mode of Transport | Time | Fare |
| Delhi | Jaipur | By Train | Up to 5 hours | From Rs. 250 to Rs. 1,400 |
| Mumbai | Jaipur | By Train | Up to 17 hours 55 min | From Rs. 550 to Rs. 3,500 |
• By road:
Rajasthan has twenty national highways, which offers a smooth travelling experience. Here are the bus details which can be vary as per the route you choose.
| | | | | |
| --- | --- | --- | --- | --- |
| From | To | Mode of Transport | Time | Fare |
| Delhi | Jaipur | By Bus | 6 hours to 6 hour 30 min | From Rs. 420 to Rs. 1,400 |
| Mumbai | Jaipur | - | 29 hours | - |
• By local transports
RSRTC provides the local bus service to connect adjoining states. Once you reach at Jaipur, you can explore whole Rajasthan by taking any local transport including buses, taxis and rickshaws.

Jaipur for example:
Bus
There are around 30 routes that Jaipur city buses cover and there are over 200 bus stops across the city. The government-owned city buses fare starts from INR 7 for up to 2 kilometers (1.2 miles) and can go up to INR 40 for a journey up to 50 kilometers (31 miles).
Taxi
Taking taxis to travel to and from the airport to downtown area usually takes INR 300.
Rickshaw
Rickshaws are convenient and cheaper. The flag down fare within 2km (1.2miles) is INR25, the extra kilometers will be charged INR 8 per kilometer.
Places to Visit in Rajasthan:
Rajasthan has magnificent past, grandeur excellent architectural, and royal aura which attract a crowd. This state has numerous sites with unique stories and experiences. You can visit places like:


Palace and forts:

City Palace, Jaipur
With the thrilling stories of kings and royal families, many palace and forts are famous in Rajasthan. This majestic state has splendid places like:
• Umaid Bhawan Palace
•
City Palace
•
Amer Fort
•
Chittorgarh Fort
•
Kumbhalgarh Fort
•
Junagardh Fort
•
Jaisalmer Fort
•
Patwon ki Haveliyan
•
Hawa Mahal
•
Jal Mahal
These are a few of the famous places in Rajasthan, which helps you to understand the rich culture and beautifully preserved history.
Read More: Best Places to Visit in Rajasthan


Spiritual places:
Rajasthan is the state of religious sites. Here you can visit various pilgrimage of different religions like:
•
Brahma Temple
•
Karni Mata Temple
•
Dilwara Temple
• Govind Dev Ji Temple
• Mehandipur Balaji Temple
•
Jag Mandir
These are a few of the spiritual places where you can see the masterpiece of marvellous architecture.

Bengal Tiger in Sariska Tiger Reserve
Natural places:
In Rajasthan, you can enjoy the picturesque beauty of nature and wildlife. You can visit various parks and sanctuaries like:
• National Park
• Keoladeo National Park
•
Sariska Tiger Reserve
•
Desert National Park
Here you can see migratory birds, various mammal species, and royal Bengal tigers.
Read More: Top 5 National Parks in Rajasthan
Festivals to Enjoy in Rajasthan:
Festivals and fairs are the most enjoying and cheerful part of Rajasthan trip. Here every festival is celebrated in unique ways.
• Elephant Fair
• Camel Fair
• Pushkar Fair
• International Kite Festival
•
Holi
• Marwar Festival
• Teej
These festivals make your trip more memorable. Visit Rajasthan in festival time, which adds more fun in your journey.
| | |
| --- | --- |
| Elephant Festival | Camel Fair, Rajasthan |
Places for Shopping in Rajasthan:
Shopping is one of the most attractive time in this trip. Rajasthan has many popular places to buy ethnic handicrafts, miniature paintings, textiles, traditional jewellery, and spices. Here are some bustling bazaars of Rajasthan where you can enjoy shopping.
• Johari Bazar in Jaipur
• Bada Bazar in Udaipur
• Clock Tower Market in Jodhpur
• Sadar Bazar in Pushkar
Read More: Top 7 Rajasthan Handicrafts 10 Popular Rajasthan Markets

These are vital points to make your first Rajasthan trip perfect. Apart from this, many other things like delicious and mouth-watering Rajasthani food, adventure activities, and exciting rides of camel, desert safari make your trip perfect. You can create lifetime memories and to know about the most beautiful and royal place in India. Visit Rajasthan - the home Maharaja's to experience luxury, royalty, history, spirituality, and most crucial vibrant culture of this state.
You May Like:
Top 5 Places for Rajasthan Backpacking