City Palace, Udaipur
City Palace Facts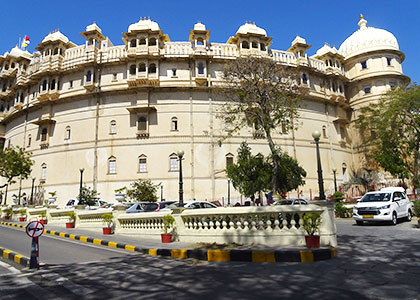 City Palace

Scale: 244 meters long, 30.4 maters high

Architect: Udai Singh II

When was City Palace built: 16th century - 20th century

Location: City Palace Museum, Brahmpuri, Udaipur, India
City Palace, also known as City Palace Museum, is one of the most preserved historical sites in India. Situated by
Lake Pichola
, white in color, City Palace is the palace for King of Udaipur. City Palace is firstly built by Udai Singh II. Lasting for about 400 years, it finally became a building complex containing 11 separate small-scaled palaces and a garden. The building complex of City Palace is overwhelming and solemn. Having 8 gates, it covers almost a quarter of the old city. At present, the majority part of the City Palace has been turned into museums for public sightseeing or hotels serving tourists and passengers, however, there are still royalty nobles living in one side of the palace.
Architecture Features of City Palace - Rajput and Muslim Style
Made of granite and marble, combining the flamboyant ethnic style of Rajput and Muslim features from Mughal Empire buildings, City Palace presents the life style of the Rajasthan royal families in ancient India perfectly. As the largest palace in Rajasthan, City Palace is equipped with balconies, watchtowers, and battery towers. Here, one can overlook Lake Pichola and the whol city, and experience the elaborate design of City Palace. Although City Palace is constantly rebuilt and renovated by over 20 emperors from the 16th century to the 20th century, it is surprisingly in accordance with the style of its original style.

Flamboyant Ethnic Style of City Palace
How was City Palace built?
The City Palace was firstly built in 1553 by the founder of the city, Udaipur - Udai Singh II. From the 16th century to the 20th century, during a period of 400 years, 22 maharaja renovated and expanded the building complex. It is said that the maharaja of Udaipur once led 20 elephants here to fight against British in Indian Independence War. After the independence of India, City Palace was divided into three parts: one large part turns to be the City Palace Museum serving tourists; the second part is kept as the residences of royal descendants, which is not open to tourists; and the last part works as luxury hotels, which is not open to public, either.
What to Visit in City Palace
Lasting for about 400 years, over 20 emperors participated in the construction of City Palace, therefore, visiting the City Palace is like a journey through time and space, which is full of magical colors. Then, here comes the question: what are the highlights of City Palace, or what to visit in City Palace? Next are some attractive sites which cannot be missed.
City Palace Museum
As the main body of City Palace, City Palace Museum is worth visiting. Decorated with mirrors, tiles, and paintings, City Palace Museum displays rich handicraft exhibits. The Rai Angan remarks the site where Udai Singh was informed to build a city. A room beside exhibits many historical paintings about Haldighat War happening in 1576. What's more, there also exists national performance in the museum. At that time, you can appreciate the most distinctive dances in Rajasthan at 7p.m. every nights.
Exotic Decorations
With ethnic style of Rajput and Muslim features, City Palace is full of distinctive decorations. Mosaic-style window frames and decorations are the typical example of Mughal Empire. Entering the hall of City Palace, you will find furniture and decorations from all over Rajasthan, Persia and even Europe. All the walls around are wonderful and fantastic. On the upper balcony exists a peacock made by numerous pieces of glass and mirrors. Colorful drawings and patterns seem like gems settled on the wall, which will reflect dazzling lights in sunshine. The rooms in City Palace are of different styles, some belong to European, while, others belong to Exotic palace style. Also the windows are carved in exquisite shapes, through these windows, you can have a glimpse of Lake Pichola and the views of the closed part in City Palace.
| | |
| --- | --- |
| Exotic Decorations | A Peacock Made by Glass and Mirrors |
Durbar Hall Renovated by Hotels
Usually, there always exist royal halls in palaces of India, which is the largest hall in the whole palace and serves as a formal venue for emperors. Without exception, City Palace also has a royal hall, which is named as Durbar Hall. As the most spectacular, widest, and most luxurious imperial court in India, Durbar Hall is renovated from the hall of Fateh Prakash Palace Hotel in City Palace. Equipped with the largest chandelier in India, the second floor of Durbar Hall has turned into Crystal Gallery. Every corner of Durbar Hall shows the luxury of Royalty.
Grotesque Lives of Loyal Nobles
Entering the north gate "Badi Pol", and continuing to walk south, you can find the scales once used by maharaja to weigh gold and silver. Also elaborate triple doors can be noticed, and even the cages once used to keep and feed tigers and leopards. All of these scenes present us the grotesque lives of royal nobles.
How to get to City Palace
North gate "Badi Pol" locates in the south end of City Palace Road, passengers can walk there.
| | |
| --- | --- |
| Entry fee | 300 Rupees per adult/200 Rupees per child or student |
| Timing | 9:30 - 17:30 |
| Suggest Duration of a Visit | 2 - 4 hours |
Attentions:

City Palace entry fee is 300 rupees per adult, while another 200 rupees is charged for a camera.

The opening time is from 9:30 – 17:30, please notice that there will be no admittance after 16:30.

Speech interpreter charges 200 rupees per person.
Other Famous Attractions in Udaipur: