Dilwara Temple
As a pilgrimage place of the Jain and a very popular general tourist destination of Rajasthan, Dilwara Temple or Delvada Temple is a location in Rajasthan's only hill station
Mount Abu
, popularly known as "oasis in the desert". Located in the beautiful midst of Aravalli, this temple is known for its magnificent beauty.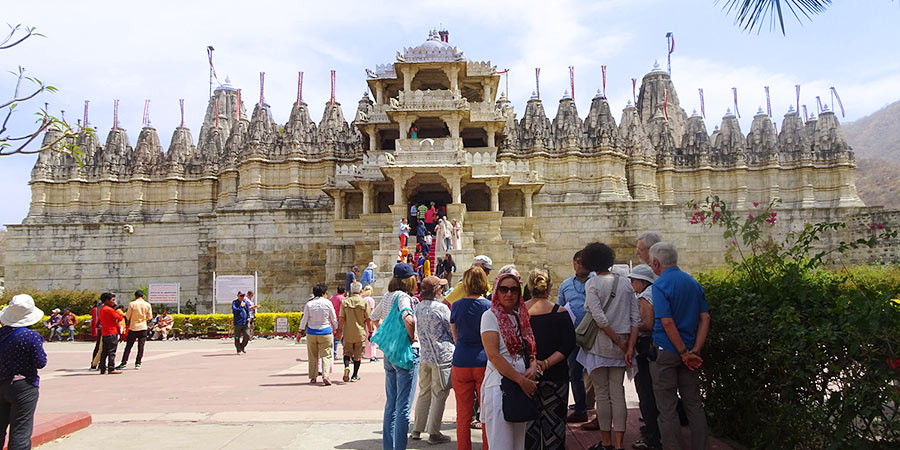 Dilwara Temple - A Holy Place for the Jain Pilgrims
Dilwara temple is the holy place for the Jain pilgrims in India. Throughout India, many Jain temples have magnificent architecture, but the Dilwara temple is the most beautiful and architecturally renowned in India. This temple was built in the 11th and 13th centuries by Vimal shah, and this stunning architecture is designed by Vastupal Tejpal, Jain ministers of Dholka. It took 14 years to build this opulent architecture.
Architecture:
Dilwara temple is made up of white marble. It has intricate marble carvings on every part of the temple. Every hook and corner show high-quality craftsmanship of the workers that dazzle your eyes. All the pillars, roofs, walls, archways had crafted supremely amazing. Ornamental detail in the carving represents the rich culture and tradition of people in ancient India.
This spectacular piece of architecture is the best example of marble sculpture. The perfection level of this carving is the most beautiful specimen to all sculptors in the world.
With the opulent entranceway, this architecture has five temples with their identity. These five temples have been agglomerated by a single high compound wall.
Every temple is dedicated to each god in the Jain religion as follows-
1. Vimal Vasahi is devoted to Shri Rishabhadev.
2. Luna Vasahi is devoted to Shri Nemintha.
3. Pittalhar is devoted to Shri Rishabhadev.
4. Parshvanath is devoted to Shri Parshvanatha.
5. Mahavir Swami dedicated to Shri Mahavir Swami.
These five temples are showing a rich heritage of Rajasthan. But among these five, Vimal Vasahi and Luna Vasahi are the most famous holy places for Jain pilgrims.

White-Marble Pillars with Elaborate Carvings
Vimal Vasahi Temple:
It was built in 1031 A.D. by a minister of Bhima I, Vimal Vasahi. It is a construction of white marble and has a vast courtyard with a corridor. The temple has multiple pillars, arches, porticoes, halls, and everything is engraved impeccably with designs of flowers, holy symbols, lotus, buds, animals, etc.
The ceiling is the main attraction of this temple. It is made up of nine rectangular caps and named 'Navchowki.' Ornate carvings on all the pillars stunned the viewer like anything. Also, there is a hall that was built to perform ritual traditions in the Jain religion. It is also graved beautifully by symbolic characters of animals, musicians, soldiers, and dancers. Innermost sanctum of this temple has an idol of Lord Rishabhdev.
Luna Vasahi:
It was built in 1230 by two brothers Tejpal and Vastupal. The temple was created by white marble and showing extraordinary sculptural decoration. Hall of this temple has a large ornamental pendant that is featuring 72 figures of gods in the Jain religion and 360 pictures of Jain monks in a circular band. The temple shows magnificent graving that captivates its beauty. The nnermost sanctum has an idol of Lord Nemintha.
Bird's eye view of these temples cannot give a single clue of this architectural miracle. It looks very ordinary from outside. Folks say the designer kept the outer area of the temple plain intentionally. As temples were a primary target of Mughals at that time, inventors of this temple wanted to save this fantastic piece of architecture from their attack.
How to reach the Dilwara Temple?
Diawara Temple is just one or two miles from Mount Abu that can be covered by hiring a taxi, which is available in Mount Abu bus station and Railway station.
• Abu road railway station is the nearest station from Dilwara Temple which is located at 15 miles from Mount Abu and it can be connected to all the major cities.
•
Udaipur
is the nearest domestic airport from Mount Abu at a distance of 130 miles and is well connected to major cities like
Jaipur
,
Delhi
, and
Mumbai
.
• RSRTC buses connects Mount Abu to other cities by road. Many AC, Deluxe, or Semi Deluxe buses are available from all neighbouring cities.
From Abu Road Station to Dilwara Temple:
From

To

Mode of Transport

Distance

Duration

Fare

Abu Road Station

Dilwara Temple

Taxi

20.3 Miles

35 Min

INR 430 - INR 550

Drive

20.3 Miles

35 Min

INR 230 - INR 350

From Mount Abu Bus Depot (Major District Road 60) to Dilwara Temple:
| | | | | | |
| --- | --- | --- | --- | --- | --- |
| From | To | Mode of Transport | Distance | Duration | Fare |
| Mount Abu Bus Depot | Dilwara Temple | Taxi | 2 Miles | 5 Min | INR 70 - INR 100 |
| | | By Walk | 2 Miles | 38 Min | - |
Visiting Time & Entry Fee:
• For the followers of Jain religion - 6 am to 6 pm.
• For the rest-12 pm to 6 pm.
• Time budget to explore is a minimum of 2 hours
• No entry fees for foreign tourists.
Rajasthan has already opened doors of beautiful treasure it has and urging the world to visit by saying 'Padharo Mhare Desh,' i.e., visit my country. Now the ball is in your court. If you are willing to witness this architectural and geographical treasure and want to capture everything by your eyes, what are you waiting for? Keep your phone aside and pack your bags to fly for India. Have a happy journey!