Sardar Market in Jodhpur - Stroll in the Shopping Heaven
The Sardar Market in Jodhpur is in close distance to the landmark of the city, the Clock Tower. This shopping destination falls under one of the best places in Jodhpur to shop for various items. Ther are several attractions, starting with food, handicraft, music, art, spices and much more. Even though the market offers extensive things to shop, the historical and architectural significance of the clock tower can't be overlooked. After exploring some of the interesting facts about the famous Sardar Market, take a quick glance at some important details about the landmark Clock Tower.
Sardar Market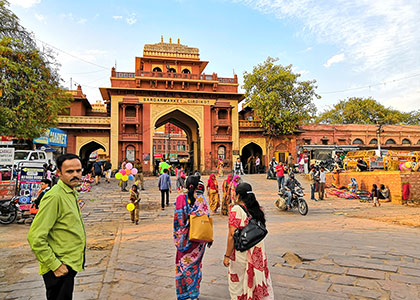 Sardar Market in Jodhpur
Visiting a new city has a lot to do with shopping destinations. People who like to collect unique items from their travel; Sardar Market in Jodhpur is the shopping heaven for such people. There are a variety of things to buy and eat; this place is always oozing with tourists and people buying and selling items. You will be able to purchase brilliant handiwork, flavored tea, hand-embroidered fabric, antiques, food items and more. If you are wondering about haggling, then yes, you can very well haggle in this market.

After a busy hour of shopping and buying some brilliant items, you can treat yourself with some cold Makhaniya lassi and shahi samosa to give a sweet and savory closure to your visit to the famous Jodhpur Sardar Market.
Make a Shopping List

Have you prepared a shopping list yet? If your answer is no, then get to it immediately. Preparing a shopping list before you visit the famous Sardar Market in Jodhpur is important. This place will fit in items for every member of your family; they stalk mojris (Jodhpuri shoes), Pashmina shawl, spices, rugs, cushion covers, Bandhani dupatta, sarees, etc.

After enjoying some of Jodhpur's special dishes, you might want to buy some spices yourself. You will find all the basic spices at fractional prices. There are places where you can also sample varieties of tea. You can also get some custom made gifts to take it back with you as a souvenir. Most of the items in the Sardar Market have reasonable prices but don't forget to haggle as you might get carried away in the excitement of shopping.
What to Buy in the Sardar Market, Jodhpur?

There are numerous items to buy from this brilliant place. The place is extremely charming with varieties of things to buy that you will be mind-boggled with choices. You will find shining glass bangles, Bandhani cloths, fabrics, handicrafts, cooking utensils, hand-embroidered cloths, etc. It is also an amazing place for photographers. Here are a few highlights of the Sardar Market in Jodhpur to help you shop:
| | |
| --- | --- |
| Fine jewelry | Indian Saree |
1. The highlight of the Sardar Market, Jodhpur has to be the Rajasthani bangles. When you are visiting the Jodhpur market, don't miss on these jeweled bangles.
2. The second item to buy from this market is the Bandhani cloths. You can find a lot of Bandhani items, from sarees to suits, and Chris, this market is famous for selling this item.
3. Leaving Jodhpur without a pair of mojris should be considered a crime. These shows are beautifully crafted and can be found in any color or size. Don't forget to buy one for yourself.
4. If you can take your eyes of these wonderful items, you can also buy some spice. The Clock Tower Area in Jodhpur is also famous for selling spices of various varieties. It's a complete value for money.
5. Apart from all these items, you will also be able to find flavors of tea leaves. They sell all the famous tea leaves including Kahwa, Assam tea, Darjeeling tea, Ginger tea, Masala mix, etc.
6. You can also buy some brilliant handicrafts from this market.
| | |
| --- | --- |
| Brilliant Handicrafts, Jodhpur | Various Types of Clothes |
The Sardar Market in Jodhpur is included in every tourist's list. This place has a very vibrant attraction and the market is the icing on the cake. Your visit to Jodhpur is incomplete without exploring this beautiful area. Tourists who visit the Jodhpur Sardar Market never leave the place empty-handed because it has so many things to offer. Just a few more details before you visit the city, be careful with your belong and carry cash safely to keep things in control. Don't let the excitement of visiting a new city forget safety measures.
Remember to haggle and wear your sunscreen if you are heading out in the sun. Carry your water bottle and bring home some of the brilliant items from Sardar Market in Jodhpur. Happy shopping!

Busy Fair Nearby Clock Tower
Clock Tower, Jodhpur

This Clock Tower is located in the center of the city in Sardar Market and very different from the rest of the towers in the country. The structure consists of 3 storied floors and topmost floors consist of a huge English clock. It has a very simple and appealing design. The tower in the center of the market enhances the beauty of this market place. The structure dominates the entire market and everything that surrounds the place.
Best Time to Visit

If you are planning for a vacation, then winter is the best time to explore the royalty of Jodhpur. The months between October - March is a brilliant time to experience the beauty of this historic city. When it's about exploring the famous Clock Tower in Jodhpur, try visiting after 5:30 pm because after sunset, the tower looks stunning when it's lit with bright lights. This time is also suitable to shop as Jodhpur is more pleasant after sunset.
You May Like:
Top 10 Best Souvenirs from India