Shopping in Rajasthan: 10 Popular Rajasthan Markets on Your Bucket List
The colorful, joyous, and princely state of Rajasthan attracts travelers across the world and colorful market is one of the reasons for the attraction of this crowd. It will be a treat to your eyes to witness the traditional bazaars selling colorful items like handicraft, jewelry, pagdis, leather goods, miniature paintings, and mojaris that are located in different places of Rajasthan. Shopping is the best thing to do during a trip, especially in multiple traditional markets. Along with offering you a wide range of things to buy, they also provide an opportunity to take a peek inside the tradition and culture. Here are the 10 most popular Rajasthan shopping markets!
1. Johri Bazaar (Jaipur) - Women's Attraction
Johri is another name for jewelry, which is the happiness of women. Here you will get pretty Rajasthani jewelry. Jewelry with Kundan work and traditional Meenakshi are the most popular and top picked items in this bazaar. You will get this jewelry in different price ranges, and this buffet of the arcade will never disappoint you. This market in the pink city is easily accessible through local transports at your convenience. You can visit this colorful and lustrous place on all days of the week between 10 am and 11 pm.
See More: Jaipur's Best Jewellery Markets
2. Mochi Bazaar (Jodhpur) - Traditional Footwear
One of the famous bazaars for Jodhpuri shoes is the Mochi Bazaar of Jodhpur or known as cobblers' market. This place offers a variety of vibrant colorful footwear that are intricately designed. There are different patterns and styles of shoes to match the buyer. Apart from famous Rajasthani mojaris (traditional footwear), one can also find sherwanis and achkans for men and women who like bling-bling; they can go for a variety of lacquer bangles. Visit here on any day from 8 am to 9 pm to collect unique pairs of footwear.
3. Nai Sadak (Jodhpur) - Pride of Men
Here is another colorful market of Rajasthan. The extravagance of Rajputana culture exhibits through the colorful turbans, which is the main highlight of this market. The famous art of Jodhpur Bandhani, which is a tie and die product using a soft cloth, is showcased across the market. Enjoy the busiest marketplace of Jodhpur, where you can bargain for flashy clothes, traditional ties as well as dye fabric. You can visit this vibrant place between 10 am to 10 pm from Monday to Saturday. But it is closed on Sunday.
4. Bada Bazaar (Udaipur) - One Stop Destination
This is one of the attractive places for shopping in Rajasthan. This romantic city has a lot to offer for couples for gold jewelry, cloth material, silver, and copperware. You name it, and you get it in this market from footpath stalls to AC showrooms. One needs a lot of time to explore this market, as you go on exploring this place, you will be tempted to go for more and more. Here you can collect jewelry, lather items, and Bandhani cloths, which are top picks in Bada Bazaar. This Bazaar is open every day from 8 am to 9 pm.
5. Hathi Pol Bazaar (Udaipur) - Market of Lights
Located near to the mesmerizing Udaipur
City Palace
, this marvelous market gives a royal feeling like King and Queen walking on the streets with the most elegant and well-crafted paintings on both sides of the roads. This market buzzes a lot of tourists across the globe since local crowd shops quite often in this market, and there are lesser chances for the shopkeepers to overcharge the tourists. Except for Sunday, Hathi Pol Bazaar is open between 9:30 am and 5:30 pm.
6. Sadar Bazaar (Jaisalmer) - Leather Market
This market of Jaisalmer is offering a wide range of leather items at reasonable rates. Here, so much to explore and collect. This market sets a perfect example of Rajasthani ethnicity known for its leather mojaris made of camel leather; this wholesale market offers products at a very less price and are rich in its quality. You can collect handicrafts, leather items, blankets, carpets, and apparel here. This market is open every day between 10 am and 6 pm.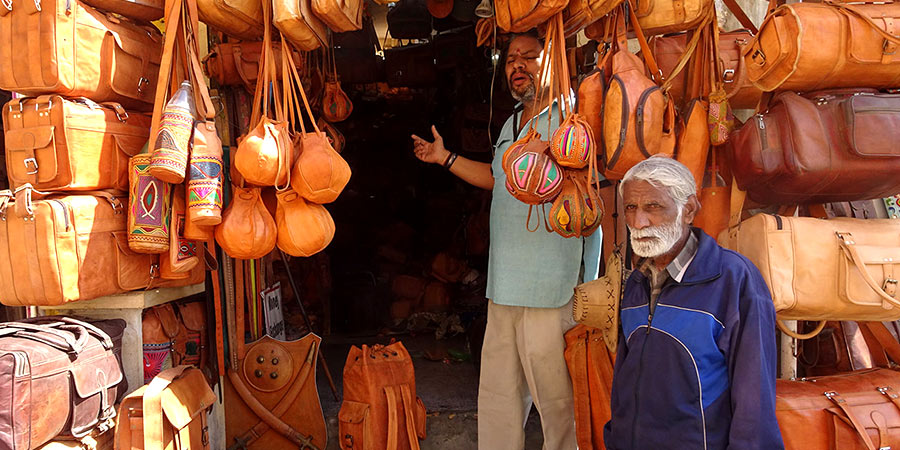 Sadar Bazaar - Leather Market
Read More: Top 7 Rajasthan Handicrafts

7. Mahatma Gandhi Road (Bikaner) - The Taste of the Nation
Bikaner is known for its best tea time munches like different types of bhujia and papads. Though the city is known for snacks, this place is still undiscovered by travelers in terms of shopping. For budget shoppers, Mahatma Gandhi Road is a treasure trove. Rajasthani culture drips from this energy-filled market place with sparkling and shinning mojaris, heavy embroidery, and many more. You can visit this market from9 am to 7 pm on any day of the week.
8. Sarafa Bazaar (Pushkar) - Extravaganza
Mainly known for the religious destination, Sarafa Bazaar offers beautiful handmade idols of Gods and Goddess varying from small to the larger sizes. You can visit this place every day of the week and can collect unique and attractive idols.
9. Clock Tower Market (Jodhpur) - Known for Its Aromatic Spices
Rajasthan is the house of exquisite and delicious food. Ever wonder where all these spices come from? Well! From the Clock Tower Market. If you liked these Rajasthani lip-smacking dishes and want to give a try at your home, then this market offers you fresh and aromatic spices. Apart from spices, this market also provides popular items like antiques, handicrafts, and dyed clothes. Visit here between 10 am and 8 pm to collect fresh spices.

Clock Tower Market - Known for Its Aromatic Spices
10. Kote Gate (Bikaner) - Oldest Market of Bikaner
This is the oldest market of Bikaner that reflects the mesmerizing architecture. The market offers a wide range of leather items like jackets, mojris, wallets, and display of traditional clothing and much more to surprise you. This market is open between 10:30 and 8 pm on all days of the week.
Enjoy shopping in Rajasthan, and on your next trip, do not forget to take empty bags and fill it with these beautiful traditional things.