Rajasthan Festivals: A Blend of Culture, Richness & Heritage
India is the country of celebrations. In India, along with religious festivals, every change in nature is celebrated in its unique way. These festivals have been initialized by their ancestors to unite people in India and sustain their cultural heritage. There are numerous types of folk music, folk dances, and traditional attires are presented during these festivals.
Several Rajasthan festivals and fairs are celebrated every year that reflects ethnicity and shows a perfect blend of culture, richness and heritage.
Let's explore few plentiful Rajasthan festivals.
1. Desert Festival, Jaisalmer
Rajasthan Tourism Development organizes this festival every year in February. In this festival, people create enthusiasm in the atmosphere with songs and dance. Everyone dressed in traditional and colourful attires. It is a golden chance to celebrate delights of deserts.
• Location: Sam Dunes
• Key Attractions: Gair and fire dance, march from
Jaisalmer Fort
to Shahid Poonam Singh Stadium, contests, folk dance and music.
2. Teej Festival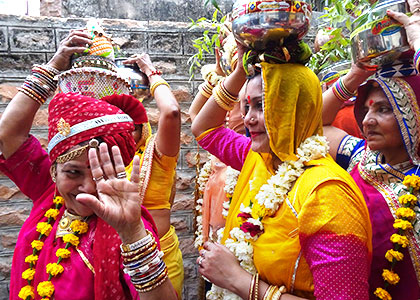 Teej Festival, Rajasthan
It is one of the most important festivals for the Indian woman. This festival is celebrated by worshipping of goddess Teej. An idol of the goddess is taken across the city. In this procession, several elephants, camels, and horses take part. Also, people present their traditional songs and dances.
• Location: Jaipur
• Key attractions: traditional dresses, ghewar and malpua sweet dishes.
Read More:
10 Best Jaipur Festivals
3. International Kite Festival
This is the most famous Rajasthan festival and main attraction for international tourists. Kite festival is celebrated during 'Makar Sankranti' festival which is from 14th Jan – 16th Jan. In this festival, people fly kites. Kite-flying competition is the main attraction of this festival. There are an abundant number of kites of myriad shapes and sizes fly in the sky. This extravagant spectrum in the sky creates a stunning view.
• Location: Jodhpur and Jaipur
• Key attractions: Kite-flying competition and illumination.
In this Rajasthan festival, people splash colors upon one another and worship Lord Krishna. Along with colours, dance and music spread pleasing vibes in the atmosphere. It is a ritual of taking a dip in Banganga River Ghat before worshipping Lord Krishna.
• Location: Bharatpur
• Key attraction: Raslila performance, i.e. dance of divine love.
| | |
| --- | --- |
| People splash colors in Brij Holi | Pushkar Camel Fair |
5. Pushkar Camel Fair
It is one of the most popular tourist attractions. In Pushkar fair thousands of camels congregate for touting. These camels are decorated with traditional ornaments and colorful cloths. In this fair, Rajasthani people present their folk dances and music. By viewing this dazzling scenario, you can witness the cultural heritage of Rajasthan. Also, magic showed food courts and caroused rides are organized in the fair.
• Location: Pushkar, Ajmer district, Rajasthan.
• Key Attractions: Camel parade, hot-air balloon ride, moustache competition, handicraft market,
Rajasthani food
.
It is one of the biggest free literary festivals in the world that shows affluent literature of India. Numbers of great biographies across the world come here to share their thoughts and experience. Also, writers of bestseller books, debut novelists, literature enthusiasts come together and conduct reading sessions, debates, discussions, etc. This festival continues for five days at the Diggi Palace, Jaipur.
This is the largest platforms for youngsters to learn from greatest authors and thinkers. Also, everyone receives positive vibes and immense energy to read, to think and to write.
• Location: Diggi Palace, Jaipur
• Key attractions: Poetry sessions, seminars, debate rounds, discussions, and book releases.
7. Elephant Festival
Rajasthan is the hub of celebrations. By preserving the beauty of palaces and forts, this state gives a silent message to the world to save and protect animals by organizing an elephant festival in the pink city Jaipur. This festival indicates the importance of elephants in Rajasthan's culture. Elephant festival held during Holi (an Indian festival of colors), i.e. in March. In this festival, elephants are ornate with heavy jeweler, saddle cloth, etc. and female elephant decorates with anklets too. Amidst the walk of elephants with a musical background of folk songs enthral the audience.

Elephant Festival
• Location: Chaugan Stadium, Jaipur
• Key attractions: Elephant decoration, elephant race, polo March, elephant's tug of war.
8. Sacred Festival
This festival is organized by the Rajasthan Government and the department of tourism every year in the Pushkar city. It is the most celebrated festival that presents the rich musical tradition of Rajasthan. It is one of the globally recognized festivals in Rajasthan that narrates a perfect blend of culture, richness and heritage.
In this festival, young and experienced performance showcase their talent. Also, national and international audience come here to attained and enjoys the most celebrated music festival of all time. This festival represents the Indian music along with spirit and prosperity.
• Location: Jaipur Ghat, Pushkar
• Key attractions: Folk music and dance, ragas in the early morning, interactive musical session, shopping centers.
9. Mewar Festival
Mewar Festival is organized in
Udaipur
of Rajasthan. This festival shows the grandeur of the city in the form of folk music and dance. The whole town decorates with lights and lamps. Several women carry the idol of Isar and Gangur by dressing it. Also, a number of a woman carries these idols in the traditional processions.
• Location: Jaipur, Rajasthan
• Key attractions: Classical dance, folk music, food stalls, a firework display.
So, these all are the most popular and vibrant Rajasthan festivals. To experience this cultural splendor of Rajasthan, you must visit the state. Along with the fantastic experience, it will give you energy and positive vibes.
You May Like:
Rajasthan Culture - Folk Dances & Music & Attire