Top 5 Places for Rajasthan Backpacking
Rajasthan- the Great Indian Desert is located on the western side of the country, and the Thar Desert covers its more substantial part. Being on the west side of the country and its more significant part is covered by the Thar Desert. Because of numerous attractions, masterpieces, culture, and cuisine, it is an outstanding state for backpackers to enjoy travelling. Here you will get a lot of things to do, enjoy, experience, and feel.
This colourful state has a culture to welcome every guest and serve them all required services. It not hard to explore various historical as well as spiritual places in Rajasthan. You just need to know the details about places and things to explore which make your backpacking trip joyful.
Your Rajasthan backpacking will not complete without visiting colourful cities of this dazzling state. Here is the list of top 5 places for Rajasthan backpacking:
The white town Udaipur is the most romantic city of India, which is full of beautiful temples, gardens, forts, palaces, and mountains. You will find something new on every day. Udaipur has many attractions with curved archways and detailed carvings. You can explore this City by roaming around it, by tasting yummy street food, and by shopping beautiful Indian handcrafted things.
Must-visit places in Udaipur:
Udaipur is 'the City of Lakes'. This stunning location has a rich cultural background which you can see in architectural grandeur. Here you can visit these attractive locations: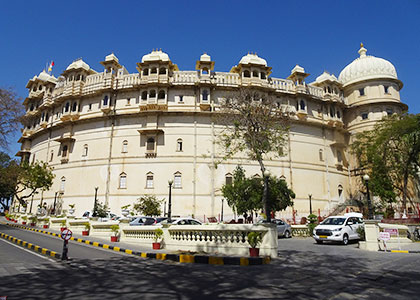 City Palace, Udaipur
•
City Palace
•
Lake Pichola
• Lake Palace
• Lake Garden Palace
• Vintage car museum
•
Jagdish temple
• Moti Magri
All these places are in Udaipur where you can reach by taking public transport. You can also visit Nathdwara, Ranakpur, Kumbhalgarh Fort, and Mount Abu, which are located near to Udaipur.
2. Jodhpur
Jodhpur is the place you will greet by the first ray of Sun. Yes! It is Sun City where Sun is visible here first then other places. Feel the first ray of sun in the second largest city of Rajasthan state. Jodhpur is famous for the magnificent palace and forts, which can be one of the best locations for your Rajasthan backpacking trip. In the Blue City of Rajasthan, you can visit many places and explore the glory of this City.
Must-visit places in Jodhpur:
In Jodhpur, there are many places to visit, like Lakes, gardens, forts, and temples. From India's most massive fort to the most visited Bazaars, you will awe-inspiring experience here by visiting:

Mehrangarh Fort, Jodhpur
•
Mehrangarh Fort
• Mandore Garden
• Kailana Lake
• Clock Tower in
Sardar Market
• Balsamand Lake
• Chamunda Mata Temple
•
Jaswant Thada
Other than these places you can also visit Bishnoi Village Safari, Pali, Osian, Khimsar, and Phalodi. This city is appropriately connected with convenient travelling ways which will help you cover all locations within your decided time.
3. Jaisalmer
Jaisalmer is located deep inside the largest Thar Desert. This city is also known as Golden City, which has many facts, wonders, and spirits to impress tourist. Jaisalmer has the history of courageous rulers and bravery. Here you can know about undaunted spirit and also can see fabulous samples of architectural glory.
Must-visit places in Jaisalmer
Jaisalmer - Golden City of Rajasthan, you can visit historical sites to get a glimpse of past. Places to visit in Jaisalmer are:

Camel Safari in Sam Snad Dunes
•
Jaisalmer Fort
• Bada Bagh
•
Patwon-ki-Haveli
•
Sam Sand Dunes
• The Thar Heritage Museum
• Jain Temple
• Kuldhara
•
Gadisar Lake
Other than these attractions, you can visit Desert National Park and Sanctuary and Badal Mahal. Being located in the heart of the desert, this magical land of kings has a vibrant and pleasant culture which is worth to visit.
4. Jaipur
Jaipur- 'the Pink City,' is one of the best locations for Rajasthan Backpacking which is flaunting excellent artisan through Palace and Crave. With the marvellous architecture, the forts of this City are offering the experience of the extravagant lifestyle of the past. You can get lifetime experience by staying in the royal palaces which are now turned into heritage hotels.
Must-visit places in Jaipur
This city of beautiful and colourful culture is full of forts and must-visit locations which are best to know history, to see the architecture, and to make memorable moments. You can visit:

Nahargarh Fort
•
City Palace
•
Amer Fort
•
Nahargarh Fort
•
Jaigarh Fort
•
Hawa Mahal
• Pink City Bazaar
•
Jantar Mantar Observatory
•
Birla Temple
• Govind Dev Ji Temple
Jaipur will mesmerise you by spirituality, royalty, and stunning architecture. You can also visit outskirt places of Jaipur like Chokhi Dhani, Gaitore, Abhaneri, and Sariska National Park. Enjoy the destination of adventure, wonder, joy, experience, and learn.
Mount Abu is the only hill station of the princely state Rajasthan. This place has lush green surrounding where you can enjoy Rajasthani flavours and natural beauty which make you visit again. This place is far from scorching desert heat where you can feel spirituality in the laps of nature.
Must-visit places in Mount Abu
As a hill station, this place makes you fulfil your all wishes which attract you to visit. Taste the yummiest flavours of Rajasthani cuisines here by visiting the sites like:
• Wildlife Sanctuary
• Sunset point
• Achalgarh
•
Dilwara Temple
• Nikki Lake
• Mount Abu Bazaar
• Toad Rock
Here you can explore the love for wildlife, experience the thrill of adventure, trekking, and games, and also connect with peace in the beauty of nature.
Make you Rajasthan Backpacking more memorable and joyful by visiting these top 5 places of heavenly land.
You May Like:
Best Places to Visit in Rajasthan
A Guide to Make a Perfect Rajasthan Trip