The Magic of South Indian Food: Hot and Rich in Types
Encompassing the five states of India - Karnataka, Tamil Nadu Andhra Pradesh, Telangana, and Kerala, you can predominantly find the South Indian cuisine.
Both the geography and cultural influence of the South has a significant influence on the region's culinary choices. Since all these states are geographically huge, there are significant regional differences in both their typically vegetarian and non-vegetarian dishes.
All the states are coastal in South India and enjoys a hot and humid climate. Rainfall is abundant which means there is no dearth of supply of fresh fruit, vegetables, and rice. The breakfast platter of South India is not just mouth-watering but also one of the healthiest choices you can make when in India. In contrary, Chettinad cuisine from Tamil Nadu produces perhaps the fieriest of all Indian food. Malabari cooking from Kerala comes with its repertoire of tasty seafood while the Nizams (rulers of Hyderabad) offer regal Nizami food which is extensively rich in exotic, expensive spices like saffron.
Key Style of the South Indian Food
By and large, South Indian cuisine is probably the hottest (not the spiciest) of all Indian food. Meals are mainly made from rice or rice-based dishes. Sambaar (a soup-like lentil dish tempered with whole spices and chilies) and Rasam (a hot-sour soup-like lentil dish) is eaten with rice. A host of coconut-based chutneys, and Poppadums (deep-fried crispy lentil pancakes) are options to eat as dry and curried vegetables. Coffee is their special beverage.
Staple Foods
Rice is predominant in some form or other, be it in the regular form or as any item with some form of rice batter such as Idlis, Dosas, or Uttapams. Daals (lentils) are also a part of most meals.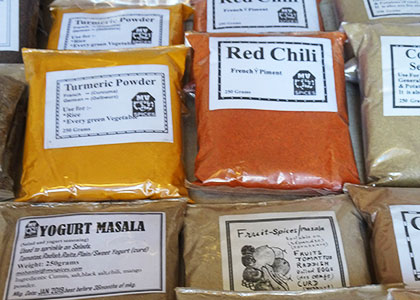 Indian Spices
Common Cooking Oils
Coconut oil is most commonly used for cooking and frying because of its massive availability. Sunflower and canola vegetable oils are also used but coconut oil is most commonly used.
Important Spices and Ingredients
Curry leaves, asafetida, pepper, mustard, peppercorns, tamarind, chilies, and fenugreek seeds are the most prevalent south Indian food.
Food Types
The variation in the taste has made the south Indian food globally famous. With a wide variety of vegetarian and non-vegetarian dishes, along with the uniqueness and distinct food habits – south India is a connoisseurs' paradise.
The following list briefly discusses about the various food options in the five states of south India.
• Andhra Cuisine
Hyderabadi cuisine is definitely the first thing that comes to mind when talking about Andhra cuisine. The Nizams had a strong affiliation for spicy food and thus most of the Andhra cuisine is spicier than any other South Indian food. Apart from the famous Hyderabadi Biryani, Andhra also offers Ullava Chaaru, Chepala Purusu, and a host of other dishes to gorge upon. Travelling to Hyderabad is incomplete without a full plate Biryani. The other places famous for their Biriyanis are Paradise and Hyderabad House. If you have tasted Biriyani in other parts of the country, you will find a stark difference in the taste.
• Karnatak Cuisine
As you move the rest of the states in South India, you will find that Karnataka cuisine perhaps uses the least spices and chilli. Still, you can see the difference in Northern Karnataka. The folks liberally use palm sugar and jaggery in some of the preparations. Also, there is a comparatively more vegetarians than other Southern states. Do not miss trying out the vegetarian south Indian foods like Udupi dosas, bisi bele bath, and rava idlis all of which enjoy immense popularity. Hallimane (home type food), a traditional Karnataka food at North is an absolute try and is a hotter dish than what you find in south Karnataka. If you wish to take back some items home, get doodh peda from Dharwad.While you travel up the state, try benne dosa (butter dosa) in Davengiri.
You can find lots of variety in Kerala food. Malabari Muslim and Syrian Christian schools of cooking have strong influence on Kerala cuisine. You can find extensive use of coconut in almost all forms of dishes forms of dish prevalent and contributes a certain zing to the taste. The unique amalgamation of the seafood and the coconut oil marks the speciality of the Kerala curries.

Aviyal, one of the loved dishes, has coconut and different vegetables. The layered Kerala Parotta is famous for the unique recipe that gives a crisp outer layer and squashy inner layers. It is typically eaten with kurma and not just in Kerala, it is massively popular in all other southern states too. Sadya, which translates to banquet in Malyalam, offers a varied range of dishes served on a banana leaf. This is a traditional food item and you can see many folks eating thison a daily basis in Kerala. Lapped within a great architecture of nature, this place is one of the finest holiday destinations and what adds the cherry on top is the maverick food choices and dishes.
See also Famous Foods in Kerala 9 Kerala Street Foods 7 Kerala Breakfasts 15 Best Kerala Sweets
• Tamil Cuisine
Tamil cuisine has a big thing with rice, period. Veg and non-veg people across consume their staple dish, rice. Dishes like sambhar, paruppu, rasam, kuzhambu,and more are consumed with rice. You can find many different dishes of sweet and snacks made from rice in some form or the other.
Idli, Dosa are the two main food items that underlies south Indian food. Interestingly, this platter has gotten so much popular, it is available all across the globe and is one of the healthiest and filling option for breakfast, lunch or dinner. The thalis also find its love amongst tourists and most of the curries have a particular taste, signature to the rest of the south Indian food.


• Telangana Cuisine
You can find a striking difference than the Andhra cuisine to that of the Telangana. This newly formed state has the habit of using millets in its preparations. Also, you can find a different recipe of Biryani at Telangana, which has diverse ingredients than the conventionally highly spiced Andhra Biryani. You can find extensive use of lentils, ginger and cumin in Telangana food.
You May Like:
7 Reasons You Must Try Indian Cuisine