5 Best North Indian Food You Can Have Anytime
India culinary tradition is an elaborate buffet of meals that caters to the taste buds and tingles your senses. Apart from pleasing your taste buds, the Indian style of cooking with its riots of colors and varied aromas – is pleasing to other senses as well.
Indian gastronomy is varied and contains something for all – non-vegetarians, vegetarians, vegans, and everyone in between. The tangy and delightful street food to an elaborate thali, the country is blessed with a rich culinary terrain.
If you divide India's food culture into different sections, then the North Indian food would represent (as the name suggests) the cuisines belonging to the northern states of the country. The food of North India is later subdivided into ten different categories: Kashmiri, Himachali, Kumauni, Punjabi, Rajasthani, Mughlai, Awadhi, Bhojpuri and its cousin Bihari cuisine, and lastly food from Uttar Pradesh.
The North Indian food has a strong connection with the Central Asian style of cooking, and many popular dishes of this part of the country have Middle Eastern or Central Asian origins. Here are some of the five best North Indian cuisines you can try anytime.
1. Delhi's Butter Chicken
Eaten as a side dish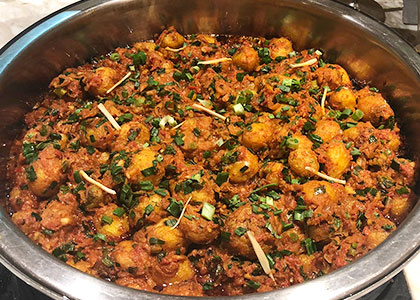 Fried Chicken
A renowned North Indian food – Murgh Makhani or Butter Chicken (as it is popularly known) is fairly simple to make. Originating in Delhi during the 1950s, the dish has a stunning balance of taste and aroma - with a creamy and mildly spiced texture.
Not many know that the dish was created by accident – just like many great things in the world. During late 1950, a restaurateur named Kundan Lal ran a small diner called Moti Mahal. According to a popular legend, the Bawarchi or the chef of the eatery would cover the chicken with leftover marinade, with a generous helping of tomato and butter and slow cook the meat. With time, the chicken would absorb the flavors of the spices and butter, getting a distinct aroma and melt in the mouth texture.
If you are traveling to Delhi, then do make sure to try this regal dish. It will surely leave a pleasant after taste in your mouth.
2. Kashmiri Rogan Josh
Eaten as a side dish
The aromatic and colorful Kashmiri Rogan Josh (Roghan Josh or Roghan Ghosht) is basically curried meat. It is believed that this North Indian food is inspired by Persian curried meat dishes. Roghan Josh is a signature Kashmiri dish, loved and admired by many.
The traditional Roghan Josh is made from red meat, preferably mutton, and flavored by Kashmiri Red Chilies. Roots or flowers of alkanet give the dish its distinct red hue, making it a spectacle to look at when served with white rice. Usually, for making this classic Kashmiri dish, the meat is marinated in a mix of spices, curd, and chilies. Later on, the marinated meat is braised and cooked over a dampokhtak or slow cooking technique.
Usually, Muslim and Hindu households have a bit different recipe for Roghan Josh. In the Muslim household, a variety of onions or praan and petals of cockscomb flower (maval) is used. While Hindus just use yogurt for distinct taste and flavor.
While on your trip to Kashmir, do taste the different varieties of Roghan Josh and decide which one is better.
3. Kebabs from Awadhi
Eaten as side / starter
The spiced grilled meats on skewers or kebabs are a heavenly dish. Served with dipping sauces made from garlic, ginger, and coriander, it is one of the popular dishes found on every corner of North India, especially Delhi and Lucknow.
According to ancient royal manifestoes, the rulers used to organize regular cook-offs where royal chefs used to prepare innovative and elaborate dishes. One of the popular items to be represented during these cook-offs was innovative kebab recipes like Shami kebabs or Patili-ke kebabs. Some of the popular variants of kebabs popular in India include Tunde Ke Kabab, Kakori Kabab or Seekh Kebabs.
Not many people are aware of the fact that kebabs are also available in vegetarian variants as well – including Kathal Ke Kebab (raw jackfruit kebabs), Dalcha Kebab, and Arbi Ke Kebab (kebab made from taro root). These dishes are quite tasty and make up for a great starter.
4. Lacha Paratha (Layered Bread)
Eaten as side
Lacha Paratha or the layered bread is a crispy flatbread. It is a great accompaniment to Indian curried dishes, especially Malai Kofta or Tikka Masala. The Lacha Paratha originated in Punjab, and the term lacha refers to a Punjabi term for rings. The inner portion of the flatbread is soft, while the outer rings are crunchy – giving this North Indian food its definite texture and taste.
It takes experience, sometimes years, to make the perfect paratha, but does not need much effort to eat. On your Amritsar tour, do sample this delightful bread freshly out of the oven. Remember to add a generous helping of butter to your parathas to enhance its taste.
Most parathas are made from multipurpose flour, however, the whole wheat version of the flatbread is available for the health-conscious food connoisseurs.
5. Palak Paneer (Indian Spinach and Cottage Cheese)
Eaten as a side
After all that no vegetarians dishes, the next North Indian food is a vegetarian's delight. Made from freshly made cottage cheese, lightly tossed in clarified butter, the Palak Paneer is an aromatic affair. The thick pureed spinach gravy, cooked in Indian spices and ginger garlic paste gives this dish its texture.
A popular winter comfort food for many, one of the best ways to enjoy this stunning green dish is with a plate of warm rice or Tandoori Roti (flatbread cooked in the earthen oven). To get the authentic taste of Palak Paneer, do try it at an Indian Dhaba or highway hotel.
Indian cooking is very varied and colorful. The aromatic taste and textures of the dishes originating in the country do leave a pleasant after taste in your mouth. Here are some honorable mentions, which showcase the stunning variety of North Indian gastronomy.
• Rajma Chawal
• Chole Bhature
• Kheer
• Jalebi
• Awadhi Biryani
• Litti Chokha
You May Like:
5 Authentic East Indian Food 6 West Indian Food South Indian Food

Top 10 Foods in India Top 10 Indian Dishes
7 Agra Famous Food Top 13 Must-Try Delhi Foods 10 Best Jaipur Foods