Which 6 West Indian Food You Should Never Miss?
Bursting flavors and variety of dishes are the hallmarks of West Indian Food. The zonal diversity in this part of India makes the cuisine more versatile and flavorful. Food travelers may limit their journey but while visiting the food joints to taste the authentic cuisines of West India, they might have to extend their stay. Because the limited time isn't enough to explore the treasure of flavors this part of India has to offers. The mouth-watering taste of Maharashtra's Vada Pav, Gujarat's Dhokla, Rajasthan's Dal Bati Choorma, and many other dishes will amaze your taste buds, and you will be left asking for more.
The places are rich in culture, tradition, and heritage. People of these regions have tried their best to preserve the authenticity and history of West India, and it clearly reflects in their culinary practices. The list of 6 dishes might not be enough to summarize the flavors of the West Indian Food, though we will try our best to give a complete picture by mentioning some of the most popular cuisines.
6 West Indian Foods You Shouldn't Miss
Your visit to Western states of India must be branded with the food experience in every possible way, here's what you need to know about 6 legendary dishes of these regions.
1. Vada Pav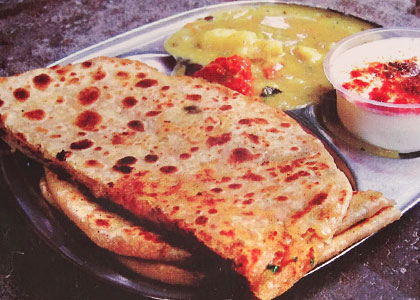 Indian Food - Nashta Thali
No matter where you land in India, if you inquire about the specialty of Mumbai, they are going to utter the dish 'Vada Pav' without any second thought. The people of Mumbai don't consider this dish just as a dish, but a way of life. The crispy deep-fried Vada made with potatoes and other ingredients is carefully tucked in the soft Pav (bread) with some chutney and salad. The combination of side ingredients vary from place to place. It's filling, tasty, affordable, and can be found in almost every street corner in Mumbai.
2. Goan Fish Curry
The Goan fish curry is another famous dish that you shouldn't miss when you are in that region. The perfect use of spices to bring the authentic aroma is heavenly. The dish has easy and available ingredients and can be cooked in an hour. They use rich spices and special Kashmiri red chilies to enhance the color and intensify the flavors.
3. Methi Ka Thepla
This dish may sound difficult, but it's an amazingly easy dish to prepare. You must have heard about the Indian flat-bread, and this dish is something similar. Thepla is the creation of the state of Gujarat and it's loved by anyone and everyone. The ingredients are pretty easy; the Theplas are made with fenugreek (Methi) leaves, flour, fresh coriander, salt, and few other basic ingredients. The mixture is made into a dough and then into thin parathas to fry in high flame and served with yogurt, vegetables, and other side dishes. This hearty dish is served, as a snack, paired with another main dish for lunch, and dinner.
4. Dhokla
This yellow spongy sweet & salty Gujarati dish has won hearts beyond borders. People who have never tasted the dish should try the authentic Dhokla when they visit the Western region of India. This spongy dish is prepared with gram flour, turmeric, lemon, garlic, and a few other ingredients. The mixture is then baked and poured with a spicy tarka prepared with fresh curry leaves, mustard seeds, and green chilies. A generous amount of coconut shavings and fresh corianders are sprinkled for garnishing.
5. Gatte Ki Sabzi
It's one of the famous Rajasthani dishes. The main ingredient is prepared with gram flour and cut into round pieces. The gravy is a delicious mixture of spices, curd, and other ingredients, the round pieces of gatte are then left to simmer with the gravy which gives it the authentic Rajasthani flavor. Vegetarians love this dish and it's served on almost every occasion as a main course paired with parathas.
6. Ghewar
Your savory taste buds will crave something sweet after the rich food marathon. To feed the soul you have Ghewar from the land of Rajasthan. Though you will be able to find Ghewar in almost every region in India, don't forget to try it from the pioneer city of this dish. The honeycomb-like structure is soaked in sugar syrup and topped with a rich mixture of rabri, and garnished with nuts.
Editor's Pick
Lal Maas
This Rajasthani dish is a winner among all the other vegetarian cuisines. For people who are in love with non-vegetarian food must try this fiery red meat dish.
Other Popular Dishes
Like it was mentioned earlier, limiting the flavors of West Indian Food to six dishes will be challenging. Here are some other popular dishes that are loved by people due to its authentic and unforgettable taste. These dishes are very popular among the locals as well as tourists.
Some of them are as follows:

Shrikhand

Gujarati Kadhi

Besan Ka Cheela

Goan Vindaloo (Pork)

Papar Ki Sabzi

Gol Papdi

Mohan Thal
Style of Food
This part of India follows some of the very unique styles of cooking. The majority of food includes vegetarian dishes but also have some tasty non-vegetarian cuisines. Different states have different stable food; Gujarat and Rajasthan are largely dependent on lentils, dry red chilies, gram flour, yogurt, sugar, buttermilk, and nuts. Maharashtra is controlled by staples like fish, rice, fish, coconuts, and peanuts. Goa is also largely dependent on rice, fish, and pork.
The famous mouth-watering dishes are also served in large plates in the states like Rajasthan and Gujarat. The plate contains collective dishes along with sweets to tickle your taste buds long after you have enjoyed the meal. The varieties are often in moderate quantities, with a lot of side dishes. Maharashtra doesn't take a back seat when it comes to picking out famous cuisines; the coastal side is famous for Malvani food. The dishes include fresh coconut base hot and sour curries, and delicious seafood.
West Indian food has touched hearts more than taste buds, its spice mix and an incredible combination of fresh ingredients made people fall in love with its taste. Food bloggers and food critics have tons to cover in this region, from street food to assembled thalis, every inch of flavor screams tradition and unknown secrets of century-old recipes.
If you are to visit the West Indian regions, don't miss out on these dishes. They can give you a taste of diversity with every bite.
You May Like:
The Magic of South Indian Food