Top 10 Indian Dishes to Get the Real Taste
Want to extract the real taste of India? Let your taste-buds treat on some of the best Indian dishes that reflect Indian culture, tradition, aroma, and taste in their best ways. You find these items as most popular Indian dishes at restaurants as well as cooked as daily dishes at Indian households.
These top 10 Indian dishes reflect the real image of India – colourful, vivid and tasteful. Not only are they extremely mouth-watering and appetizing for your taste, the cooking procedure is traditional and the presentation and serving style is unique too.
Gear up, and don't forget to indulge in these ten sins on your next trip to India.
1. Tandoori Chicken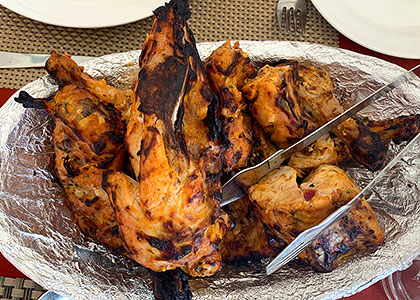 Tandoori Chicken

Origin: Punjab (Peshawar)

Consumed as: Main course as well as appetizer
Sold as one of the most popular Indian dishes, Tandoori Chicken is a scrumptious North Indian dish of chicken marinated in yogurt and seasoned spices, especially mixed tandoori masala before roasting traditionally in tandoor, a type of cylindrical clay oven. The dish has a smoky aroma and a fiery red hue with the addition of cayenne pepper, red chilli powder or Kashmiri red chilli powder. Best served as a complete meal, or an appetizer, the dish also goes well with steaming basmati rice and stuffed or butter naan.
2. Malai Kofta

Origin: Mughlai

Consumed as: Side dish
Cooked in a creamy gravy made of tomatoes and cashew nuts along with rich cream, this delectable vegetarian alternative is one of the top 10 dishes that would melt in your mouth, literally. Served with hot rice, or crispy Kulcha or Naan, Malai Kofta is basically veg dumplings made of potato and paneer dunked in the smooth gravy.
3. Masala Chai

Origin: Assam

Consumed as: Popular beverage
Nothing beats the experience of consuming this hot Indian beverage, especially on a rainy date. Prepared by brewing black tea leaf dust with a mixture of several aromatic spices and herbs, and traditionally served as a broth of green cardamom pods, ground cloves, ground ginger, cinnamon sticks, and black peppercorn brewed perfectly with black tea leaves, Masala Chai is an emotion to say the least. It is also sold in tea bag form, though the best and most widely consumed variety is the one boiled in steaming hot milk.
4. Samosa

Origin: Delhi/Uttar Pradesh

Consumed as: Snack
Samosas are either fried or baked pastry with savoury filling of mashed potatoes, cauliflower, onions, lentils, peas, and sometimes ground lamb, ground beef or ground chicken. Samosas were introduced to India during Muslim Delhi Sultanate as cooks from the Middle East and Central Asia moved down to the royal kitchens. Often accompanied by a mint sauce or tomato ketchup or chutney, samosa is a common sight as popular street food treating the taste-buds of foreigners and locals alike.
5. Aloo Paratha

Origin: Indian subcontinent

Consumed as: Breakfast
Among the options for best Indian dishes as breakfast, Aloo Paratha does stand out with huge popularity. It is a bread dish made of unleavened dough stuffed with a mixture of mashed potato and spices rolled out and cooked on pan with butter or ghee. The bread is served with chutney, pickles or butter, as per your preference and choice of taste.
6. Matar Paneer

Origin: North India

Consumed as: Side dish
Matar Paneer is a vegetarian Indian dish ruled by cottage cheese and peas cooked in thick tomato gravy and spices. Served with naan, rice, roti and paratha, matar paneer is a popular side dish in India. This is one of the most common dishes cooked in common household, as well as served in famous restaurants – thanks to its immense popularity which easily makes it count as one of the best Indian dishes.
7. Kashmiri Dum Aloo

Origin: Kashmir

Consumed as: Side dish
Baby potatoes curry cooked in an exotic way with the right addition of spices to come up with this heavenly dish called Kashmiri Dum Aloo. The side dish is spiced with fennel, ginger and whole spices after boiling and frying the potatoes for the authentic taste. The potatoes are then cooked in delicious gravy of curd and spices like Kashmiri red chillies, fennel powder, cardamom powder, cumin-coriander powder, ginger, and garlic. It is garnished with coriander leaves.
8. Chhole Bhature

Origin: Uttar Pradesh

Consumed as: Breakfast
Talk about the most popular breakfast option in North India, and you will be presented with a plate of Chhole Bhature. Saying that, the option doesn't end there. The dish can be your lunch, evening snack and even dinner! Bhaturas are deep fried round Indian breads made of white flour, while the side dish Chhole is prepared with chick peas cooked in spices with onion and coriander as additional vegetables. It is a heavy meal with a taste to relish the flavour of real India.
9. Indian Sweets (Rasgulla/Gulab Jamun/Jalebi/Gajar Ka Halwa)

Origin: All over India

Consumed as: Dessert
You can't get away with the taste of real India without trying Indian sweets. Whether it is Bengal's Rosogolla, or North India's Gulab Jamun, Jalebi or the winter special delicacy Gajar Ka Halwa, Indian desserts are the best for obvious reasons. Mostly cooked in ghee, with the addition of jaggery, sugar, cardamom, cream and nuts, Indian sweets do count in top 10 Indian dishes.
10. Masala Dosa

Origin: South India

Consumed as: Breakfast
Quite similar to what North India has to offer in Chhole Bhature, South India has its own Masala Dosa which is certainly not restricted down south. This thin pancake is prepared with overnight fermented batter of rice and lentils, is stuffed with mashed potatoes and other vegetables, and is served with a pungent lentil soup or dal (sambar) and coconut chutney. This staple dish is a must try if you want to start your day with something light and healthy.
These are the top 10 Indian dishes one must try on their journey to India. But then, don't forget to try Paan as a mouth-freshener and digestive post-dinner treat. It is betel leaves wrapped with several fillers like jaggery, syrup, nuts, fruits and several other items. Slaked lime paste is commonly added to bind the leaves. Paan is either spat out or swallowed after chewing it for some time. Much like the other popular Indian dishes mentioned above, Paan is also a must try.
See More:
The Magic of South Indian Food