6 Best Honeymoon Places in Kerala
If you are planning your honeymoon in
Kerala
, then you have made a wonderful choice. An ideal romantic place will help make wonderful memories; best accommodations will pamper and make you feel loved. Outstanding destinations have all the ingredients to help couples discover each other amid the soft gentle touch of nature. Vibrant with natural beauty, this is the perfect place for a fairy tale holiday and here is our suggestion of places that would help you form a closer bond together. We bring for you six of the best honeymoon places in Kerala.
1. Munnar - Tea Gardens
Have you ever wondered how it is to awaken in the misty silence of the tea gardens? Walk long stretches with someone special, through the narrow paths amid lush green plantations that smell of the freshness of the tea. Isn't that close to an ideal morning walk? Smell the sweet flowers happily sprouting by the roadside, mossy green grass coating the sidewalk and the moist air almost catching the laughter shared between two very loving people. The bird's calls are sweet music to the ears, as you walk through the paths that overflow with nature's abundance. Munnar's tea gardens are the perfect blend to a romantic holiday and among the most loved honeymoon places in Kerala.
See also 5 Beautiful Tea Plantations in Kerala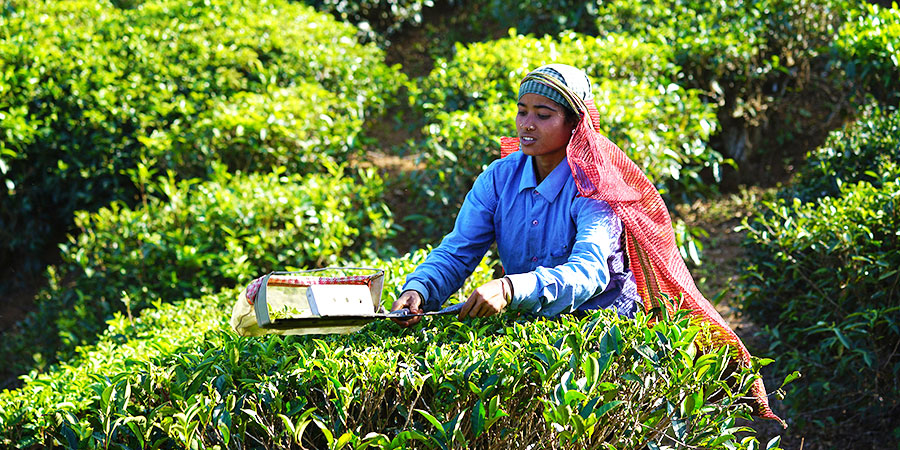 Munnar - Tea Gardens
Suggested Hotels:
Fragrant Nature Munnar- Rs.6,166
The Cliff Resort, Munnar-Rs.3,057
Camelot Resort- Rs.4,810
How to reach?
Nearest airport- Cochin International Airport, 110km / 68miles.
Madurai International Airport is 140km / 87miles
The nearest railway station- Kochi or Ernakulam. Hire a cab to get to Munnar
2. Kovalam - Rocky Promenades reaching out to the beach
A beach destination is preferred by many honeymooners owing to its soft romantic calmness. And keeping that in mind, we focus on the Kovalam Beach with its rocky Promenade. The rocky shores have large boulders where you can sit and gaze at the amazing sea and share your hopes and dreams, and by midday take a warm dip in the sea. You could trek atop the cliff to get a closer look at the picturesque destination and click memorable photographs together. Just walk hand in hand along the seacoast watching the seaside villages, explore the lighthouse or take an ayurvedic massage together. This place is considered one of the most preferred honeymoon places in Kerala.
See also 6 Best Beaches in Kerala

Kovalam Beach, India
Suggested Hotels:
Hotel Beach Florra Inn: Rs.979
Hotel Sea Face Kovalam: Rs.2,061
Turtle on the beach, Annexe: Rs.3,043
How to reach?
Trivandrum Central Railway Station (15km / 9.3mi)
Trivandrum International Airport (15km)
By Road: from Bangalore (724km), Chennai (728km), Madurai (303km). Bus, Taxi and private cards can be availed.
Cruising through wide backwaters of Kumarakom, or the narrow backwaters of Alleppey is a truly romantic getaway. As you drift through the lush paddy fields, watching the reflecting sunrise in the floating waters that spilling its shades close to your cabin window, you are alone together. Watch egrets waiting for a fresh catch from the deck that just breaking through the wide waters in your warm cosy houseboat where you can do a lot of catching up without anyone to disturb you. August and February are ideal months to take on this honeymoon destination. Monsoon and summer months should be avoided. You will be served king-size and you can taste authentic Kerala cuisine in this trip.
See also Things to Do during the Monsoon in Kerala


Houseboat Cruise in Backwaters
Suggested Hotels:
Honeymoon Houseboat Rs.18,000
Aqua Jumbo Houseboat Rs.9,927
How to reach?
Nearest Airport- Cochin International Airport (85km from Kumarakom and 75km from Alleppey)
Nearest railway station- Kottayam 16 km. Alleppey Railway Station lies within the city.
Road: Well connected by bus and taxi.
4. Marari Beach - Traditional Kerala Cottage
Another one among the top honeymoon places in Kerala is a classic beachfront resort that is ideally planned for honeymooners. Set in a secluded area, this is one place that offers all the privacy that one desires in honeymoons. Long walks and sitting and sunbathing in the private beach or just swimming together in the vast swimming pool are escapes that couples would love. No one to disturb you, and you are on your own. The beautiful private cottages look so romantic and sitting outside them, watching the sea waters retreat can be so heart-warming. Spend a perfect honeymoon here and you won't be disappointed.
Suggested Hotels:
Marari Beach Resort - CGH Earth Rs. 8055
How to reach?
60 kilometres (37 miles) south of Kochi.
Nearest train station- Alleppey (30min)
Cochin International Airport (2hrs)
5. Athirappilly - Treehouse facing Waterfalls
There will always be a burbling sound from a waterfall, but that is peaceful and romantic. The surrounding is calm, nestling amid a forest clearing with tall verdant trees where apart from the waterfall, the other sound is that of birds. It's a perfectly safe place in the lap of nature where nothing can distract two young people madly in love. Watch the sun peeping at you through the leaves in the early hours, which is the waking call in your treehouse; swim leisurely in the waterfall facing surface pool; trek through the forest area and discover beautiful flowers, a bunch of orchids hidden amid the overgrowth. The scent of the forest and the freshness of nature will cast its spell on the honeymoon couples. This place is definitely amongst the best honeymoon places in Kerala.
See also 7 Magnificent Waterfalls in Kerala
Suggested Hotels:
Athirapally Rainforest Treehouse: Rs.22,000 onwards
How to Reach?
By Road: 60kms/2.5 hrs. from Cochin International Airport. The resort takes care of your travel.
6. Wayanad
A place whose air is heavily laden with the aroma of spices, Wayanad, offers a selection of waterfalls, caves, tall and vast plantations and long trekking paths to discover each other and new landscapes. With a wildlife resort close by and part of the Nilgiri Biosphere, if you both are the sort who appreciate a little bit of the wild adventure, then this honeymoon resort is highly recommended. Surrounded by the lofty Western Ghats, this secluded destination will let you watch wild animals from a close view. All these will add a splendid flavour to your honeymoon.
See also 11 Tree Houses in Kerala to Stay with the Nature

Suggested Hotels:
Wayanad Wind Resorts Rs.1,764
Hotel Mount Avenue Rs.833
Hotel JJ Lakeview Villas Rs.3,538
How to reach?
Nearest airport- Calicut International Airport, 65 km
Nearest rail station- Kozhikode railway station
KSRTC buses can bring you to Kozhikode. Take taxis or buses travel to Wayanad.
There is no end to honeymoon destinations in Kerala. In fact, Kerala is a place that has nature's bounties at every nook and corner. Best honeymoon places in Kerala are difficult to enumerate, but these are destinations that you will not be disappointed with. Have a wonderful time together.
You May Like:
10 Most Beautiful Villages in Kerala
Top 9 Popular Things to Do in Kerala
7 Popular Hill Stations in Kerala
6 Best Mountains in Kerala to Hike