Top 9 Popular Things to Do in Kerala
Kerala, often dubbed as God's Own Country, is a tropical paradise well known for its stunning landscape and enchanting culture. Located on the West Malabar Coast, the state is one of the popular tourist destinations among the domestic as well as the international vacationers. Kerala lets out an addictive vibe that instantly transforms your mood from good to great.
But Kerala is not your average tourist destination where you have to spend your entire day relaxing at the beach (See also
Best Beaches in Kerala
). The list of things to do in Kerala is limitless – starting from hiking at dense forests of Periyar National Park, or exploring the backwaters.
1. Staying at A Treehouse

Where: Athirapally, Munnar, Thekkady or Wayanad

Avg. cost: INR7,000/night – cheaper options might be available during off season
The first activity on the list of popular things to do in Kerala is staying at a treehouse. The hill stations of Kerala like Athirapally, Munnar, Thekkady or Wayanad have several jungle resorts and holiday homes with treehouse arrangements for their guests with an adventure streak. Overall, if you are ok with climbing few flights of stairs or staying up above the ground – then it is an experience worth taking.
P.S: Staying at a treehouse is not recommended for tourists with fear of heights.
See also 11 Best Tree Houses in Kerala to Stay with the Nature 7 Most Popular Hill Stations in Kerala
2. Enjoying an Ayurvedic Retreat

Where: Perunneermangalam, Kottakkal,
Thiruvananthapuram

Avg. cost: Starting from INR3,200
Ayurveda is the natural healing science of India, developed more than 5,000 years ago. The science works towards treating the patient via holistic methods – cleansing their doshas and enhancing gunas. Kerala is home to numerous ayurvedic retreats and spas that help in healing the patients via holistic detox and other traditional medicines. The oil massages are very relaxing and is one of the must try things to do in Kerala.
See also Ayurveda in Delhi - The Ancient Indian Medical Practice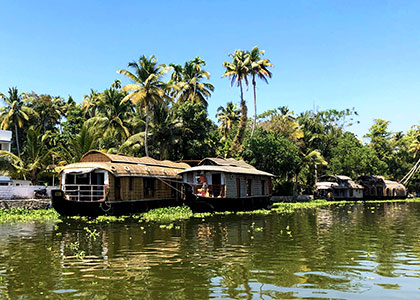 Cruising the Backwaters

Where: Alleppey, Kochi

Avg. cost: Around INR10,000 per night
Undoubtedly, the trip to Kerala is incomplete without an experience of the backwater cruise. The lush palm-lined landscape of the backwaters fills your heart with tranquility. The romantic getaway on the
boat house
is often recommended for honeymooner.
While few houseboat cruises offer customized tour packages (accommodation, sightseeing, and food included) to the guests, few tourists prefer to stay at nearby homestays for a complete experience of the local culture.
4. Learning to Cook Traditional Malayali

Where: Kochi, Alleppey, Trivandrum

Avg. cost: INR6,500/couple
The traditional Malayali home-style cooking is often recognized for its distinctive taste and texture. Here cooking involves lots of ingredients including fresh seafoods, coconut, aromatic spices, and fresh fruits and vegetables. The food is served on traditional banana leaf – an environment friendly option – and has its own placing discipline.
Many resorts and retreats offer short duration residency programs for guests which includes traditional cooking classes. Apart from that you can learn cooking from local families for an intimate experience.
5. Watch Theyyam Ritual – Up Close and Personal

Where: Kannur

Avg. cost: Theyyam tour for a group of four cost around INR2,500
Among all the things to do in Kerala, watching the Theyyam performance is highly recommended. Theyyam is a ritualistic performance associated with several myths and legends of the Malabar Coast. Held at Kannur - in the north Malabar region of Kerala, the Theyyam is a traditional ritual where the performer compiles an interesting routine involving dance, music and attractive attire. The dates of Theyyam performance falls in accordance to the traditional Malayali calendar.
6. Exploring the Village Lifestyle

Where: Kumbalangi Integrated Tourism Village

Avg. cost: INR5,500/night
Exploring a traditional village setting at the Kumbalangi Integrated Tourism Village is one of the biggest highlights of many tour itineraries. Visitors can explore the interesting village setup, watch the locals planting the paddy, or learn traditional home-style cooking. The entire setup is a refreshing experience.
See also 10 Most Beautiful Villages in Kerala

7. Watching Traditional Martial Arts Performance

Where: Kadathanadan Kalari Center, Thekkady

Avg. cost: INR1,200
One of the oldest martial arts of the world, Kalaripayattu is very swift and smooth, absolutely one of the most popular things to do in Kerala. In the art form, the performer has to strike and disengage the opponent with swift hand gestures or weapons. Apart from that, Kalari involves healing and graceful dancing with fire. Thekkady-based Kadathanadan Kalari Center hosts one-hour performances that are very interesting to watch and will leave your speechless.
| | |
| --- | --- |
| Traditional Martial Arts Performance | Kathakali Performance |
8. Kathakali Performance

Where: Kerala Kathakali Center, Cochin Cultural Center,

Avg. cost: INR2,200
Kathakali is one of the most vibrant and colorful dance performances of Indian. It involves retelling of ancient stories from the ancient Indian texts. The actors/dancers have to wear elaborate costumes and makeup, and retell the stories via intricate movements of the eyes and hands. The performers have to go through rigorous training for several year before performing on stage making the entire performance more interesting to watch.
9. Watching the Sunset from Ponmudi

Where: Viewing point at Ponmudi

Avg. cost: Free
The Ponmudi is a beautiful hill station of Kerala, well-known for its stunning beauty. Ponmudi translates as 'Golden Peak' in the local language and the view of the sunset from its viewing peak is extremely soothing. Although climbing to the viewing point can be an intense exercise in its own right, but it is still added into the list of amazing things to do in Kerala.
You May Like:
Trekking in Kerala: Places to Go & Highlights
Things to Do during the Monsoon in Kerala
Go on Safari in Best Wildlife Sanctuaries & National Parks of Kerala

Go Hiking in Kerala's Best Mountains