Best Tourist Places in Kerala
A holiday means relaxing, soaking in the charms and enjoying the beauty of the place that you are visiting. If the destination is as enigmatic as Kerala, then what more would one want? A combination of sea, pristine beaches, winding backwater lanes, tall green mountains clad in soft feathery clouds, long stretching meadows, well-manicured tree plantations, a choice of the best national parks and wildlife sanctuaries and soaked in heritage, Kerala is most certainly an unrivaled tourist destination. The destination choices in this place are unending and it is difficult to single out the best places to visit in Kerala. Here is a list of six places that I thought can be regarded as the best.
The backwaters are something Kerala is synonymous with. The labyrinthine waterways interconnect and offer tourists the most relaxing experience in luxurious houseboats that sail along with the coconut fringed glades. They offer the most spectacular views of paddy fields and take you to the incredible tourist destinations. You can taste the most delectable traditional Kerala cuisine on a banana leaf, induced with delicate spices, that would tease your tastebuds and delight your soul. You board these
Kerala houseboats
at
Alappuzha
(Alleppey). This is counted amongst the best tourist places in Kerala.
You can reach there by train, alight in the Alleppey Railway station. Take a bus, taxi, or an auto-rickshaw to reach the coast to board your houseboat for the backwaters. You can take an auto-rickshaw, taking Rs 25 / 4 km or 2.5 miles. From the Cochin International Airport take a taxi or bus to Alleppey. KSRTC buses are well connected to Alleppey. You can also avail luxury air-conditioned buses, taking about 2 hours.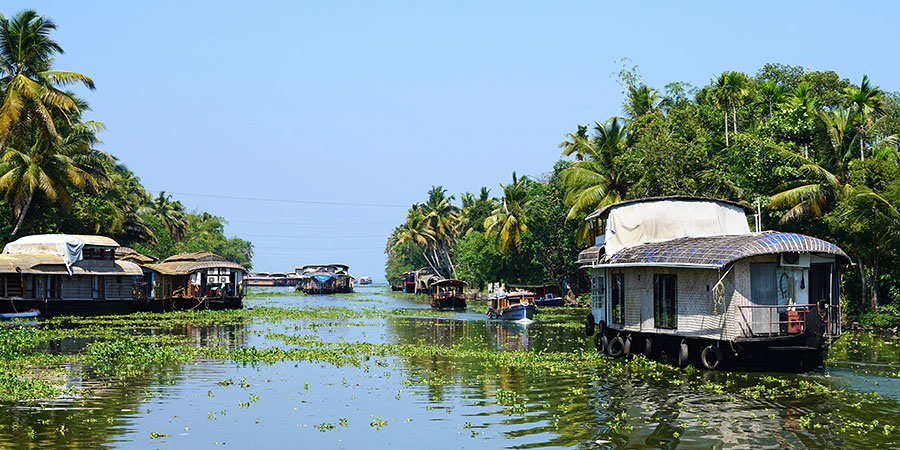 Kerala Backwaters
★ Munnar
Known for its tea plantation, Munnar is among the best tourist places in Kerala. The soft hills with well-manicured tea plants and small winding paths within the gardens will fill you with the rejuvenating aroma of tea. Long stretches of green meadows with wildflowers scattered on the mountainside, small bubbling brooks breaking out of the hills and wonderful dreamy paths that lead you to more exciting views makes Munnar a favored destination for all. The air has a misty touch and the wetness on the trees make them look fresh and verdant. Those seeking adventure, can climb up Anamudi peak and also keep a day for visiting the Eravikulam National Park. Rock climbing and paragliding are the favored sports in Munnar.
See also 5 Beautiful Tea Plantations in Kerala
The Cochin International Airport is 125Km away from Munnar. Nearest Railway stations are Kochi and Ernakulam. From Kochi, Aluva and Ernakulam you can avail a taxi or bus to Munnar.

Munnar Tea Plantation
★ Kannur
Known for its secluded pristine beaches, the Kannur district in Northern Kerala is one of the best places to visit in Kerala. The destination offers a choice of both culture and nature enriched experiences. Famous for its handloom weaving, people love to explore this region to buy traditional sarees. It has the longest Muzappilangad beach in Asia, that is much loved by tourists for sunbathing and Ayurveda massage. You can also drive along the highway with the sea following you all along. The beach house accommodations offer a perfect holiday setting and meet all budgets.
Dedicated to Lord Vishnu this is the richest temple in Kerala having invaluable riches that include gold and precious stones in huge quantities. This 16th-century temple should be counted among the best places to visit in Kerala as it is visited by many devotees every day. The temple is rich in heritage and funded by the rulers of Travancore. Only a part of the riches of the temple have been revealed to the world, its largest vault is yet unopened. The temple is however accessible only to Hindus and non-Hindus are not allowed to enter. The temple town is also very strategic with classic galleries, museums and heritage buildings. The Natural History Museum, Sri Chitra Art Gallery, and the Kuthiramalika Palace Museum just outside the temple are well visited.
| | |
| --- | --- |
| Sri Padmanabhaswamy Temple | Periyar National Park |
One of the best national parks in India, this surely finds a place among the best tourist places in Kerala. This popular park in the Thekkady district is open all year round. Known for its invaluable varieties of birds and other wildlife treasures like wild elephants, the forest can be explored on elephant safaris if you like. You can also take boat safaris which will bring you close to the flora and fauna. From the Periyar Lake watching the setting sun pouring its reddish hues in the water before it dips out of the horizon is quite appealing. The park has many eco-tourism activities that keep visitors engaged.
See also 5 Best Wildlife Sanctuaries & National Parks in Kerala
★ Poovar Island
Close to the coast of
Kovalam
, the much sought after water resort with over the water bungalows, is most certainly one of the best tourist places in Kerala. Offering the best of water and luxury in floating houses they are much loved by honeymooners and couples who come to explore intimate moments in holidays. The sunrise and sunset from these bungalows are awe-inspiring. Placed at a point where the Neyyar River meets the Arabian Sea, the longest sandy ramp allows barefoot walks.
Thiruvananthapuram International Airport is 30km (18.6 mi) away. You can take a bus or taxi. Taxi fare is Rs 175 for the first 5km, increases by Rs 17 for every subsequent km. Bus fare: low floor AC and Multi-Axle Buses fare starts from Rs 26/5km and Rs100/20km. Increases by 90paise -Rs 250 every subsequent km.
There are so much to see in Kerala that cannot be listed by just a few destinations. The entire state is an exploration of diversity. But these places are definitely a must-see and should not be missed if you are planning a holiday in Kerala. Kerala is served by the best hotels. So, holidays are promised with luxurious retreats. What else would you want when you are looking for a perfect holiday in the best tourist places in Kerala?
You May Like:
6 Best Honeymoon Places in Kerala 10 Beautiful Villages in Kerala 6 Best Beaches in Kerala
7 Most Popular Hill Stations in Kerala 7 Magnificent Waterfalls in Kerala Top 10 Kerala Scenic Rivers
6 Best Mountains in Kerala to Hike Visit Kerala: 4 Steps to Make a Perfect Trip to Kerala