5 Best Wildlife Sanctuaries & National Parks in Kerala
Kerala
is known as God's own country and is blessed with the best of nature both tame and the wild. The state has many wildlife sanctuaries and national parks with interesting species of birds, wild animals and plants. The abundant gifts of nature make this state a traveller's favorite throughout the year. However, where to go for those who have a penchant for the wildlife. Here, we have chalked out the 5 best wildlife sanctuaries & national parks in Kerala.
If watching the tiger in its natural habitat makes your heart beat faster or a bunch of elephants crossing lazy streams fills you with awe, then Periyar National Park, will definitely hold your attention. From bison to wild boars to some exquisite varieties of birds set in deep forest, surrounded by the Western Ghat Mountain Ranges, the Periyar Wildlife Sanctuary is one of the most visited wildlife sanctuaries in Kerala. Covering an area of 222 sq km, the forest has some brilliant species of flora and fauna. The forest has almost 53 tigers, more than 900 elephants and 62 varieties of mammals. With more than 300 birds and a huge collection of reptiles and insects along with fish, 75 percent of the forest area is covered in greenery and the jungle showcases 170 types of ferns and an unbelievable 104 types of orchids along with many other wildflowers.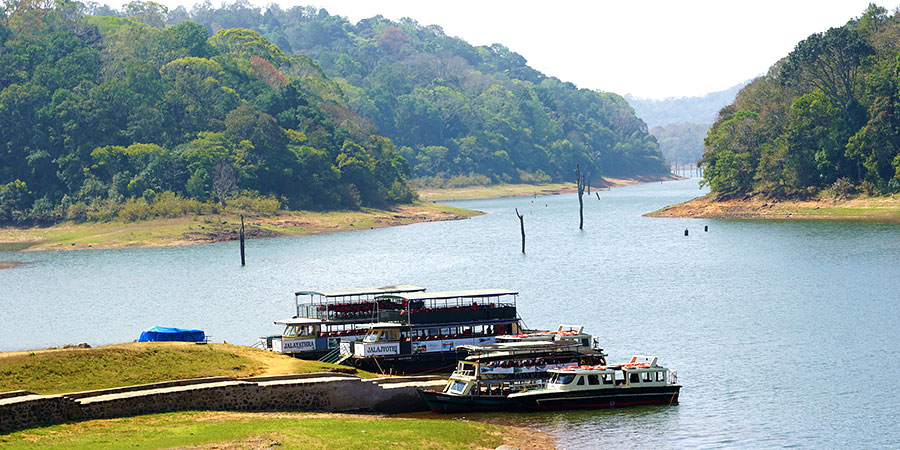 Periyar Wildlife Sanctuary
Time
: 6:00 AM – 7:00 PM everyday
Entry fee
: Adults Rs.500/ Children Rs. 150
Still Camera/ Video Camera: Rs. 38/ Rs. 300
Rs. 5,500 for one-night Periyar Tiger Trail Treks
Rs. 7,500 for two-night Periyar Tiger Trail Treks
Best month to visit
: October – June
How to reach
:
By Road: Bus, Taxi and cabs from Kottayam
Train: Kottayam Railway Station, 114 km. Take a bus/taxi from here
Air: Madurai Airport 140km, Cochin International airport 200km.
2. Anamudi Shola National Park
Nestled in the Idukkai District amid the Western Ghats, the Anamudi Shola National Park spreads to 7.5km. With unrivalled scenic beauty of the Chinnar and Pambar rivers and Thoovanam waterfall, the park has been nominated for a place among the World Heritage Programs. The park proudly boasts of exotic flora and fauna that gets more diverse with the higher altitude. The huge variety in the biodiversity and climatic difference has produced over 60 different species of trees, 38 climbers and 175 varieties of shrubs and herbs. Apart from the vegetation, visitors find great interest in spotting leopards, civet cats, elephants, panthers, sloth bear, wild dogs, flying squirrels, civet cats. There are more than 100 species of butterflies and reptiles in the park.

Anamudi Shola National Park
Time
: 07:30 AM to 04:00 PM
Entry fee
: Rs 360
Best time to visit
: September – December
How to reach
:
Air: Coimbatore airport 150km, Kochi International Airport 160km. You can reach by taxi or bus.
Train: Nearest Railway Station Pollachi Railway station 100km, Aluva Railway Station 150km
Road: Nearest bus stand Munnar
3. Mathikettan Shola National Park
Located between Eravikulam National Park and Pampadam Shola National Park, this park is in the Idukkai district and is a protected national park of Kerala. Spread across an area of 12.82 km², the forest is known for its tall trees and medicinal herbs. The lush green vegetation and flowering plants are an attraction here with a wide species of orchids, ferns, lichens and mosses. Animals that are common to other wildlife sanctuaries in Kerala are also found here. Elephants, Nilgiri Tahr, snakes, vipers cobras pythons along with tigers, panthers, dogs, crocodiles, and giant grizzled squirrels attract visitors to this forest. Munnar is a closer destination so you can keep both Kerala and Munnar in your holiday itinerary.

Mathikettan Shola National Park
Time
: 06:00 AM – 06:00 PM
Entry fee
: Rs.500
Best time to visit
: April – September
How to reach
:
Nearest Airport: Cochin International Airport 140km
Nearest Theni Railway Station 55km
Road: Well connected to Munnar
4. Pampadum Shola National Park
This is the smallest national park in Kerala spreading over an area of 11.75 sq km. With rich biodiversity showcasing some of the rarest flora and fauna, the park is a trekker's paradise. Large groups also choose it as a suitable picnic location. The park touches an altitude of 1,500-2,500 meters. The higher regions are mostly vast grasslands. The park has 22 varieties of trees and herbs of more than 22 different kinds. The place is open for scientific studies for future research and investigations. The endangered Nilgiri Marten is one of the rare carnivores that the park flaunts. Apart from this, lion-tailed macaque, langurs, buffaloes, wild dogs, gaur along with a diverse collection of butterflies and moths, birds like the vernal-hanging parrot, blue-capped rock thrush and many more colourful bird species choose this national park in Kerala their home. Reptiles and snakes handsomely add to the animal population.
Trekking time
: 06:00AM-11:00AM. 03:00PM-06:00PM
Entry fee
: Rs. 250 / person
Best time to visit
: April – September
How to reach
:
By air: Nearest airport Cochin International Airport, Coimbatore International Airport, 170km and 160km respectively
By train: Nearest Railway station Aluva and Udumalpat, 180km and 110km respectively
By Road: From Munnar by car, 35km via Kochi Kodiakanal Highway
5. Muthanga Wildlife Sanctuary
Famous among the wildlife sanctuaries in Kerala, this is the second largest in terms of area. Home to a huge variety of wild animals, part of the Nilgiri Bioreserve, Nagarhole and Bandipur are an extension of this reserve forest. You are sure to get some of the most memorable sightings here of the wild animals moving about singly or in groups. This is a declared protect elephant site. Animals are often seen crossing the safari trail roads or sitting out in the afternoon sun. Tigers can be seen in their family groups with large cubs playing among themselves. The hefty Indian Bison and deer herds grazing in the vast grasslands are common while panthers are a rare sight. You might see one, if you are lucky, civets, cat monkeys, jungle cats, bears complete the wild landscape of this forest along with a variety of insects, reptiles that give you enough scope for photography.
Time
: 07.00AM- 10.00AM and 03.00 PM - 05.00 PM
Entry fee
:
Indians: Rs 100
Jeep Entry fee: Rs. 75
Jeep Charges: Rs. 600
Best time to visit
: October-May
How to reach
:
By air: Nearest airport Calicut 79km. A taxi will reach in 2 hours
Road: Well connected with regular bus and taxi from Bangalore and Calicut
Train: The nearest station is Kozhikode 97km
Visiting Tips
The diversity in the national parks & wildlife sanctuaries in Kerala are immense. We have just listed a few of them. Try to reach in the early hours or after lunch which are the ideal timings for animal sighting. Keep your cameras ready and keep clicking as you chance upon some classic poses of the wild wonders. Have a busy day and enjoy every bit of your adventure. Carry table salt to stay away from leeches and maintain the rules in these wildlife sanctuaries & national parks in Kerala.
You May Like:
11 Best Tree Houses in Kerala to Stay with the Nature
5 Beautiful Tea Plantations in Kerala
6 Best Mountains in Kerala to Hike
7 Magnificent Waterfalls in Kerala