Top 5 Shopping Markets in Goa to Buy Clothes, Jewels & Handicrafts
Shopping is an interesting part of every vacation. So, during your vacation in Goa, you might be tempted to buy exotic Goan and Indian apparel and other trinkets to take back home. To make your job easy, this list contains a list of 5 shopping markets in Goa that has something to offer to its visitors.
One of the most popular shopping markets in Goa, the Anjuna Market has been the prime attraction of the beach since the 1960s. During those days, the place was a point of exchange among the Hippies for commodities and other valuables. However, now the Anjuna market is a commercial area where locals and foreigners come to sell their ware.
Organized every Wednesday, from 7.00 AM to 7.00 PM, the place is frequented by vacationers. You can buy several items starting from trinkets to garments, beachwear, jewelry, Indian spices, and local handicrafts to take back home. Even if you are not shopping, just stop at the marvelous place to enjoy live music or piping hot prawn fries with chilled beer.

2. Goan Flea Market, Calangute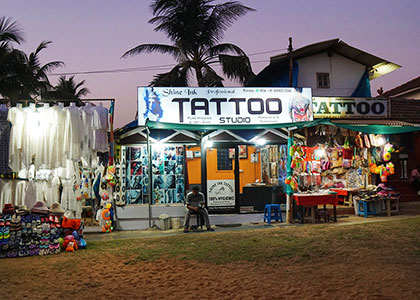 Goan Flea Market, Calangute
A popular hangout for shopaholic at
Calangute
, the Goan Flea Market is the place to buy exotic Tibetan rugs and shawls, Kashmiri carpets, and other beautiful souvenirs to take back home. After you have satiated your hunger for shopping, you can always head towards the Kerkar Art Complex or Dolphin Spotting tour.
For an interesting experience, you can always approach the fortune-tellers or astrologers to know your future. The bazaar opens up every Saturday from early evening to midnight. The Calangute Bazaar has something to offer for everyone, so do include this place in your list of shopping markets in Goa.

3. Saturday Night Market, Arpora

Shopping at Saturday Night Market is a pleasurable experience, with shopping and live music running side by side. Several shacks sell delicious and exciting international cuisines, which can fill your hunger pangs while shopping.
For the sake of convenience, the entire shopping district is divided into three sections. Among these, the lower and upper section sells clothes and other small jewels, while the central portion of the market is the center stage and live music corner.
As the name suggests, the market opens every Saturday evening and runs till late in the night.
P.S: The upper section of the Saturday Night Market has several Indian designer boutiques and stalls selling high-end fashion stuff, while the lower portion of the market is perfect for street fashion goodies.

4. Arambol Street Market

Unlike the other flea markets of Goa, Arambol Market opens up every day. Located in Goa's one of tourist favorites, Arambol Beach, vacationers have rated this place as one of the popular shopping markets in Goa. The market stretches from main beach parking to the adjacent seashore area.
You can buy Indian spices, handmade soap, bags, tea, and jewelry, and everything else under the sun. Do haggle for discounts while shopping. It could be an entirely new and fun-filled experience for shoppers.
P.S: The street market is operational only during the peak tourist season.

5. Chapora Fish Market

So, buying a fish during a holiday might sound a bit offbeat, but imagine buying the freshest catch from the sea and having it's for dinner? Sounds interesting right?
Then, the next name on the list of shopping markets in Goa would interest you. This place is run by wives of local fishermen, who sell fishes – fresh tiger prawns, lobsters, crabs, pomfret and mackerels - caught from the sea. Remember to head to the market early, preferably during daybreak, to catch the best catch.
P.S: The market usually remains closed during rainy days, as the sea is mostly violent during that time.
The several shopping markets in Goa attract the attention of the tourists for its exotic and stunning items. Here you will find several Indians and foreigners selling goods like flutes, sarongs, spices, nuts, stone studded jewelry, and so on, which can be a great gift to take back home.
So, take your shopping bags and head to these exotic locations.
You May Also Like:
Things to Buy in Goa Before You Leave
What Are the 5 Main Flea Markets in Goa?
Shopping in Goa: 6 Places to go for Shopaholic
6 Best Beaches in Goa You Cannot Drop in the Travel List
7 Places to Visit in Goa in Your Next Itinerary
Mouthwatering Street Food in Goa
Top 10 Things to Do in Goa, Best Places & Activities