Bangla Sahib Gurudwara, Delhi
Near Connaught Square, Bangla Sahib Gurudwara is the largest Sikh temple in Delhi. If you are out of time to go to the
Golden Temple
of Amritsar, it's also good to come here and feel the Sikh culture. The exact location is Ashoka Road, Next to Grand Post Office, Hanuman Road Area, Connaught Place, New Delhi, India. The suggested visiting time is about an hour.
Structure of Bangla Sahib Gurudwara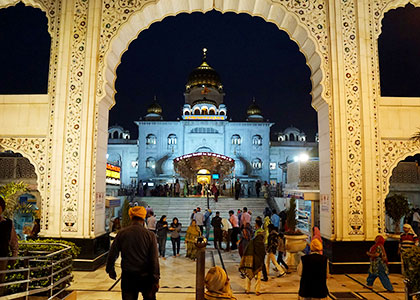 12 photos
The whole Bangla Sahib Gurudwara building is made of white marble, appears to be very holy. The front of the temple is a marble square, and the pool next to the square is as big as a football field. The pool is surrounded by long, large stone porches, and the columns and arches are beautifully styled and gorgeous. The Bangla Sahib Gurudwara is tall and white, with a huge garlic-shaped roof and a few smaller vaults next to it, all covered with gold foil, which appeared to be very noble.
The interior of Bangla Sahib Gurudwara is also dominated by white and gold tones, with the clergy chanting scriptures, worshippers sitting on the carpet praying pious, music echoing in the temple, the whole scene pious and sacred. Legend has it that the water in the pool here has the effect of treating all diseases, but it is not suggested to drink it in sake of sanitary issue. Also, Bangla Sahib Gurudwara offers free public meals for visitors (only vegetarian food). When you visit Bangla Sahib Gurudwara, it will be a spiritual pilgrimage about Sikh.
Bangla Sahib Gurudwara History
Gurdwara Bangla Sahib, formerly a bungalow ("haveli" or "bangla") owned by Mirza Raja Jai Singh of Amber in the 17th century, was known as Jaisinghpura Palace. The 8th Sikh Guru, Guru Har Harkishan had lived here and helped people cure smallpox by well water. So after that, his house became a gurudwara, which was also named after him as a memory.
Tips on Visiting Bangla Sahib Gurudwara

1. Visiting Bangla Sahib Gurudwara requires visitors to take off shoes before entry.
2. Both men and women must wear headscarves to wrap their hair.
3. It is prohibited to take pictures in the Bangla Sahib Gurudwara.
4. It is 1km away from shopping paradise – Connaught Place. After your visit of Bangla Sahib Gurudwara, you can go to there to wander around and have fun. Also, Jantar Mantar is on your way to Gurudwara that you can visit.
| | |
| --- | --- |
| Transportation | Take yellow metro line to Patel Chowk station, which is the nearest metro station around Bangla Sahib Gurudwara, or take a bus to Shivaji Stadium Station, then walk along Ashok Road for 10-15 minutes to get to Bangla Sahib Gurudwara. |
| Entry fee | Free |
| Timing | All day |
Other Famous Temples in Delhi:
Swaminarayan Akshardham Temple