Jantar Mantar Observatory, Delhi
Jantar Mantar, literally means "instruments and of formulate" in Indian language. It is a must-see place in Delhi because of 13 astrological instruments and suitable for visit with family and friends on holidays. It is located 750m away from Connaught Square, Sansad Marg, New Delhi. The recommended time for a visit is 1 – 2 hours.
What to See at Jantar Mantar Observatory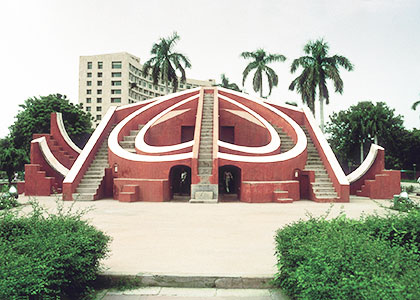 Jantar Mantar
Each instrument in the Jantar Mantar Observatory has its own specialized functions, such as measuring the position, height and azimuth of the star, or calculating the eclipse. Here you can see the nearly 300-years history of the sundial; the courtyard of Jantar Mantar also has 12 small triangular buildings, representing 12 constellations, and each constellation's angle and direction face their respective constellations, very accurate and scientific. Samrat Yantra is the world's largest stone sundial inside Jantar Mantar Observatory. Yantra Raj Yantra is a star disk used to measure time and the position of celestial bodies. Previously, on the full moon before the rainy season, local residents gathered here to use these instruments to speculate on the amount of rainfall and crop harvests of the year. Most of the astronomical instruments here are masonry structures, and some are made of copper.
Who built Jantar Mantar Observatory?
Jantar Mantar Observatory is an orange complex built in 1724 AD by Raja Jai Singh, King Jai Singh, Sawai Jai Singh II (Maharaja Jai Singh). Except this one in New Delhi, Jaipur, Varanasi, Matura, Ujjain also has observatories built by him. He is a famous astronomer at that time. The Jantar Mantar Observatory in New Delhi is well preserved, and astronomical instruments in there are still available to astronomers and are used to measure the movement of celestial objects and predict solar eclipses. Jantar Mantar Observatory's various instruments show the amazing wisdom of the ancient Indians, who have long had the rich scientific knowledge and experience to observe astronomy.
Nearby Attraction
After visiting Jantar Mantar Observatory, you can stroll around
Connaught Place
. Lots of restaurants, shops, hotels and bars gather there and you can enjoy many entertainments. In Jantar Mantar Observatory, you can appreciate historical sites, and walking in Connaught Place, you can feel the wonderful modern touch. It will be great to combine these two places for your New Delhi sightseeing.
| | |
| --- | --- |
| How to Get to Jantar Mantar Observatory | Take metro line of yellow or blue and get off at Rajiv Chowk Station, then walk around 400m to it. Or take subway to Patel Chowk Station, which is the nearest metro station to Jantar Mantar Observatory, and walk around 10 minutes to reach it. |
| Entry fee | Rs200 for foreigners, including audio guide. |
| Timing | 6:00-18:00 |
See More:

Jama Masjid, Delhi - The Largest Mosque in India