Lake Pichola, Udaipur
Located in Udaipur of Rajasthan, Lake Pichola is an artificial freshwater lake with length of 4 km (2.5 miles), width of 3 km (1.9 miles), and depth of 10 m (11 yards). Dug in 1362, Lake Pichola was named after a small village nearby. As the soul of the Udaipur, the broad and mirror-like Lake Pichola reflects the continuous mountains, and also sets off the white and pure palaces on it. Lake Picjola not only serves royal families as a pleasure resort, but also plays an important role in regulating climate. Thanks to Lake Pichola, Udaipur become an oasis in the arid Gobi Desert of Rajasthan. Full of vitality, Udaipur is praised as "Lake City". The areas around Lake Pichola has become the core area of Udaipur, and many tourists stay here for their trips and travels. Especially at sunset, the whole lake would be shrouded in afterglow, presenting a marvelous scenery. Therefore, taking a boat to appreciate the sunset is one of the top things to do in Udaipur.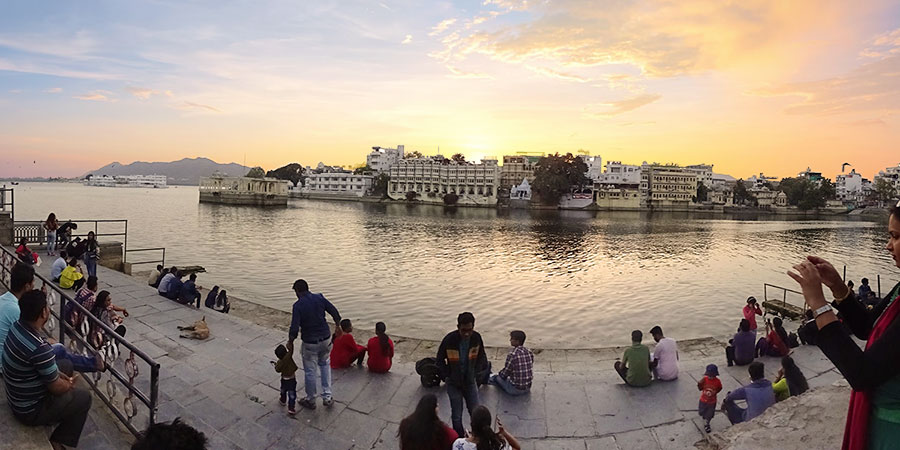 Marvelous Scenery of Lake Pichola
What to See about Lake Pichola
Jag Mandir
Located in the southern part of Lake Pichola, Jag Mandir was built in 1620 by the son of Udai Singh II and is famous for the eight elephant statues on it. It is said that son of Udai Singh II indulged himself day and night, therefore, Udai Singh II advised him to construct a palace belonging to himself. As a result, Jag Mandir was built as a summer resort in the middle of Lake Pichola. Nowadays, the palace on Jag Mandir has become a super luxury hotel.
Jag Niwas – Taj Lake Palace Hotel
The other attractive island is Jag Niwas – the heart of Udaipur. Famous all over the world, Lake Palace is the most attractive site of Lake Pichola, covering an area of 1.5 hectares (3.7acre). Built by Jagat Singh II for 3 years starting from 1746, Lake Palace, once served as summer resort, almost covers the whole island. After Indian independence, Bhagwat Singh turned this summer resort into Lake Palace to increase income, which finally became the famous "Taj Mahal Palace Hotel" today. At the first sight, this palace seems like floating on Lake Pichola.
| | |
| --- | --- |
| Lakeside Buildings | Jag Niwas - Taj Lake Palace Hotel |
What to Do on Lake Pichola
Taking a boat trip on Lake Pichola
Under the blue sky and white clouds, the beautiful scenery of Lake Pichola will be presented in your eyes. The white architecture of hotels, blue sky, and green water set off each other, bringing peace and harmony to tourists. From time to time, there will also appear several wild ducks or waterfowls, playing or swimming leisurely. Taking a boat trip here can make you refreshed and relaxed, forgetting all unhappiness and getting indulged in the present leisure. Especially at sunset and after night falls, Lake Pichola will show you the best scenery.
Appreciate elephant statues
Jag Mandir is famous for the elephant-shaped statues. With a history of nearly 600 years, the elephant statues are still visible. And every year, it attracts many tourists and Hindus to visit.
Stay overnight at Taj Mahal Palace Hotel
As the most attractive and most wonderful site of Lake Pichola, Taj Mahal Palace Hotel is worth staying overnight. There, you can appreciate the royal architectures and other royal articles. At dinner, you can taste authentic and novel cuisines of Udaipur, and experience eating in the same dining hall once may be used by royal families.
Attentions:
1. Boat trips run about every hour, starting from Rameshwar Ghat and Lal Ghat. Rameshwar Ghat is located inside City Palace and Lal Ghat is near the bank of Lake Pichola. You can decide where to start boat trip according to your own traveling plans.
2. Boat trip passes by Jag Mandir Island, tourists are allowed to visit freely on island; but, tourists have to take another boat to go back to the bank.
How to get to Lake Pichola
Located 1 km south of city center, passengers can walk there or take taxis there. If you want to take a boat trip, debark at Rameshwar Ghat and Lal Ghat. Rameshwar Ghat is located inside
City Palace
, while Lal Ghat locates on one side of Lake Pichola.
Boating Fee on Lake Pichola


200 (10:00-14:00) / 500 (15:00-17:00) Rupees per adult

100 (10:00-14:00) / 250 (15:00-17:00) Rupees per child

Timing of Boating


Rameshwar Ghat: 10:00-17:00

Lal Ghat: 9:30-17:00

Suggest Duration of a Visit

1-3 hours

Best Time to Visit

October-Next March

You May Like: