Bagore Ki Haveli Museum, Udaipur
Bagore Ki Haveli Museum is a palatial building of 18th century on the east side of Lake Pichola in Udaipur. Although some sculptures are ancient and even fall off, Bagore Ki Haveli Museum is well-preserved and with comprehensive protection and restoration. Some of 100 rooms and the museum are open to public, tourists can have a glance of imperial life here. It exhibits Rajasthan paintings, handicrafts, weapons, costumes, musical instruments, puppets and Indian headscarves, which are full of exotic features. From inside, tourists can see Lake Picholca, and appreciate folk dances and puppet shows at every night.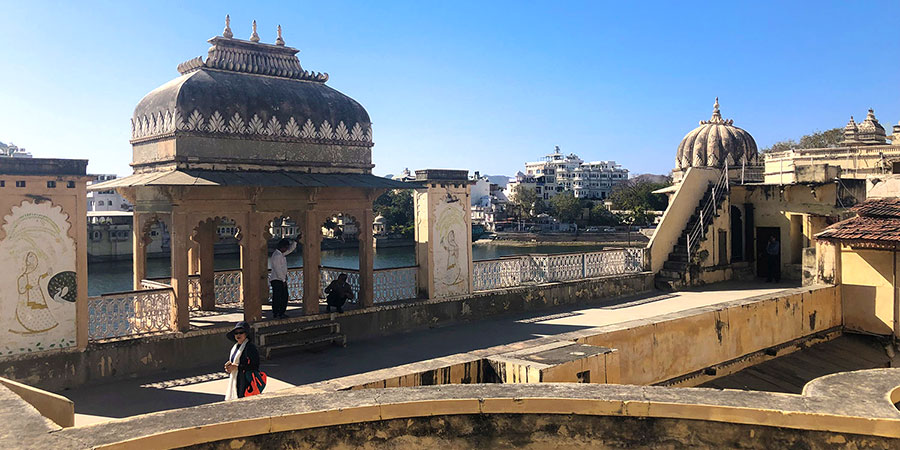 Palatial Building - Bagore Ki Haveli Museum
What to See in Bagore Ki Haveli Museum
As a famous Museum in India even all over the world, Bagore Ki Haveli Museum has different exhibition halls, including puppet exhibition, headscarves exhibition, weapons exhibition and other small exhibition areas.
Puppet Exhibition
Puppet hall is the most attractive exhibition in Bagore Ki Haveli Museum. The puppets here are with different facial expressions. Here exhibits puppets from many areas, containing local puppets of Rajasthan, puppets from Indonesia, Russia, and other countries around the world. All of these puppets are lifelike and with touching stories. The most exciting thing is that at every night puppet shows will be performed. Tourists will be immersed in the shows and experience the life with puppets together. During shows, puppet performers tighten and loosen the strings to adjust the behaviors of puppets, and make voice by ventriloquism at the same time. Many tourists are attracted and pleased every night, making puppet show the most interesting show.
Headscarves Exhibition
Headscarves exhibition is also full of exotic features. Presenting more than 40 – 50 kinds of headscarves in the hall, headscarves exhibition gives a detailed and comprehensive description and interpretation of headscarves, specifically introducing what kind of people are supposed to wear what kind of headscarf, what color and styles headscarves should be selected by different people working in different fields in different occasions.
| | |
| --- | --- |
| Puppets With Different Facial Expressions | Seeing Lake Picholca from inside the Museum |
Weapon Exhibition
Bagore Ki Haveli Museum also has a weapon exhibition, which is used to exhibits the weapons once used by the emperors in the past.
Splendid Shows and Performances
Every night, there will be puppet shows and other performances held at Bagore Ki Haveli Museum. Of all performances, puppet show is the most popular one, performers play the puppets, as well as perform ventriloquism. Besides, a single top jar stacking show, multi-person dancing show, and site- story shows related to the fairy tales of God Shiva can be noticed. All of the performers are in gorgeous costumes and accompanied by local folk instruments.
How to get to Bagore Ki Haveli Museum
Bagore Ki Haveli Museum is located near to Gangaur Ghat, close to footbridge and is on the east side of Lake Pichola. From
Jagdish Temple
, passengers can walk north for about 250 meters to get to Bagore Ki Haveli Museum, it may take about 4 minutes.
Entry fee

50 Rupees / 50 Rupees for cameras; 150 Rupees for puppet show

Timing


10:00-17:00

Puppet show and folk dance are from 19:00 to 20:00 at every night.

Suggest Duration of a Visit

1-2 hours



See more Udaipur Attractions:

Bharatiya Lok Kala Mandal
City Palace
Fateh Sagar Lake
Saheliyon Ki Bari