Agrasen ki Baoli, Delhi
Agrasen ki Baoli was built in 14th century and the entire building is made of yellow gravel, from the ground to the underground depth. It is 60 meters long and 15 meters wide, with four layers of structure from top to bottom. The architectural style of Agrasen ki Baoli is influenced by Islam and Hinduism featuring arches, columns and niches lined up on both sides of the wall, with 103 steps deep from south to north and connect to water storage at the bottom of the north end. Muslims also built a small mosque at the southwest of Agrasen ki Baoli because the temperature at the bottom of the stepwell is 5-6 degrees lower than the surface and is perfect for a summer cool ride. The 2014 Indian fantasy love movie "My God" was once filmed in Agrasen ki Baoli. In the film, the famous Bollywood movie star Aamir Khan plays with the homeless alien PK who lives here. Nowadays, Agrasen ki Baoli has become a notable dating place. Even at night, there are many couples sitting on the steps like the film's male and female protagonists to bask in the moonlight.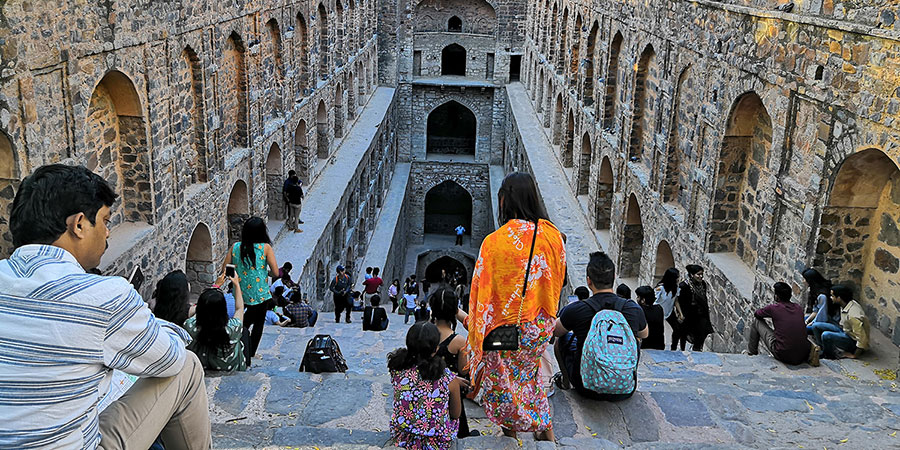 Agrasen ki Baoli with 103 Steps from South to North
Agrasen ki Baoli History
The Indian stepwell is an iconic building of ancient Indian civilization, providing a variety of uses such as water storage, cooling and so on. The stepwell is designed to store water while making it easier for people to get close to it, and usually there are gates at the bottom of the baoli to raise the water level to 3-4 layers during the dry season. This kind of stepwell generally has direct access to a deep pool of water storage, and people can obtain groundwater all year round. Its step structure is the most brilliant invention of the ancient Indians, reflecting the daily life and religious needs of the people in the arid areas, while showing the superb skills of the ancient Indian masons.
Baoli have been in India for thousands of years. Because 90% of South Asia Sub-continent's precipitation was concentrated in 3 months, while the remaining 9 months expect little rainfall. So people in arid areas invented this well to hold water. And in areas where drinking water is scarce and weather conditions are harsh, people are forced to dig wells deeper.
In addition, during the hot summer, people usually go down to the bottom of the stepwell to cool off. The baoli adds a lot of decorative content, making it part of India's cultural heritage.
Agrasen ki Baoli Hunted Story
There are many horror stories about Agrasen ki Baoli and it is believed to be the house of devils. It is said that mysterious Blackwaters attract depressed people to commit suicide and this kind of thing has happened. However, these spooky things and rumors attract more and more visitors to it.
| | |
| --- | --- |
| Where is Agrasen ki Baoli | Hailey Road, Near Diwanchand Imaging Centre, K G Marg, New Delhi, Delhi, 110001 |
| How to get to Agrasen ki Baoli | Take taxi/bus from Humayun's tomb with the fare of Rs1oo/Rs10. |
| Timing | 8:00-17:30 |
| Emtry fee | Free |
Other Top Attractions in Delhi: