6 Best Places to Visit in March in India
The very first thing you need to know about March in India is that it's hot and humid, yet pleasant. It's the month of warm sunlight and cool wind during the evening. Since India has a very diverse climate, you might face challenge in deciding over a holiday destination. It also depends on what you are looking for. Whether you want to be a part of some festival, major event, or explore tropical climate. If you are looking for best places to visit in March in India, then this blog will help you in choosing the perfect holiday destination during this time.
Along with six of the major attractions in India to explore in March, there will also be some popular mentions to give you an extended list of places to choose from. Let's get to it.
Goa is the first place; tourists think of when India is mentioned. That's because Goa is pleasant and travel-worthy in almost every season. It's a smart decision to visit Goa in March because then you will be able to attend the Shigmo Festival, which is said to be the biggest Hindu folk festival in Goa. Since it's a popular destination, people visit Goa throughout the year, but if you hate over-packed crowds, then move ahead with your decision of visiting Goa in March. That's the beauty of the off-peak season; you will have peaceful experience and attractive accommodation rates.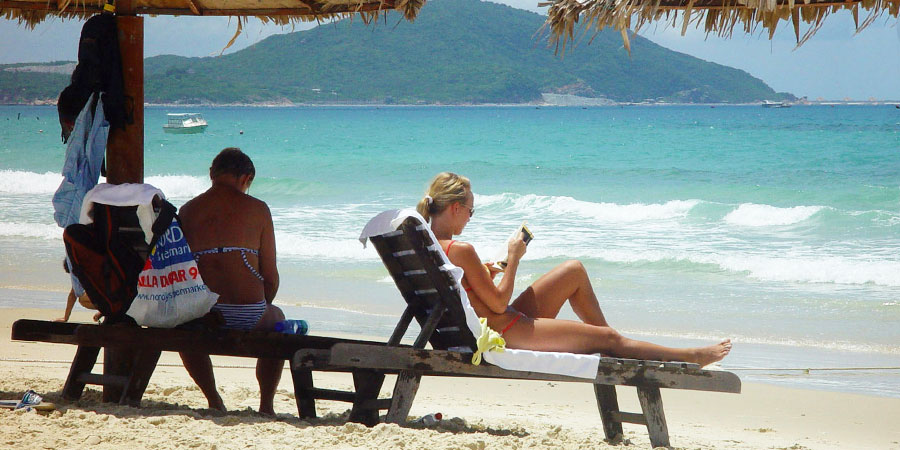 Relaxing on the Beautiful Beaches of Goa

Recreational Activities
Try water sports, Scuba Diving, Snorkeling, Jetlev flyer, Cycling, sailing, trekking, and hot air balloon flight.
Read More: 10 Facts about Goa
2. Ooty
If you want to catch the ideal season for visiting this beautiful hill station, then March is the best time. It's one of the best places to visit in March in India; they have a pleasant climate and stunning scenic beauty. Ooty is perfect for a solo trip, family vacations, and honeymoon; the surrounding will spellbind you with the lush green trees and brilliant lakes. If you are a person who enjoys the closeness of nature, then you will truly enjoy the month of March in Ooty because it's the blooming season for the tea and spice gardens. The bloom paints the hill station with beautiful colors and the rich fragrance can be trailed in the air.

Recreational Activities
Ride the Nilgiri mountain toy train, botanical garden, dolphin's nose viewpoint, camping, check out local markets, and try trekking.
3. Coorg
Once again, you stumbled upon a destination that is fit to visit in any season. However, visiting Coorg in March will let you experience the music festival of this place - the Storm Festival. You can catch this festival from February to March. This season in Coorg is perfect for sightseeing because of the scenic beauty and picturesque landscapes. Due to the perfect climate and attractive accommodation facility, Ooty is one of the best places to visit in March in India.

Picturesque Landscapes of Coorg

Recreational Activities
Saltwater fishing, bird watching, backpacking overnight, skateboarding, trail running, and snorkeling
People who are looking for some spiritual touch in their trip must visit Varanasi. It's the holiest city in India, and you will never forget the mystical experience after visiting the temples of this place. The peace you have been craving for ages might stumble upon you when you visit this city. The city has a long history of religious beliefs and holds a lot of spiritual importance. Based on the Hindu Mythology, Varanasi was founded by Lord Shiva. You will experience life changing moments in this journey, especially, while taking a dip in the Ganga River.

Recreational Activities
Boat ride in Ganga Rivers, bath in Ganges River, visit the temple of Varanasi, watch the sunset, attend the evening Arti, and sightseeing in Sarnath.
| | |
| --- | --- |
| Boat Ride in Ganga Rivers | Watch Evening Arti Ceremony |
Mount Abu is like one of those hidden gems, which is yet to be explored properly. It has quaint locations, brilliant sightseeing spots, and an extremely pleasant climate. The month of March is most probably the beginning of the summer season, which is also a start point for the Gangaur festival. Visiting Mount Abu in March will be a perfect time for the journey.

Recreational Activities
Trekking, Camping, Rock climbing, visit Mount Abu wildlife sanctuary, boating at Nakki Lake, and caving
6. Havelock Island, Andaman
If beaches are what you love, then getting to Havelock Island will give you a peaceful vacation. People visit this island for all the right reasons. This place has some unimaginable beauty, and the smooth sea looks magnificent under the blue sky. Tourists love to explore the blue Arabian Sea bed by going for snorkeling and Scuba diving. This Island is indeed one of the best places to visit in March in India.

Recreational Activities
Scuba diving, snorkeling, trekking, explore the beaches and Kayaking in Andaman
Editor's Pick
Lakshadweep Island
This place has a total collection of 36 beaches. They have a very pleasant climate and it's one of the best places to visit in March in India. For people who don't enjoy crowds and noisy beaches, Lakshadweep is the perfect place to be. You can bathe under the sun, soak the heat in sandy beaches and enjoy the breezy climate after sunset. Evenings are said to be beautiful on these beaches. Some of its beaches like Minicoy Island, Agatti Island, Amindivi Island, and Andretti Island are frequently visited by tourists.
Some Popular Mentions

Lotus Temple in Delhi
Selecting a location for your vacation is a lot of work. If you are still not sure about the best places to visit in March in India, then some of these popular mentions will help you clear the confusion.
• Rameshwaram
• Kolkata
• Delhi
• Ratnagiri
• Rishikesh
• Agra
• Udaipur
Some of the places might not be on everyone's bucket list, but they sure worth a visit. Since March is typically the off-peak season for travelers, you will have a lot of benefits as compared to traveling during the peak season. You can enjoy a better view of the place, pay less for accommodation, capture climatic beauty, and bite on seasonal fruits available only during the summer seasons. Enjoy the journey!
You May Like:
6 Best Places to Visit in February
5 Best Places to Visit in April
7 Best Places to Visit in June
5 Best Places to Visit in August
5 Best Places to Visit in October