10 Hidden Gems of Bapu Bazaar, Jaipur
Shopping makes an integral part of a trip. There are souvenirs for the dear ones to be bought, local arts to be collected, signature dresses, city-specific textiles and designs to be collected, and hordes of other collectibles to be taken back home. Rajasthan is famous for its handcrafted masterpieces and distinctive art in general. The colors, silhouettes, textures, etc. are so characteristic to Rajasthan that it's difficult not to divulge into the luxury of owning them.
Jaipur is the true blue (or rather Pink) city of the state and reflects its persona. There are many sprawling, ever buzzing markets in Jaipur selling a myriad of irresistible items from all the genres, and cultures. There are specific branded shops in Jaipur, however, street shopping is indescribable fun. Some of the prominent markets are Nehru Bazaar, Johri Bazaar, Bapu Bazaar, Tripolia Bazaar, Kishanpol Bazaar, and Chaura Rasta, each famous for specific products.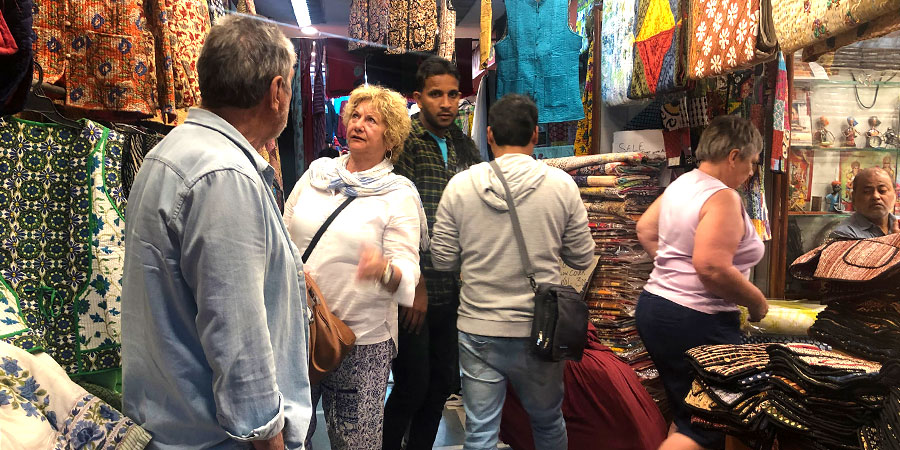 Buzzing Market in Jaipur
Bapu Bazaar is shoppers' favorite, not only for the quality stuff and huge variety but also for the awesome evening walk it makes. The place is so famous amongst tourists that it sees a sea of tourists every day from 10:30 in the morning when it opens to 7:30 at dusk when shopkeepers put the shutters down, each looking for the choicest of collectibles to take back home.
The famous bazaar carries the truest essence of being in Jaipur due to lines of rustic pink buildings on both sides of it. Hawa Mahal's grandeur is also visible from within the market heightening the shopping experience. Inside the huge Bapu Market, there are shops selling gift items, bed sheets, quilts, kurtis, toys, jewellery, shoes, dress materials, bangles, preserved food items, and basically each and everything that locals make.
There are also specialty shops that sell tie-n-dye Bandhani lehengas, gota work, Meenakari jewelry, hand-embroidered dresses and sarees, garnet jewelry in local designs, mirror and Kundan work, very fine quality of chiffons, elegant perfumes, traditional juttis (footwear), lac bangles and other delicately carved pieces of fine taste.
Presenting to you 10 hidden gems from the Bapu Bazaar that complete your shopping list:
1. Perfumes:
Jaipur has a big perfume and essential oils market. The fragrances are distilled from different natural sources like flowers, leaves, fruits, woods, etc. There are many shops that sell locally distilled as well as imported perfumes.
2. Ethnic Jewelry:
Meenakari is the art of filling engravings or grooves with layers of colorful enamel in the jewellery. The lively, delicate and tasteful jewellery is high in demand. Jaipur has a much matured meenakari market as is evident from the umpteen number of shops in Bapu Bazaar that specialize in it. That said, ethnic artificial jewellery, and jewellery in semi-precious stone are also favorite buying items.
3. Garnet:
Jaipur garnet is considered one of the best varieties. Garnet is extensively used for astrological purposes and set in jewellery.
4. Gota work:
Yet another handmade delicacy is Gota work also known as Lappe ka kaam, Aari Taari or zardozi. Lehengas, sarees, kurtas and dress materials adorned with Gota work make for great festival wear with a touch of royalty and can be easily found in the Bapu Market.
5. Tie-n-Dye Bandhani:
Jaipur, Rajasthan is popular for its brightly colored bandhani work. It is a coloring techniques work done on cotton fabrics and fine silks and is available in a mix of colors and designs.
| | |
| --- | --- |
| Colorful Bangles | Various Ethnic Jewelry |
6. Marble Products:
Marble is the specialty of this belt. Bapu Bazaar is a good place to find beautifully crafted marble statues, handicraft items, Taj models, lamps, photo frames, mandirs, customized keyrings, and nameplates, etc.
7. Carpets:
Carpets from Rajasthan hold a place of pride in the carpet market. High in quality and beautifully designed carpets find a place in India and foreign lands.
8. Brassware and silverware:
No royal household is complete without brass and silverware used for decorations, temples or dining. The market has several shops selling them in a variety of designs.
9. Products from Camel skin:
Mojaris (flat festive footwear) made of camel skin and embroidered are a popular item in this market. Most of the camel skin products are handmade and expensive. Many artefacts are made in combination with other materials like wood, brass, cloth, etc.
10. Bangles:
These are unique products at Bapu Bazaar. Many shops sell colorful bangles in a variety of materials like metals, glass, plastic, wood, lacquer, etc.

Bargain with Local Vendors
Bargaining is an essential survival skill here. Shopkeepers quote higher prices testing your bargaining skills every now and then. Being alert and having knowledge of the price of items coupled with bargaining skills can sail you through and emerge victorious. A word of caution - not all shopkeepers bargain.
What is better than a refreshing cup of tea to rejuvenate after a long bout of shopping? There are many good food joints that sell kulhad chai (tea in earthen cups), chaat-pakora, pani-puri, lassi, kulfi and local flavors in authentic finger-licking Rajasthani thali. A combination of Dal, Baati, and Churma makes a sumptuous meal that can withstand time and make you feel full longer. This market sells that too.
A day with heart full of shopping and stomach full of good food is a day very well spent. The memories of this shopping are not going to fade away soon, and you may want to come back at the earliest. Bapu Bazaar welcomes you with open hands and eager hearts. After all, the fun shouldn't stop once the trip to Jaipur is over. We are sure you would want to return for more.
Read More:

Jaipur's Best Handicraft Markets
Jaipur's Best Jewellery Markets
Tips for Shopping and Bargaining in India