Top 10 Best Souvenirs from India for Your Friends Abroad
Any trip to a foreign land remains incomplete until the best available items are picked as souvenirs. Shopping is indeed an art, and when it comes to a diverse land like India, it indeed stands out as an experience perplexing you what to buy from a huge platform of options.
Whether you are an avid shopaholic, or an aficionado of traditional knickknacks, or a collector of heritage and unique stuffs, India is not going to disappoint you whatsoever your requirements and preferences are.
Though the best picks from India are mostly handlooms and handicraft items, a whole list including apparels to decors to edibles and condiments, this list is a must carry on your way to pick the best souvenirs from India.
1. Tea

What: Aromatic Flavoured Beverage

Where: Assam, Darjeeling, Munnar and Ooty

For whom: For the ones who want to devour the taste and aroma of Indian tea
Did you know that the largest consumer of tea in the world and the second largest exporter is none other than India? Well, that's certainly not for no reason! The popularity of tea in Indian household is mainly because of the unique aroma, delectable taste, and health benefits that it offers. Tea, in India, is most commonly brewed with milk and sugar is added. The best ones are cultivated and grown in the tea gardens of places like Darjeeling and Assam, and also in Munnar and Ooty. On a trip to these cities, don't miss to check the plantation procedure and of course don't miss to bring back home with some freshly packaged tea leaves. To add to the same note, leaf dust in different flavours are cultivated in Munnar and Ooty, and hence a must try too.
2. Indian Spices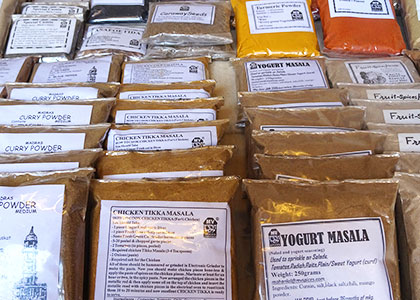 Indian Spices

What: Flavouring herbs, seeds, roots, barks etc

Where: Kochi (and other parts of Kerala)

For whom: For the foodie who wants to try Indian flavours
Indian spices should be the next on the best souvenirs from India list. Indian food is an amalgamation of several spices and condiments to come up with distinguishable taste and flavours that stand out from other cuisines. The Indian subcontinent has a vast geographical diversity that helps in producing different types of spices and condiments. However, the best ones are grown in South India, especially Kerala which is also known as the spice bowl of India. Cinamon, Fennel Seeds, Asafoetida, Pepper, Cumin, and Bay Leaf are some of the major shopping goals when you are on the mission to pick the best Indian spices.
3. Silk, cotton, linen, khadi

What: Fabrics and textile

Where: All over India

For whom: For the fashionista who has a taste for classy apparels
Don't miss to pick the best silks, khadi and cotton textile, sarees and other apparels, especially if you are not a brand-slave. India has a huge variety of silk ranging from Mysore silk to Benarasi to Assam, Paithani, Tussar and Muga. The same goes for fabrics like cotton, linen and khaadi which are extremely comfortable, natural and perfect to wear at any occasions. Pick a saree, or an apparel randomly in every state you visit, as almost every nook and corner of India makes some special textile or the other to make it worth a buy. Fabrics and textile may be best souvenir from India and gift for friends abroad.
4. Sandalwood items

Indian High Quality Silks

What: Handicrafts

Where: Karnataka and Kerala

For whom: For the classy ones with an eye for exclusive decor items
Sandalwood is best grown in Karnataka and Kerala, and these two places are famous for sandalwood carved souvenirs. Available in different motifs and models like elephant, birds, and deities, as well as carved as furniture, ashtrays, candle stands and more, you will be spoiled for choice on a hunt of the right sandalwood decor item.
5. Ayurvedic products

What: Medicinal herbs and oils

Where: Kerala

For whom: The ones who need to unwind and relax
Strongly rooted in Kerala, Ayurveda has a cure to almost all your medicinal and health related issues. From body massages to relaxing therapies, Ayurveda tops it all as an ultimate healing process. Practised since ages, the procedure has exceptional medicinal purposes too with the right use of ancient herbal compounds and minerals to deal with several issues.
6. Ittar

What: Scents

Where: Kannauj (Uttar Pradesh), Hyderabad, Bhopal

For whom: For the perfume lovers who want to try something new and different
India specializes in ittar – alcohol-free perfumes made of natural ingredients. This is an ancient art that's well preserved in cities like Kannauj and Hyderabad, and are sold in tiny fancy bottles. It can be used as body fragnances, in pharmaceutical industry, and even in traditional Indian sweets in the form of Rose and Kewra Ittar.
7. Pashmina

What: Wool

Where: Kashmir

For whom: For the royal and elite class as winter drapes
If you want to carry back something really traditional and classy from India, let that be a Pashmina shawl. Considered as one of the most preferred gift items, Pashmina is made of three kinds of Pashmina goats, the items are made of fine handspun fiber. The specialty of the material is that it gets softer with use without getting damaged or worn out easily.
8. Jewellery

Jewellery, India

What: Accessory

Where: Delhi, Jaipur, Kerala, Assam, Kashmir, West Bengal

For whom: For the fashionista who wants something exclusive and traditional in her jewellery closet
India is a land where jewellery is not just an accessory, but also a social statement, an auspicious custom, and a status symbol. With a wide variety of jewellery available in gold, silver, semi-precious metal and stones, lac, oxidised materials and beads, to name a few, get ready to be perplexed when it comes to picking just one, and we bet you can't go home with only one piece!
9. Kashmiri carpets

What: Handicraft decor

Where: Kashmir

For whom: One of the classiest gift to take back for your home decor
India has its own style of designing and weaving carpets, and the weavers of Kashmir top it in creativity and their signature style. Undoubtedly, the Kashmiri carpets are visibly more attractive and way ahead in the league as compared to those of other places. These are among the best souvenirs from India and a must buy.
10. Kondapalli toys

What: Toys, decor

Where: Andhra Pradesh

For whom: Who wants to pick only one stuff as souvenir
These unique little colourful toys have a niche of their own in the world of souvenirs. Vibrant in colour combination, these cute toys are handmade of wood and ceramic. These are usually models of gods and goddesses, and motifs like dolls, flowers and animals.
You May Like:
7 Best Recommendations on What to Buy
Shopping and Bargaining in India